Today's the big day! The reveal of our new potting area in the laundry room.
This was my first time participating in the $100 Room Challenge and it was actually a lot of fun. Its a great way to force yourself to shop your house and use what you have instead of buying more "stuff."
All in I spent about $96. Not bad right?
As a reminder… I'm a "learn as you go" photographer. This room is long and narrow with no natural light. (Just that lovely overhead fluorescent like you see in the photo below.)
No amount of climbing around on top of the counter or the dryer helped me get better angles!
That disclaimer out of the way, this is what the room looked like when we bought the house last summer…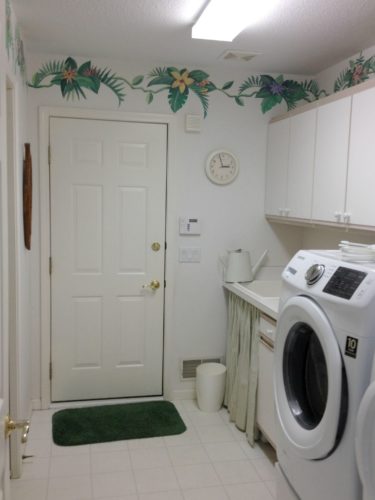 Come on in and see the AFTER…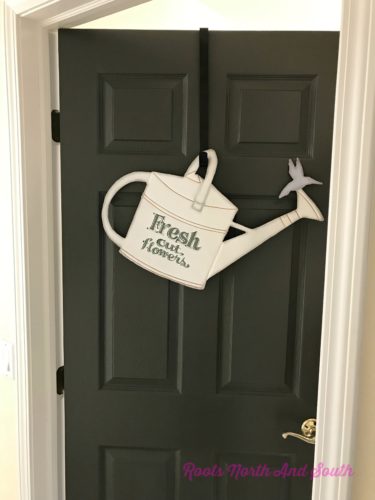 No more jungle book vines! That alone makes me do a mini happy dance whenever I head through here…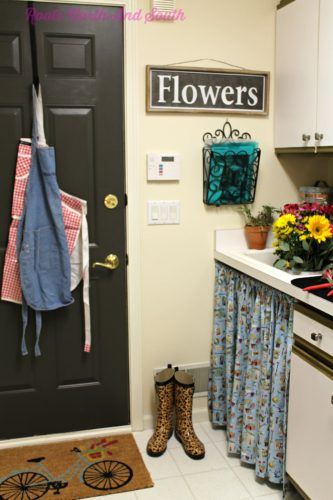 Organizing and Prettying Up the Potting Room
Now all of my supplies are neatly organized in one location…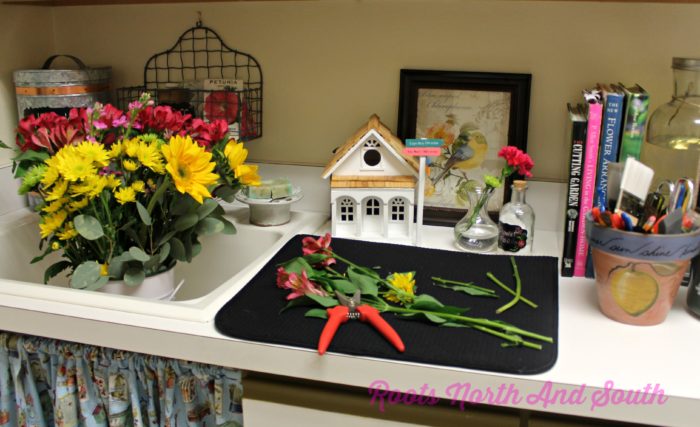 I can drop the grocery store flower bundles in water on my way in the back door, and let them soak up water while I put the groceries away.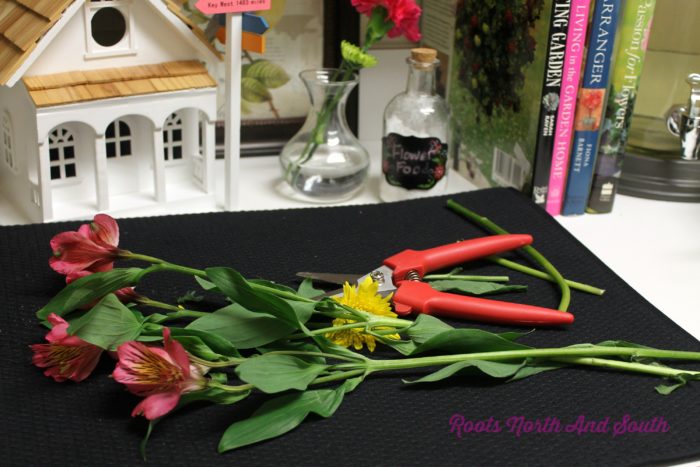 My favorite floral design books and vases are easy to reach for a vertically-challenged gal, along with ALL those magazine clippings with floral arrangements I want to try out.
And I can stash my extra dirt for planting and re-planting my house plants right in the corner…
No fumbling around in the garage when it's 10 degrees outside looking for potting soil.
I found the galvanized bucket at HomeGoods and used a little chalk paint to add my own "label."
The wire rack was a late-breaking addition. I found it at Michael's and used a coupon. Yep… only $7.50! I like it a lot better than the other one I was planning to use.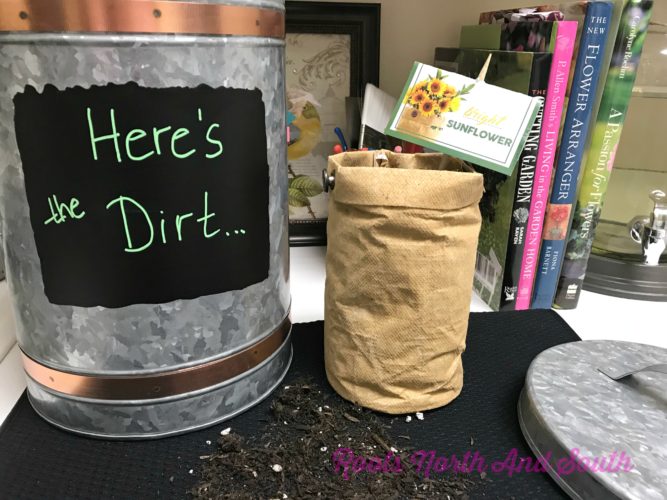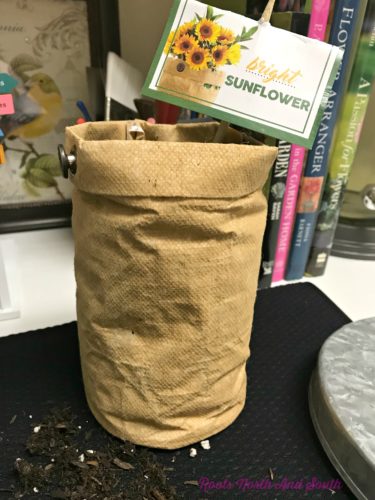 I'll be honest about this cute new skirt for the sink…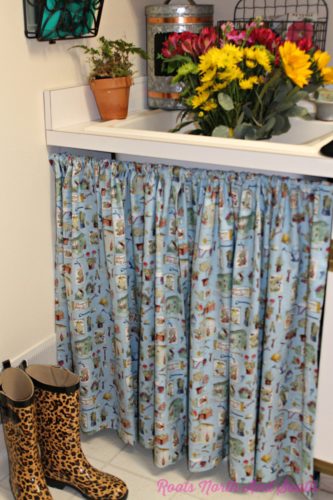 I had planned to use iron-on tape and…yes, even staples… to make this. But my little momma saved me. #MyMomIsTheBest
It's hanging on a little tension rod I picked up at the dollar store. (Be sure to zoom in on the pattern…it's so darn cute!)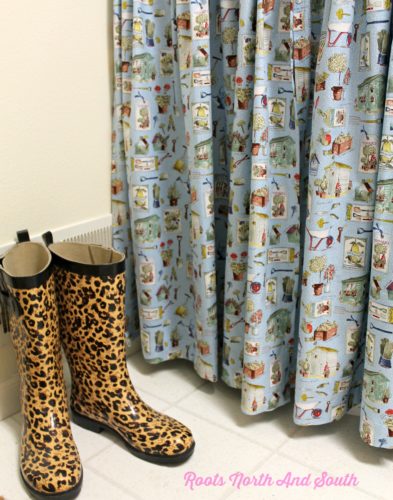 Isn't amazing how much difference a coat of paint can make?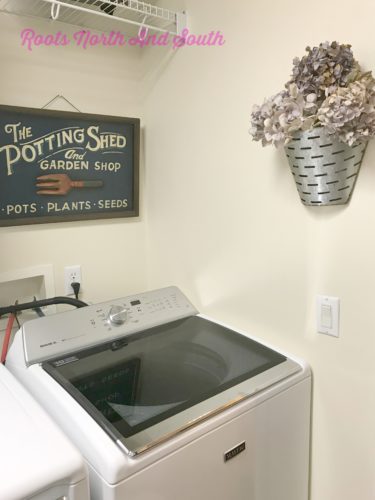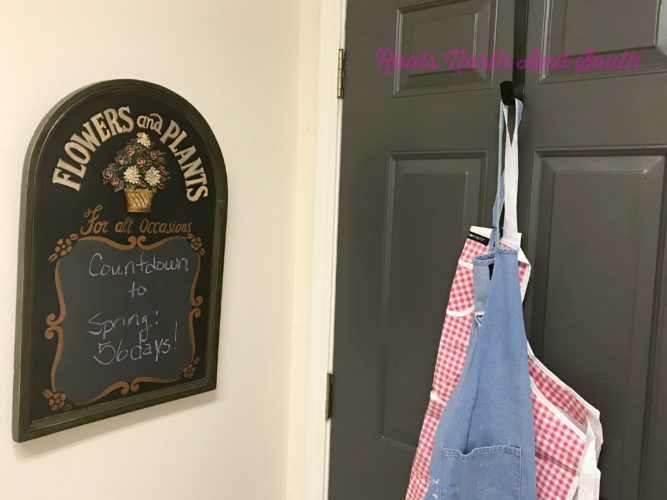 The walls, the trim on the cabinets, and the doors got a facelift.
They all look so young again don't they? #BotoxForWalls

I found this bicycle doormat for $12 at Michael's (regular price) and then used one of my 40%off coupons…(I'm a huge bicycle fan which is obvious if you've looked at any of the garden pics on my blog!)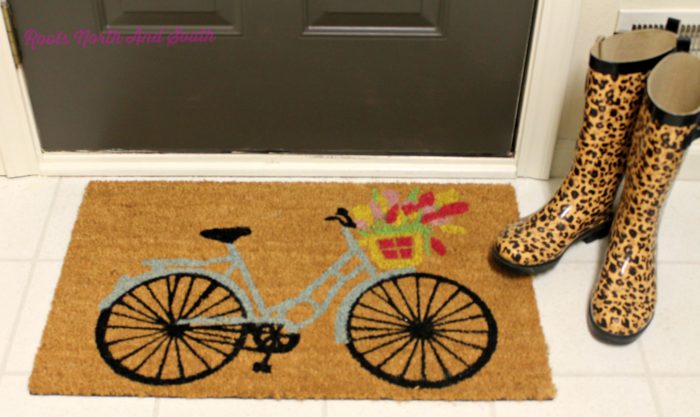 And my antique watering can found a new home….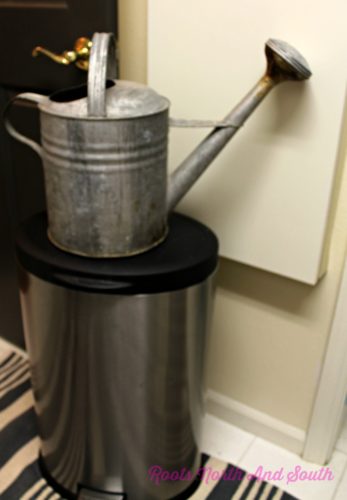 And that's a wrap on my first ever $100 Room Challenge, my friends.
Here's the final breakdown on what I spent…
$19 – striped rug
$16 – cabinet
$7.50 – wire shelf
$4 – plant food bottle and label
$7 – laundry soap dispenser
$2 – tension rod
$19 – potting sink fabric (2 yards at $9.50)
$7.50 – doormat
$14 – Dirt bucket
Grand total: $96
Future Plans for the Potting Room
Once we have the rest of the renovations done in the house, I'll start the hunt for flooring in here. The stuff that is in there now is cheapo linoleum (I'm guessing) that is probably original to the house.
I do have a few little things I might yet add to this room:
Vines or twig branches of some kind (and maybe some of my unused Christmas lights?) for top of cabinets?
Cute edging for the inside shelves of the cabinet? I helped my little momma add some lacy edging to her pantry shelves a few years ago and I think it would be fun in here.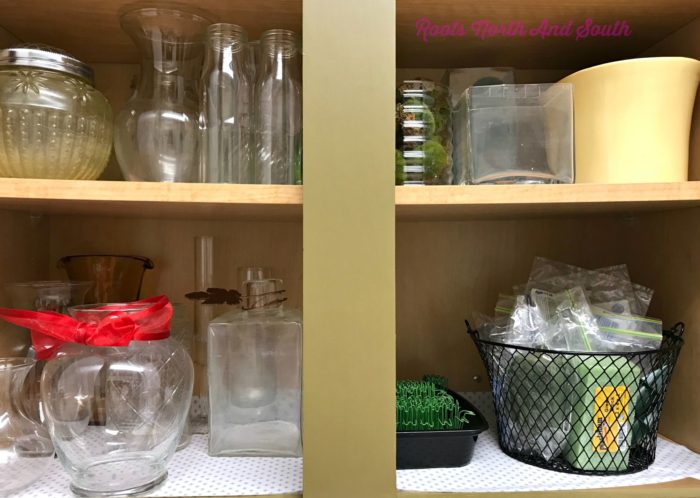 That's it my friends! Thanks for following me during this challenge…
Don't forget to forget to keep in touch by following me on Instagram, Facebook, and Pinterest!
Until next time,
Shelley
Don't forget to visit these great bloggers to see their final reveals…