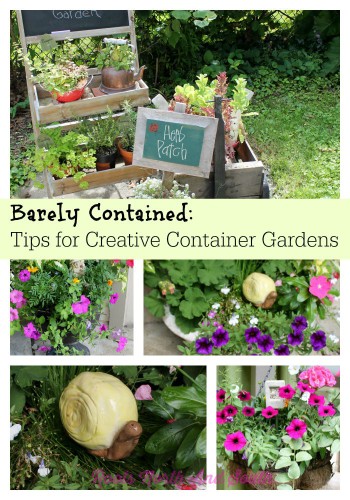 My family likes to warn people not to set their boots, cups, purses, bowls or anything else that could possibly hold dirt down when they are at my house…or anywhere around me.
I may just drill holes in the bottom, add a little soil and stick a few flowers in when your back is turned, so says my family.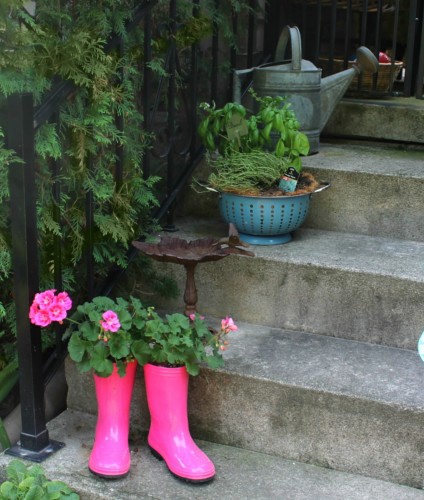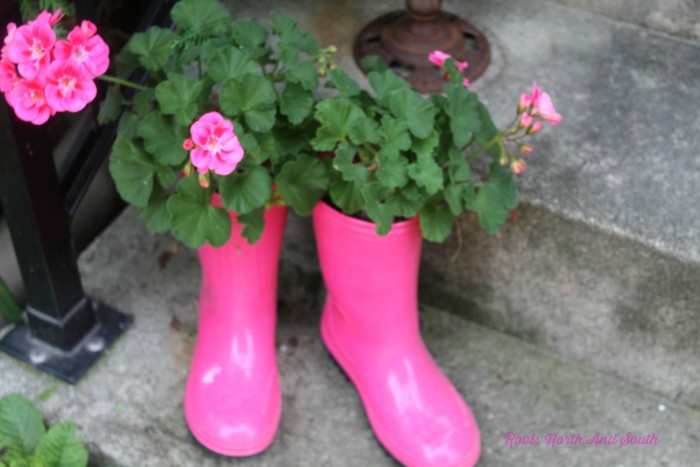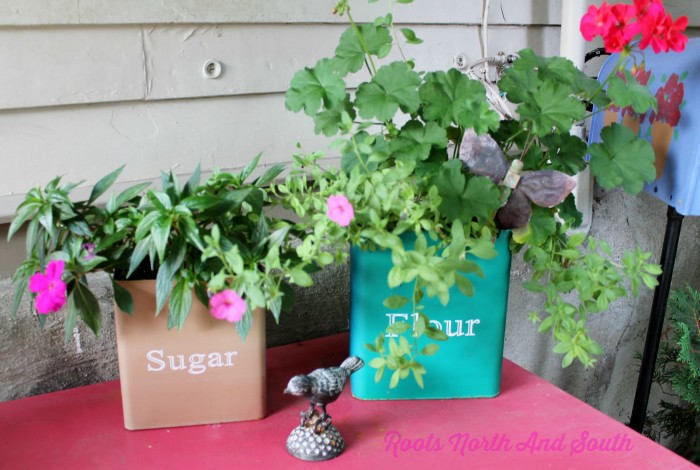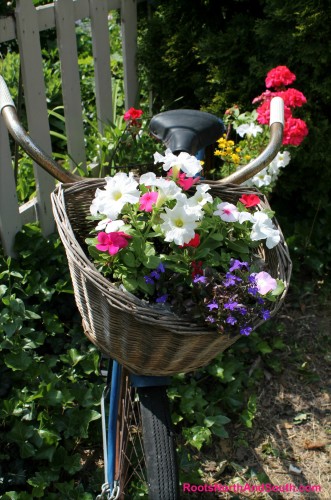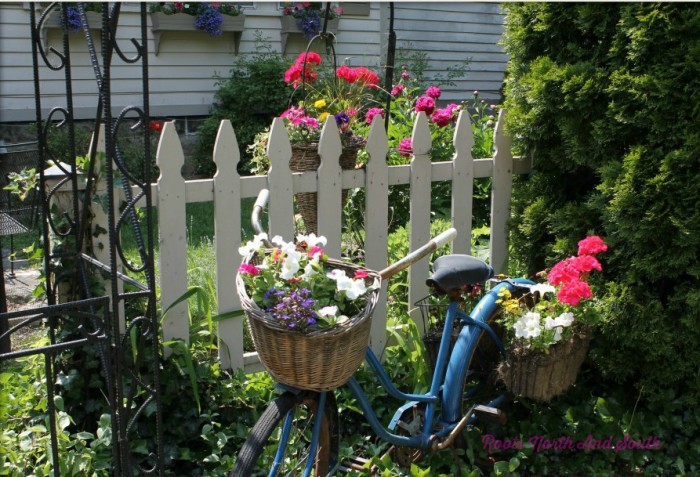 Looking around my yard…
I guess its fair to say I understand why I've earned a "reputation."
I have mangled a drill bit or five trying to make the aforementioned holes.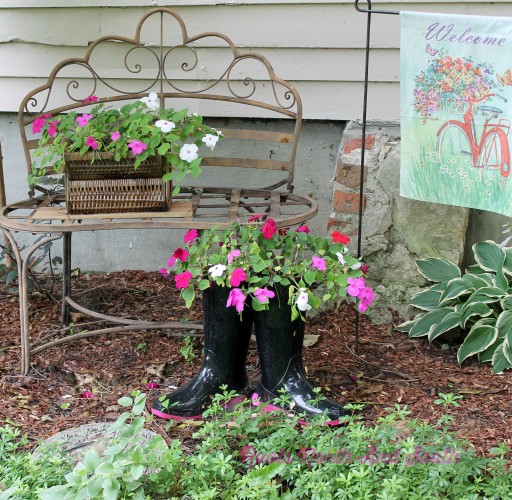 Neither the old dishes…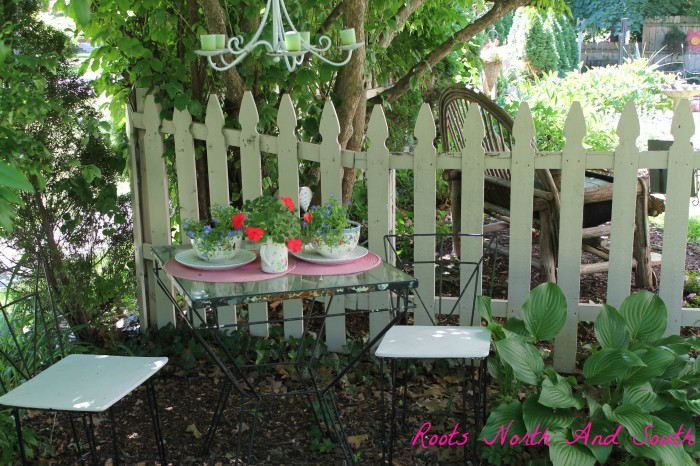 Nor the old patio ware…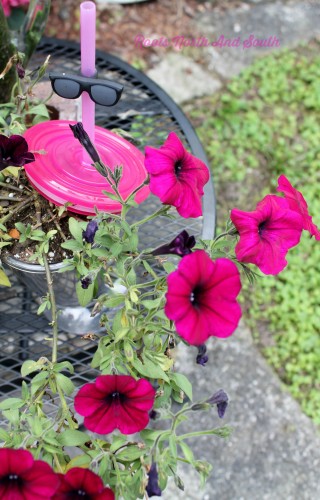 Or even the broken blender is safe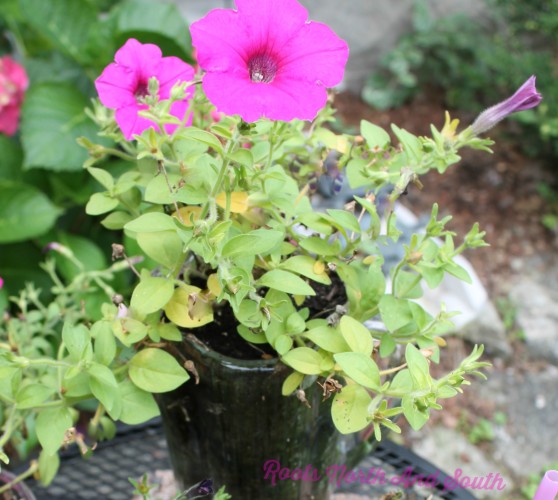 My Edibles Garden is packed with upcycled goods…
From lettuce growing in an old salad bowl (complete with salad tongs and a bunny) to colanders and an old tea kettle for herbs, my yard is home to lots of fun containers.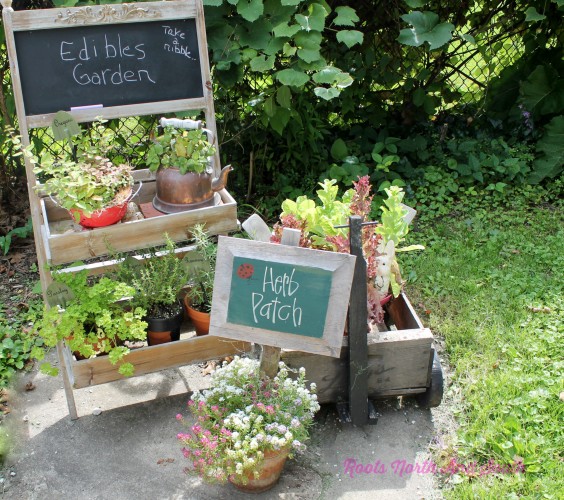 Planning for my Greenhouse Excursions!
I pre-plan every container before I head off to the greenhouse.
Where it will live… the kind of sun it gets…what color I want it to be…all of the details.
I pay attention to color and texture as much —or more — than I do to the spiller, filler, thriller rule.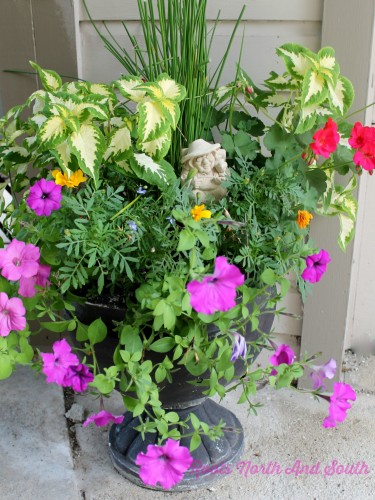 Once I have a list of the flowers I want for each container, I create a crazy-detailed, master list.
It reads something like, "32 hot pink geraniums, 14 white geraniums, 7 annual salvia, …."
If I'm not quite sure what flower I want for a spot, I just write down the color and what kind of sun the spot gets on my list.
I know it sounds a bit OCD but I can live with that.
Once I get to the greenhouse and start pulling my wagon around, I lose my mind a little bit. If I don't have a list, I way overbuy. It's just not pretty y'all.
Two summers ago I wasn't so great about making my list.
My poor little Momma was with me when I hit the greenhouse for the first time.
I bought so many flowers I had to wedge them in around her in the car. On her lap…by her feet.
Wish I had a picture of that!
Tips for Helping Container Gardens Thrive
 You've probably heard all the "rules" about growing flowers and herbs in containers.
I have, too.
Don't pack them in too closely.
Stick with the formula: thriller, spiller and filler.
Don't over water them or you will wash the good soil away.
Between us – I mostly break the rules and my containers thrive!
Here's what I've learned:
Please don't tweet me or message me that I'm teaching folks bad habits. This is just what I've learned works for me!
It starts with good drainage. Drill holes in the bottoms of your containers. Add a layer of gravel or old broken terra pot pieces. Anything that keeps the roots from sitting in water and rotting.
For super big containers like the green one below, I fill the pot half way up with packing peanuts before I add anything else.
I'm a Miracle Grow potting soil girl. My grandparents were big believers and they had the most gorgeous gardens imaginable. Ditto for my little Momma and Pops. That's what you will find in my window boxes and all of the containers in my garden.
I give my flowers a good soaking with the hose before I plant them.
I know it takes extra time and can get a bit tedious when you plant lots of annuals, but I gently loosen the roots before I plant each flower in my window boxes or containers.
I pack my containers full! I know people say they will grow and fill out. They do. But I like the overfull look.
I am a deadheading ninja! I stay at it constantly so it isn't so painful. My flowers continue to bloom well in to fall because of my ninja skills!
I feed those babies… using…you guessed it… Miracle Grow flower food!
I water often. I'm not Wasteful Wanda or anything, but I pay attention to the heat and the humidity. Containers dry out faster so they need a little extra love.
Add a Surprise or Two to Your Container Garden
I have a couple of little gardeners in my life.
So I take extra time to add a few fun surprises for them to find in the containers…
A ladybug for Kate who I call my "little ladybug."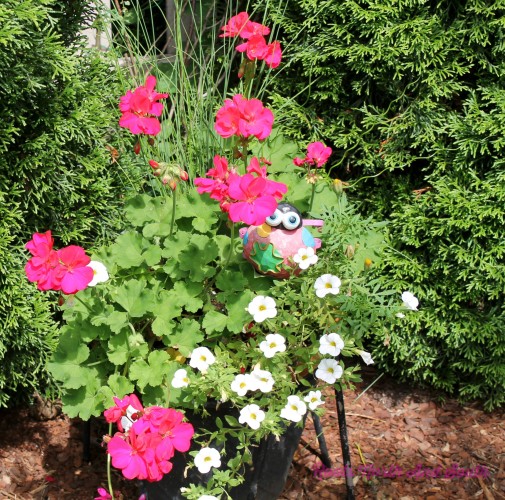 This fun George Carruth piece that I know our big guy likes…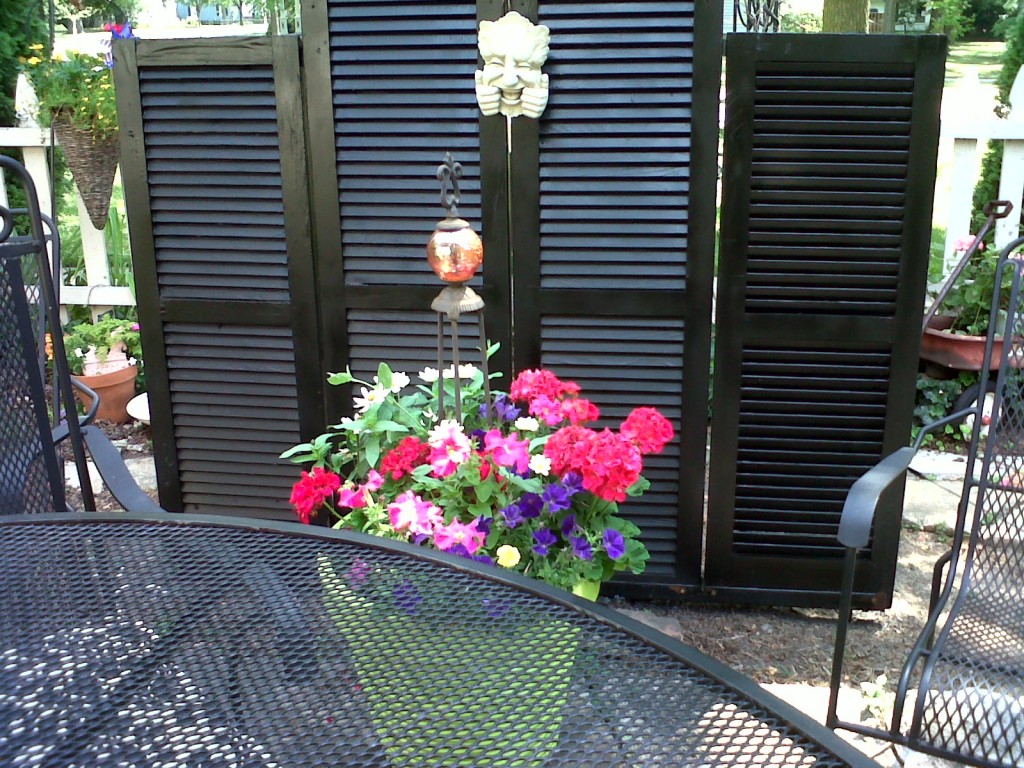 And this little snail I whipped up in the pottery studio for my Meggie. She loves playing in clay with me!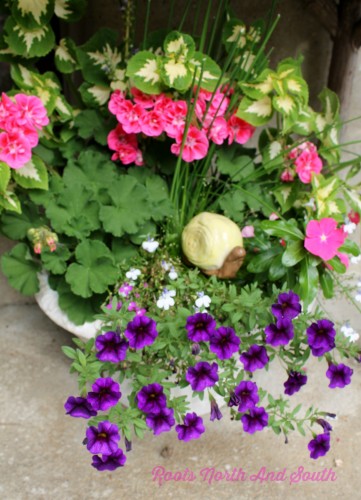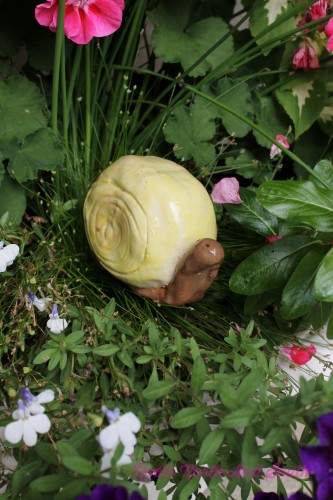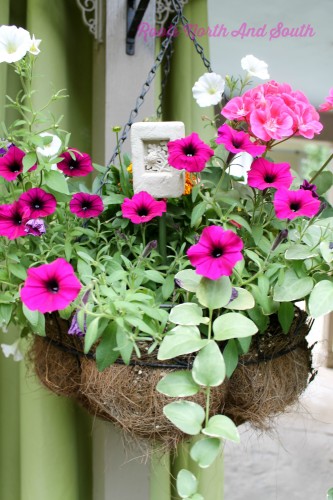 Are you a container gardener?
Send me a link to your photos! I'd love to see them!
If you need more inspiration, follow my gardening boards on Pinterest or follow me on Instagram. I'm always sharing fun container gardens I run across in my gypsy girl travels…
XO
Shelley