What Does Fall Mean to You?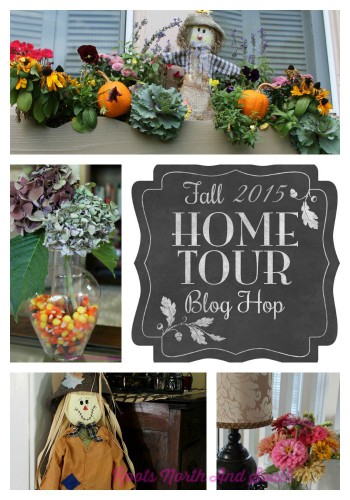 Welcome!

Hope you are enjoying the Fall 2015 Tour of Blogger Homes.
Thanks for taking time to stop by! If you missed any of the homes on the tour, the links are all listed at the end of this post. Be sure to take a look around!
I don't know about you, but Fall is my favorite time of year…
The amber light. The fresh air with no humidity. Those blue skies over the Great Lakes.
All the way around, I'm a happy girl when the calendar turns to Fall.
Because I tend to go a little overboard on Christmas holiday decorating (YIKES!), I try to keep things a little simpler in the fall.
Come on in and join me for a quick peek around  the interior and garden of our historic home.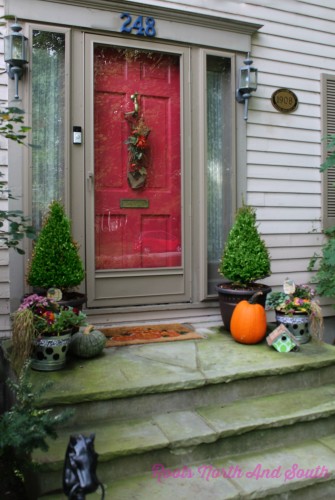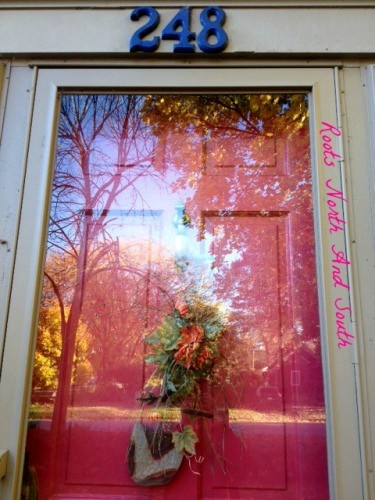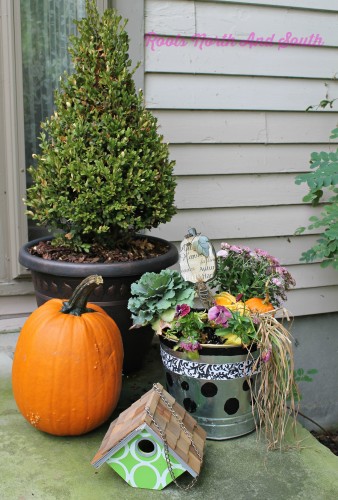 See the munch marks on my pumpkin? The chipmunks, squirrels and I fight all season long over the pumpkins…
A Peek Around the House
Fall is the best time of year to hit the Farmer's Market down the street from us. I scoop up the last of the season's "fresh from the grower's garden" goodies of all kinds.
My favorites are sunflowers and zinnias…
I know the days of being able to walk two blocks down and get a bundle of each for $5.00 are coming to an end for the year, so I try not to miss any of the last few market days.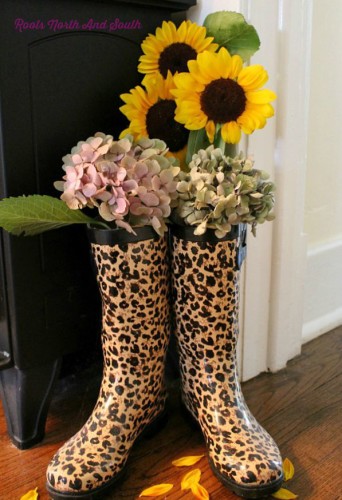 (Here's a behind the scenes peek at how I use rubber boots to create a unique Fall arrangement.  Its a fun, 5-minute project that will last for several weeks if you keep the flowers cut and watered.)
You will find zinnias everywhere around this house during September and October…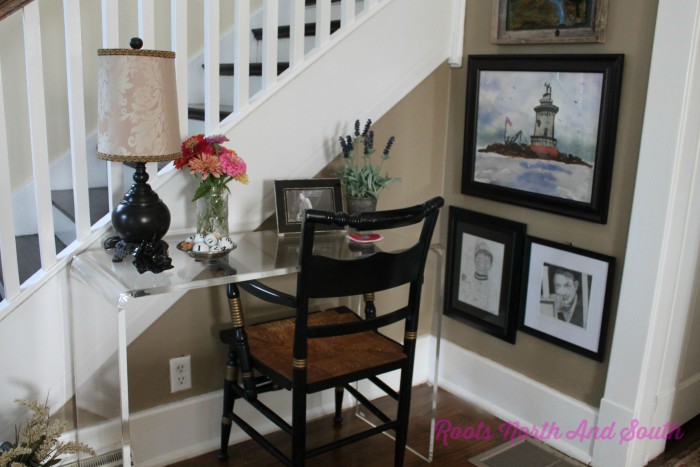 The zinnias below are in a glass vase that was a gift from an 83-year old lady I met when I worked at a retirement village during grad school.
It's really old and really cool. (Just like her she always told me!)
I still have a tiny little piece of tape on the bottom of it where she wrote her name.

She brought me fresh flowers from her garden at the retirement center for my desk all summer and fall long…
#Blessings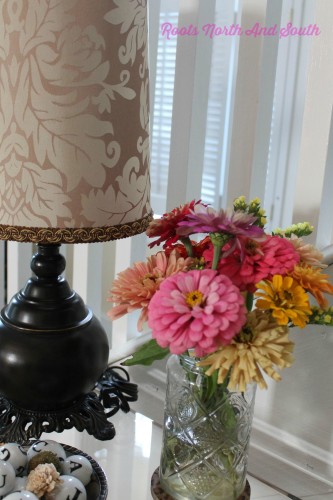 I can't think of another flower bouquet that has so many bright colors except for maybe snapdragons?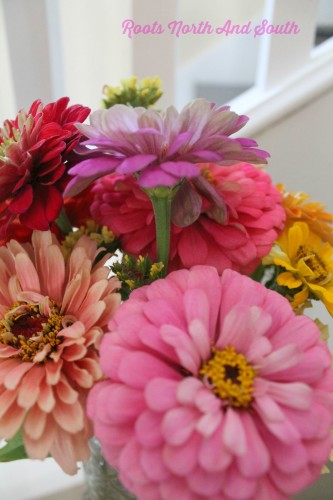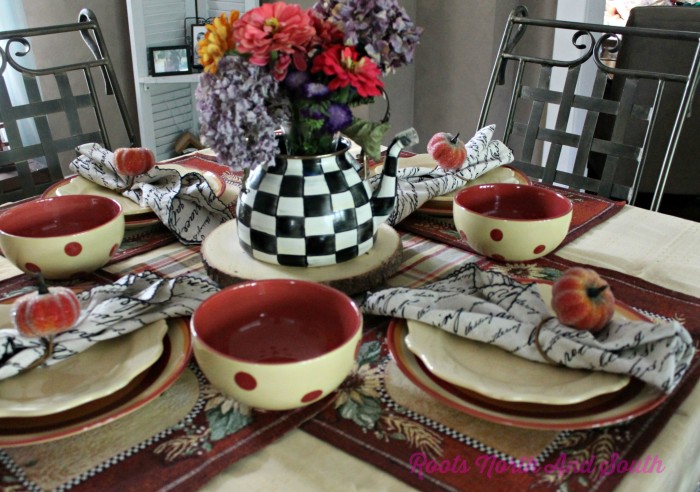 And I fill the house with hydrangeas I've dried from my garden…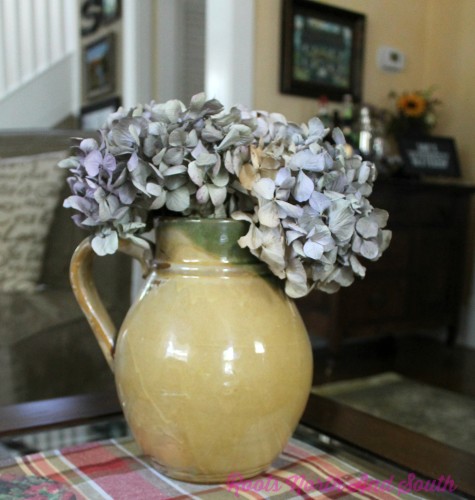 (Here's the lazy girl way to quickly dry hydrangeas from your garden…)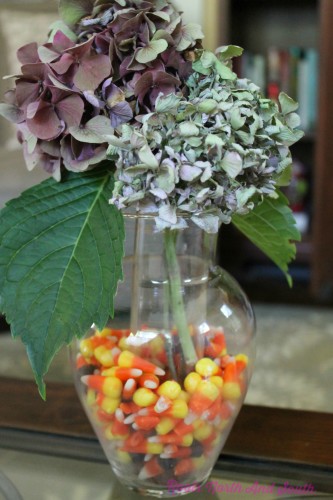 Little Signs of Fall
Of course Fall wouldn't be complete without some basics: apples, pears, pumpkins, grapes, scarecrows and acorns just to name a few.
Doesn't get any more Fall-like than that right?
I use them here and there to help bring Autumn in to the house…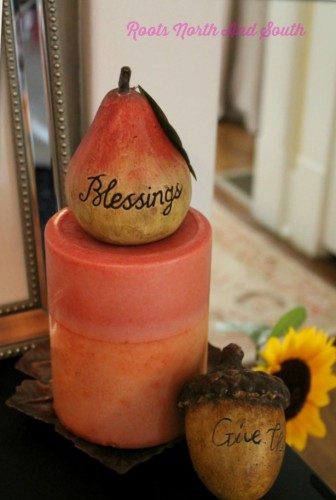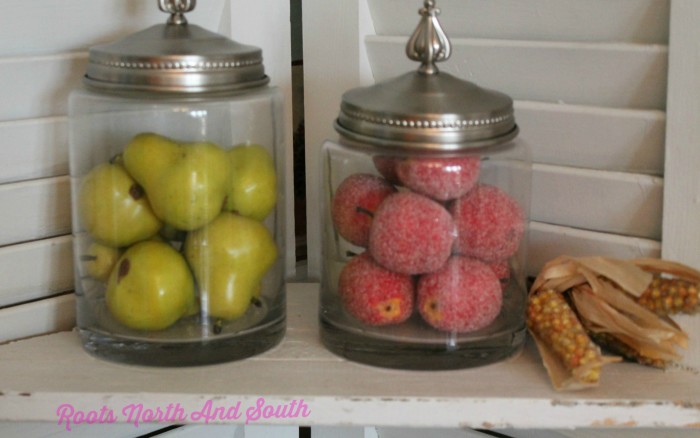 I know some folks think scarecrows are tacky. I'm not one of them!
This smiley guy stands guard at our bar…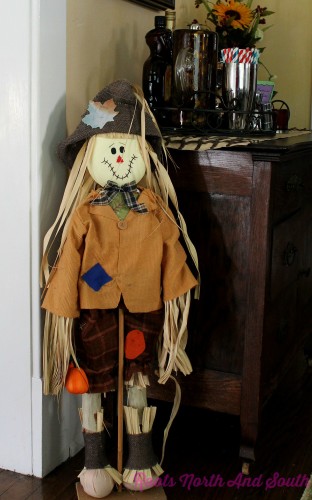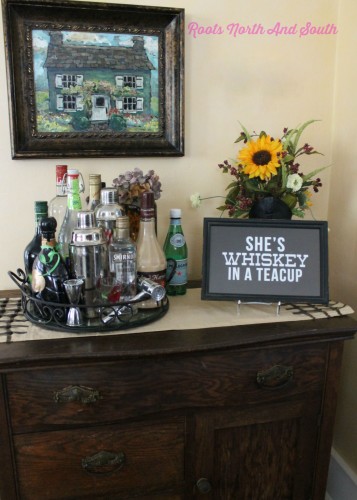 And a little wheat for my antique watering can…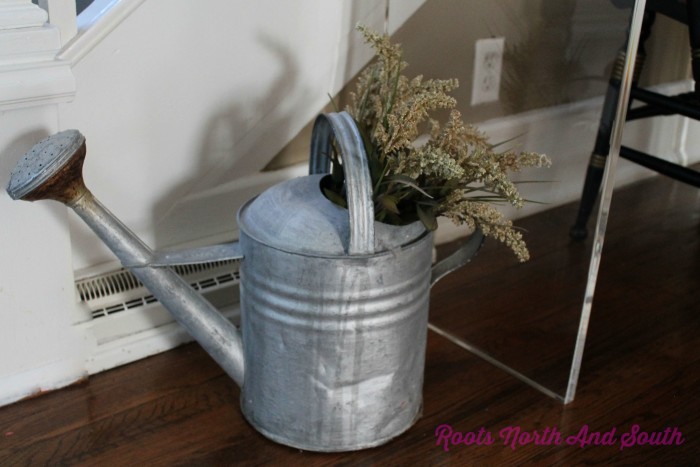 Warming Things Up
We live north of the Mason-Dixie line now and the Fall evenings can be a little crispy!
So I do a few things to warm up the house as the mercury starts to dip…
I switch the curtains in our big (and drafty!) bay window in the front of the house from thin cotton ones to lined, burlap ones.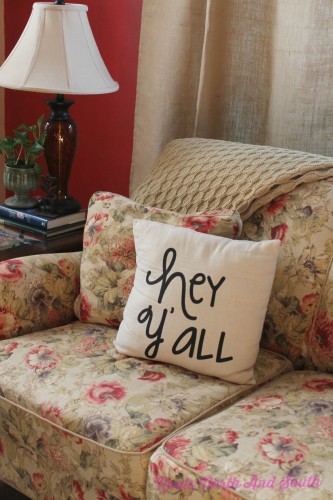 Doesn't burlap somehow say Fall y'all?
I think so.
And I drag my warmer throws back out and leave them all over the house… The one on the back of the sofa (above) is my favorite new find from Target when we were in Traverse City.

And then there is this old snuggly throw and fun sunflower pillow I added to my favorite nook in the house…my sunroom!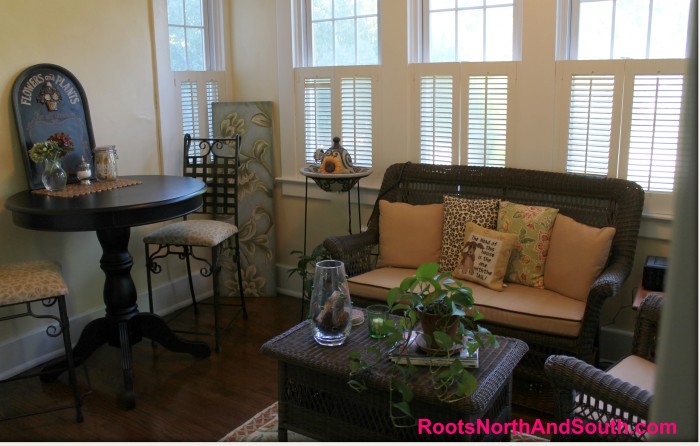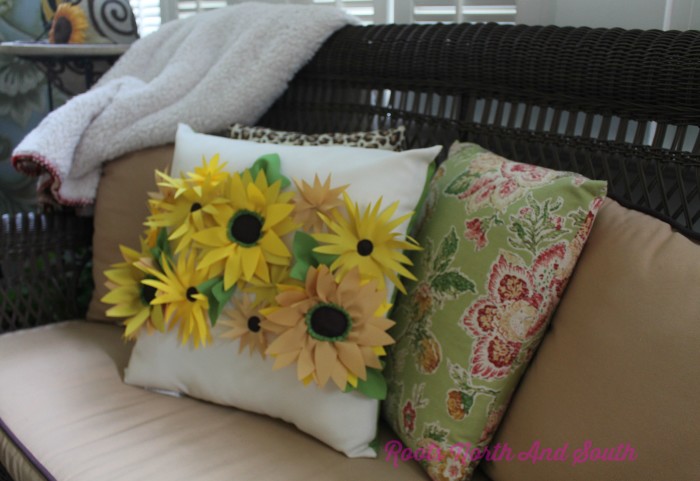 Bringing Fall to the Garden
You didn't think I would let you go without a peek around the garden too did you?
While I love the charm inside our house, eight months of the year my garden is what gets the most of my attention!
Here is a sneak peek…
Over the next few weeks I will be sharing my favorite flowers of Fall and some tips on creating Fall Container Gardens.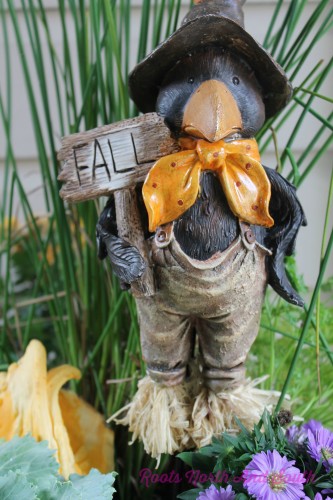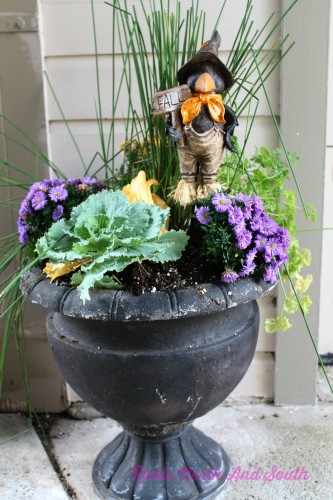 And a few preview pics of the window boxes this Fall.
Still a bit of a work in progress but they are almost done!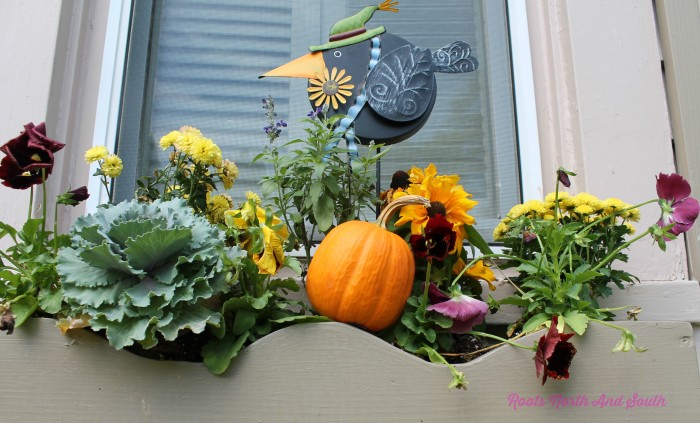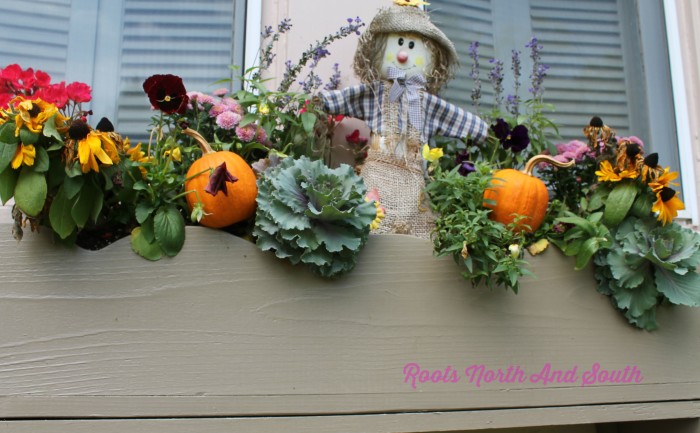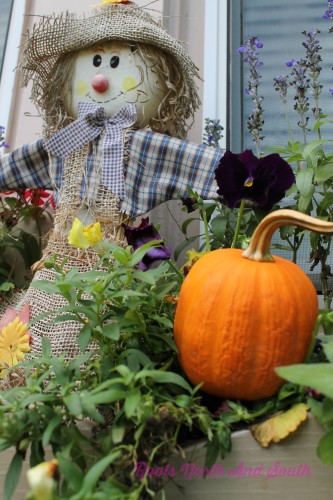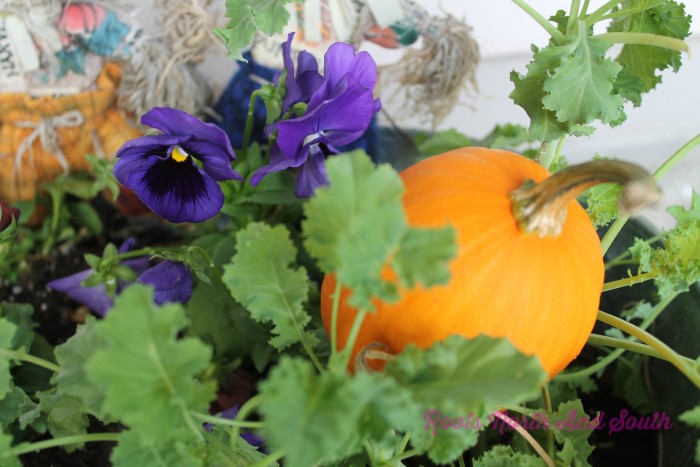 That's the end of my Fall Home Tour!
If you like what you see, please sign up to follow my blog.
We can also keep in touch on Pinterest and Instagram…
I have a big Fall and Holiday Season planned. I'd love for you to be a part of it!
 Don't forget to stop by the rest of the homes on the Fall Tour.
Loads of inspiration from some really terrific bloggers!
XO
Shelley