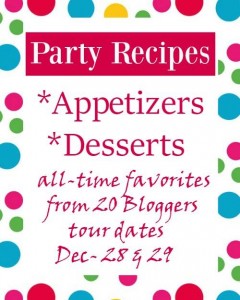 Busy Girl's Recipe for a Scrumptious Chocolate Raspberry Trifle That's Easy to Make
I come from a long line of fabulous cooks…
Unfortunately, I'm not one of them.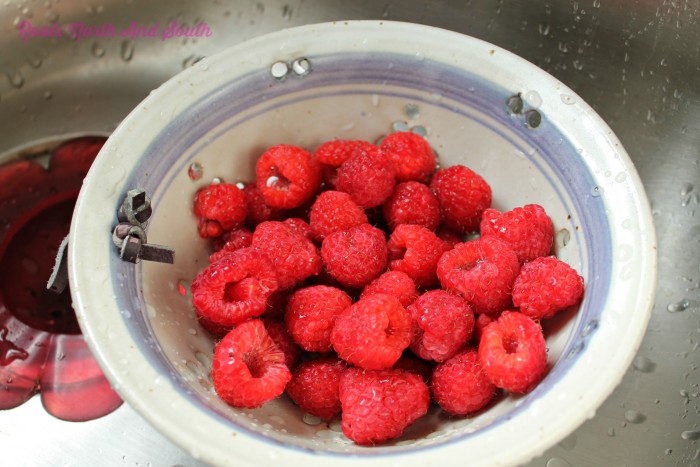 It may because I am short on patience. Or I have 107 other things I would rather be doing that I enjoy more.
So chances are if I'm sharing a recipe with you, it's one you can recreate quickly and easily on your own.
Cooking Hacks for Dummies is probably a book I should find time to write…
My only specialties are appetizers and desserts. So when Kathy from Petticoat Junktion sent out the call to our blogger group to join her in this Party Recipe Tour… I knew I had to sign up!
On a cold and dreary Saturday afternoon, I whipped up my little momma's Chocolate Raspberry Trifle to take to a family party. It is one of her famous "little bit of, pinch or two of" recipes that makes it hard for a rookie to recreate. But I think I've mastered it!
Here's all there is to it…
Chocolate Raspberry Trifle
Ingredients You Will Need to Round Up:
An angel food cake (already baked from your favorite grocery store's bakery department)
12 ounces of softened cream cheese (equates to about one and a half of those cream cheese bricks)
1/4 cup powdered sugar and another 1/3 cup powdered sugar (keep 'em separate)
1 and 1/2 cups of heavy whipping cream
2 -4 cups of fresh raspberries, washed and drained well
1 – 18 ounce jar of seedless red raspberry jam
1 large semisweet chocolate bar
The first step is to stick the bowl you will beat your whip cream in, along with the heavy cream and your beaters in the freezer for about 15 or 20 minutes. (Yep, stick it right there between your sourdough bread and your turkey burgers!)
Use a serrated knife to cut your angel food cake in to cubes. I usually only use about 1/2 to 3/4 of the cake, but you might want more.
Beat the cream cheese with 1/4 cup of powdered sugar until smooth. Then smooth it out a bit with your spatula.
In your frosty bowl from the freezer, beat the whipping cream. Slowly add in 1/3 cup of powdered sugar. On a side note here, this is my grandma's old mixer. One of many I'm sure she went through in her lifetime. I think of and miss both my grandmas every time I'm actually doing "real" cooking…
Using a spatula, fold the whipping cream in to your cream cheese mixture.
Then start the layering process. First add half of the angel food cake cubes…top it with half of the raspberry jam. It's tricky business to try to spread jam on the angel food cake because…well…angel food cake is a little wiggly. Just give it your best go and don't worry if it crumbles a bit. Because it will…
Next comes half of the pretty little raspberries.
Add half of the creamy mixture and grate/shave some chocolate to give it even more scrumptiousness.
And then do it all over again! Layer by layer…
Be sure to save some chocolate and a few raspberries so you can make the top look impressive.
Like you labored all day and in to the night creating this beauty…Maybe even throw a little powdered sugar on your clothes and smear some jam on your cheek to make it look like it was a lot of work…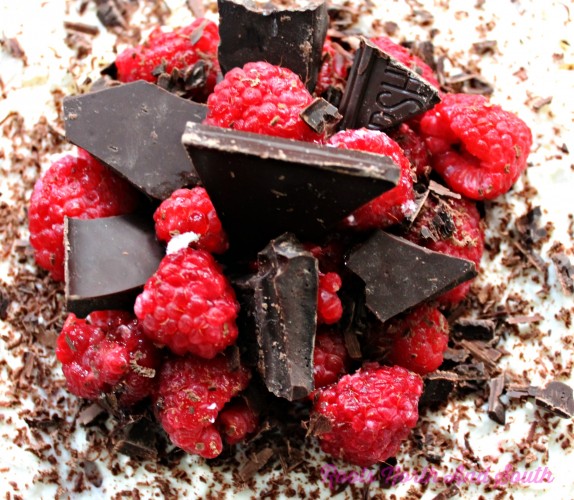 The only thing left to do is relax and enjoy this delicious trifle with your friends and family…
And let them ooh and aah over how long it must have taken you to make this and how beautiful it is!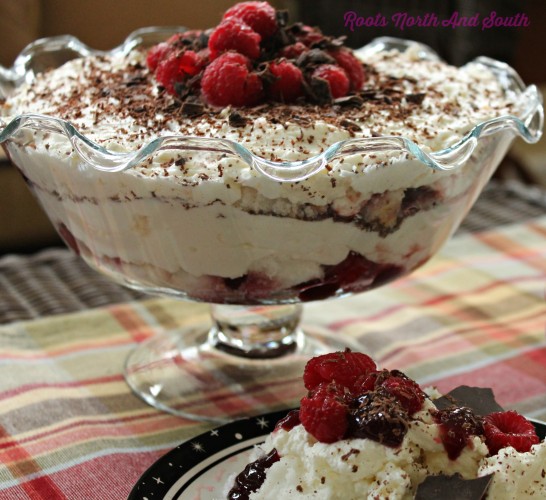 Is there anyone who doesn't enjoy chocolate and raspberry? I sure don't know them if there is!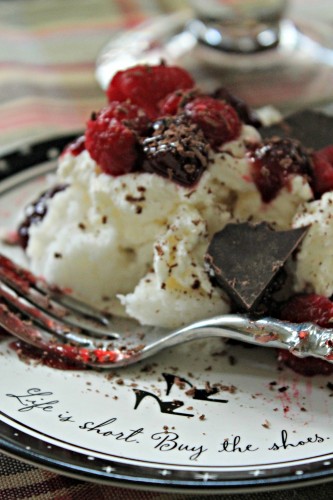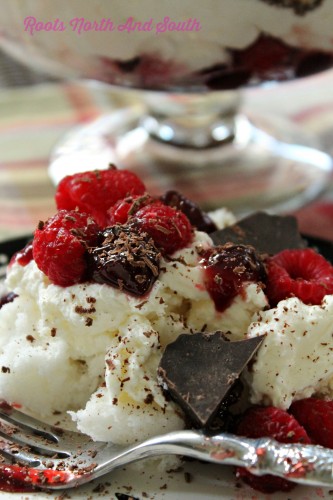 As always, thank you for stopping by Roots North and South!
If you don't already do so, please sign up to subscribe to my blog so we can stay in touch…
And don't forget to stop on by the blogs of each of these talented ladies below… They have great party recipes to share with you!
XO
Shelley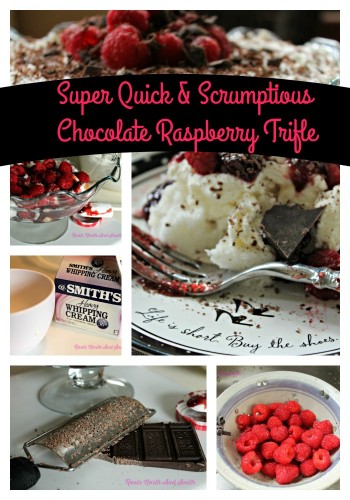 Monday ~ Appetizers
Petticoat Junktion | Cottage At The Crossroads
Create & Babble | Plum Doodles
Opulent Cottage | Brandywine Cottage
Domestically Speaking | What Meegan Makes
Tuesday ~ Desserts
An Italian In My Kitchen | Cook With 5 Kids
Roots North and South |Garden Matter
The Coconut Head's Survival Guide
Day to Day Adventures | 2 Bees in a Pod