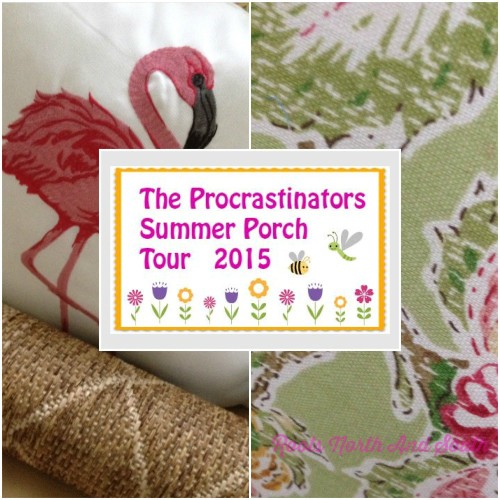 Welcome to the Procrastinators Summer Porch Tour!
If you know me, you are probably surprised to see me labeled a procrastinator. I am typically a compulsive planner.
But when it comes to giving this little "Secret Porch" of ours a makeover, I am the first float on the Procrastinator's Parade!
Secrets of an Old House
We are in a historic home that was built around 1900.
It holds a lot of secrets.

One is our Secret Porch.
We have a lot of walkers, runners, bikers and tourists that ramble by. The little porch is right off our sunroom and sits above the street level patio. It is screened by arborvitae trees.
You can enjoy a cup of Joe in the morning in your pj's and no one is the wiser!
On a side note: people on the street and sidewalks do the craziest things when they think no one is looking y'all…
In the ten plus years of living here, the most I've ever done is throw a pretty table cloth on the secret porch table. Sometimes a few candles and a pot of flowers. And my art supplies. And my art supplies. (Yes, I meant that to be there twice. I usually have a real mess going on out there!)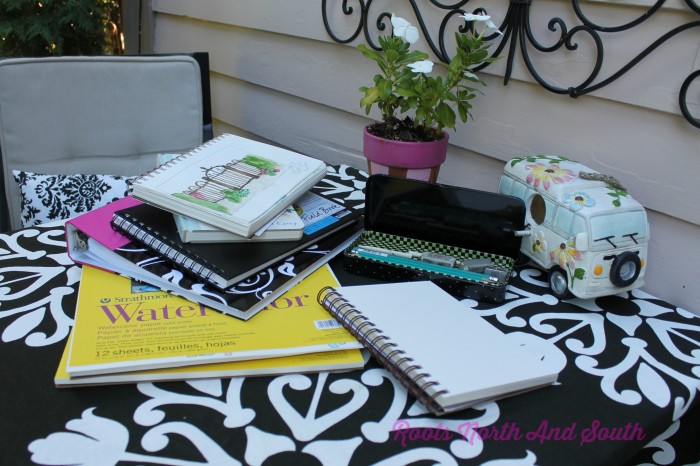 Want to see what gives me a brain freeze about making over this little porch?

Come on out! Let's take a peek…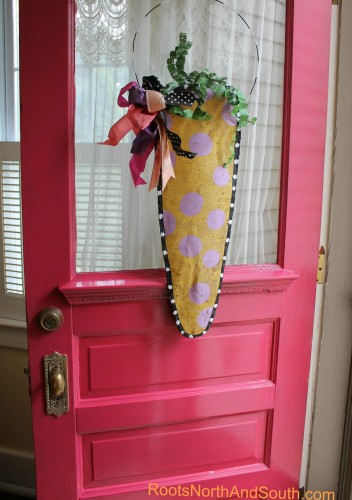 Secret Porch Makeover Challenges
Here's what I am up against…
Challenge #1…
It is crazy shaped. Long and narrow. 40 inches wide and almost 12 feet long… (NOT a typo!)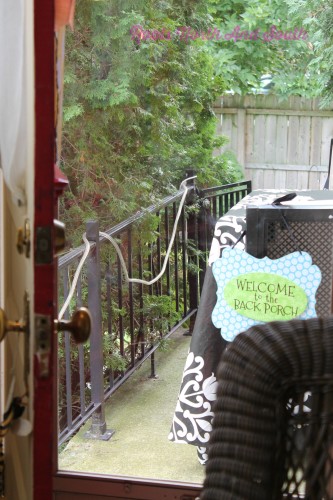 Challenge #2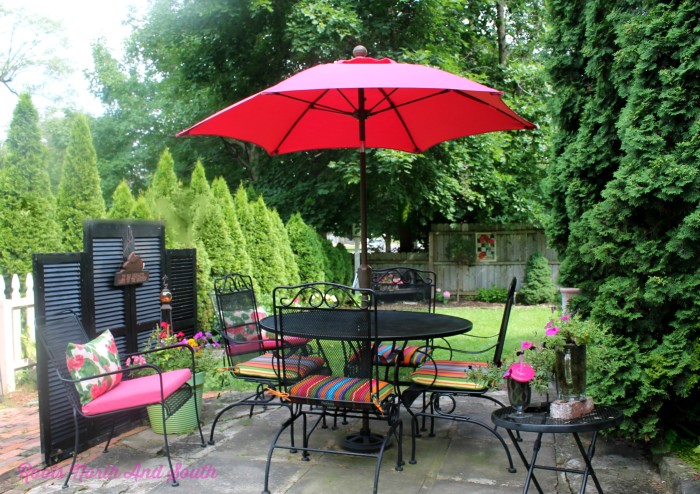 The Secret Porch steps go right down in to the yard by the big patio…

Very convenient. It is used constantly all summer long.
But if we are eating down on the big patio, we are constantly tripping over one another on this porch. No more than one person at a time can get through.

And of course we are constantly forgetting things we need at mealtime. Like the napkins. Or the pepper. Or the straws…
See what I'm saying?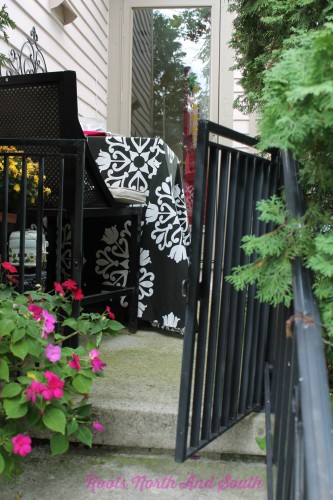 Getting Organized
I decided step one was to get it together girl!
I drug out everything we use most often when we are eating on the porch or the big patio and stacked it up all over the dining room table.
I'll spare y'all a photo of that mess…
Since we don't have a Container Store (boo-hoo but probably best for the budget!), I zipped on over to Home Goods.
And I scored big time!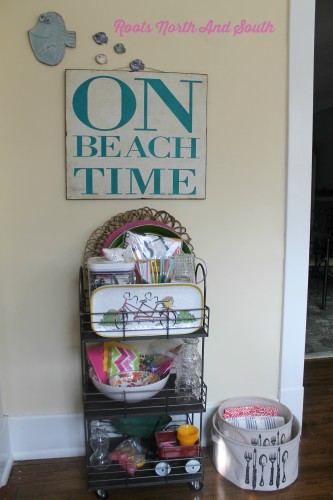 This cart was exactly what I was hoping to find. It can hold everything while still taking up very little space in the corner of the sunroom. It has handles on each side and wheels on the bottom. We can pull it right out on to the porch or carry it down to the big patio if we need to.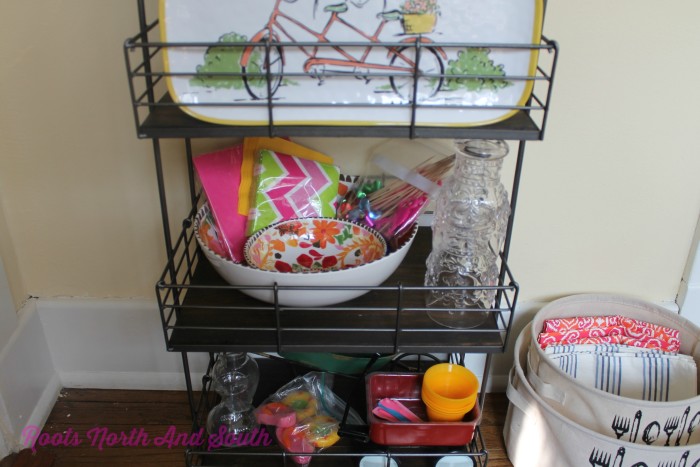 The top shelf has a waterproof caddy with all our patio utensils – including the wine opener! These shelves are full of odds and ends we need outside at mealtime like glasses, extra tablecloths and placemats. Gelato cups and spoons.
I also stashed a bunch of fun straws here because no meal is complete without them when you are 8 or 10 years old and eating outdoors!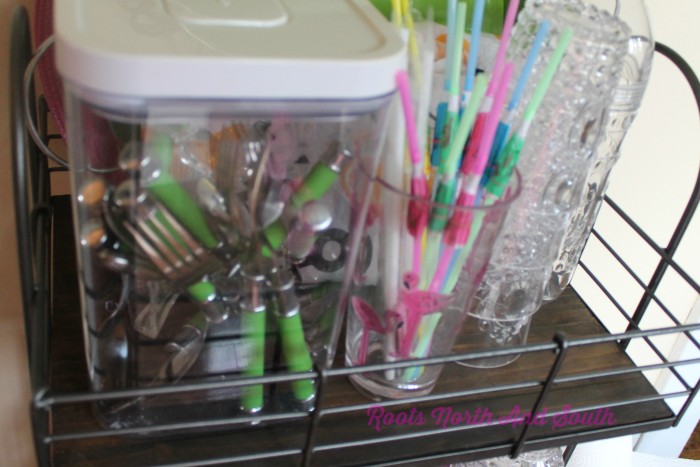 Then there are the two storage beauties I stacked next to it that fold completely flat when they are empty!
Bigger one on the bottom for our patio plates and the smaller one for napkins and "stuff."
Little one fits nicely inside the big one.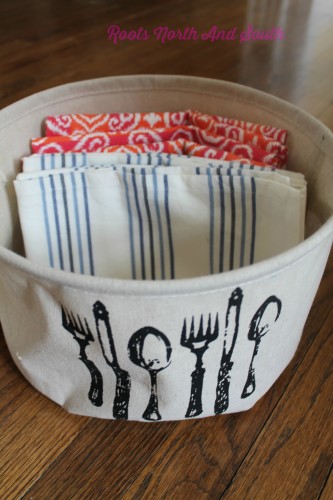 I also put this big 'ole basket together with a few more of the goodies we are always scrambling for..
Our worn out old board games.
Bug spray to beat back the bird-sized mosquitoes plaguing us this year.
A blanket because one of us – it might be me – is always cold. #YesItsMe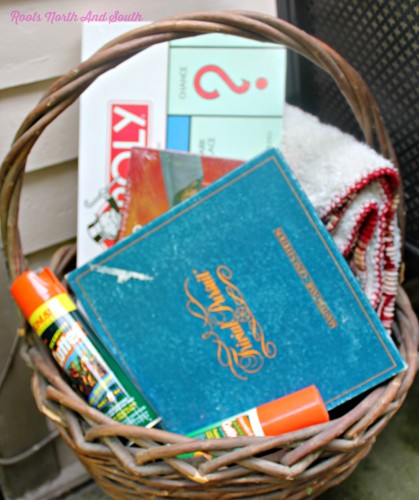 Summer Porch Makeover
After a great deal of plotting, I decided what I really wanted for the porch was:
A sisal rug
A new tablecloth in colors that pulled in the garden
A few fun pillows
A strand of party lights for the railing so we have extra light no matter which porch we are on
Speakers to make it easier to hear our tunes!
And the hunt was on…
Can I just say finding a rug of any kind is tough when your porch is less than 4 feet wide and over eleven feet long!
Luckily inspiration struck in the form of these two sisal runners at Lowe's.
I put them side by side on the porch and I love them!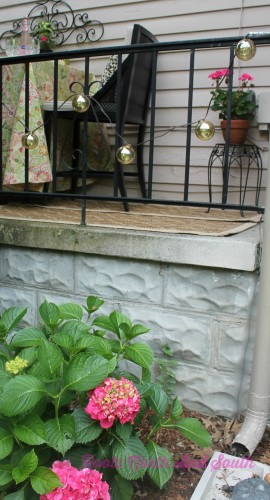 Not sure what they are really made of but they look like sisal yet aren't picky on our bare feet…
I found the mercury lights at Lowe's too.
One thing I like about these lights is that they are so pretty even when they aren't on. The mercury glass adds a little shine to our old railing.
I think that is important because so much of the time when we are outside it is daylight and they won't be lit up.
They are a little pricey but worth it.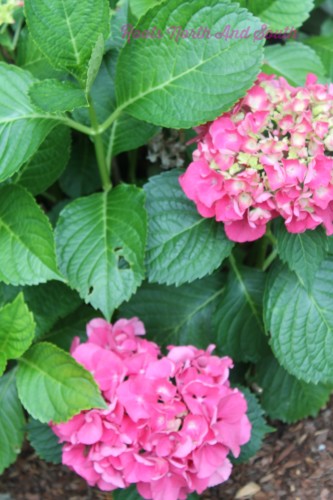 You would never guess that hiding behind these pretty pink hydrangeas is…
One of the two rock speakers I found at Best Buy!
Here's a closer peek: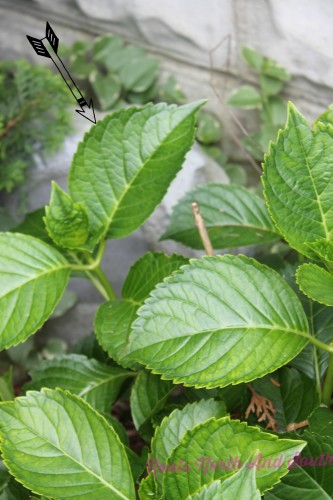 See it now?
They blend so nicely in to the border and put out great sound! And they are on sale for just $50 a pair!
The Secret Porch Steps
Then I decided to pretty up the steps a bit.
I kept things to one side so we still have a clear, wide path.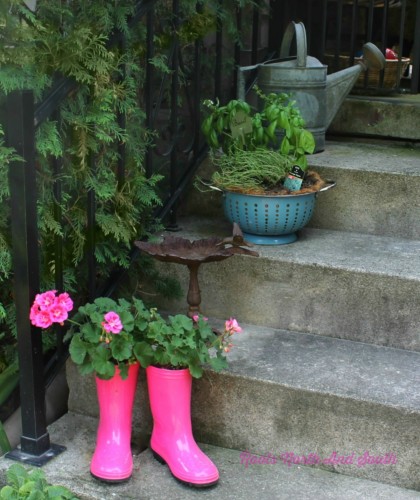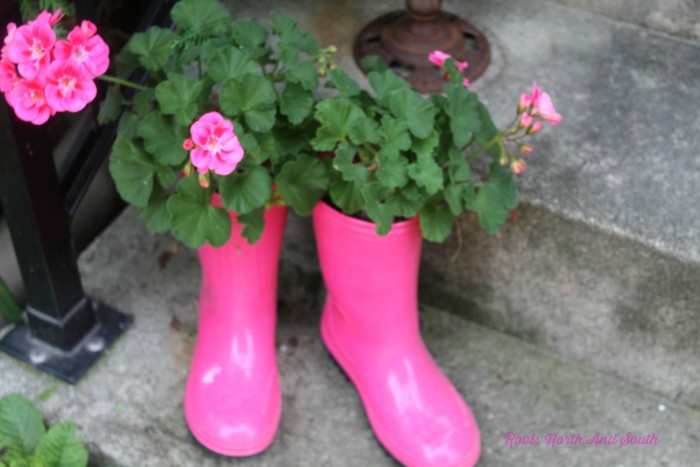 The Secret Porch Table
I wish I could say I'm the one who whipped up this pretty floral tablecloth and coordinating leopard pillow.
Truth is…it was my little momma!
I can't so much as sew a button on! She also made an extra pillow out of the floral fabric for the loveseat in the sunroom.
Wish I were a better photographer so you could see just how beautiful the pattern is…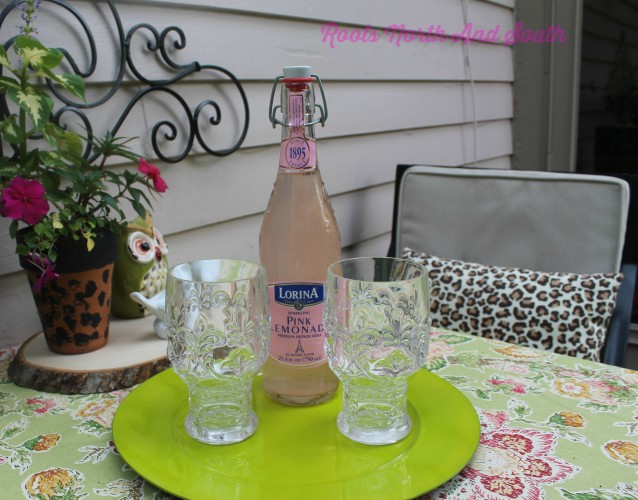 I added a few other little chotchkies that look like they would live outdoors.
An old owl candleholder. A set of salt & pepper shakers that look like little birds. A fun lime green lantern.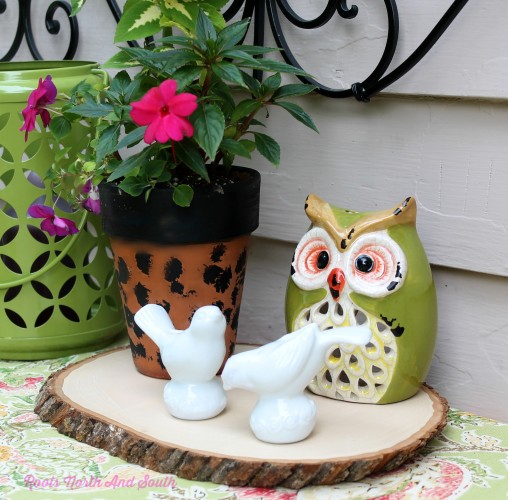 I love using these little wood trays indoors or out…
I have a few I sprayed with sealer that I use outside. Not sure it's necessary but they seem to be holding up well!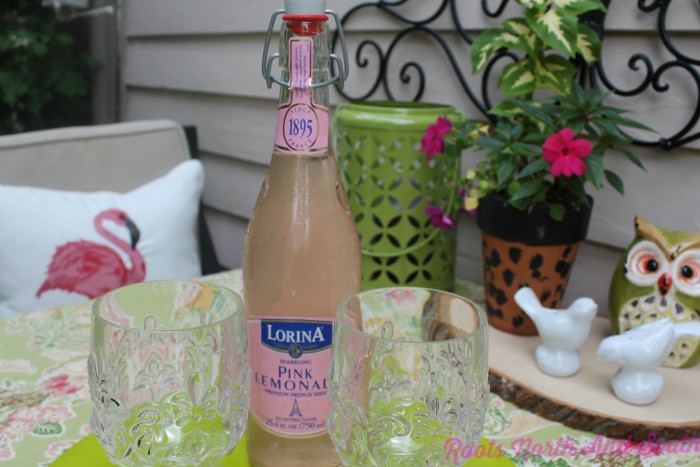 And this super fun pillow!
Who doesn't love a pink flamingo??
Just couldn't resist it…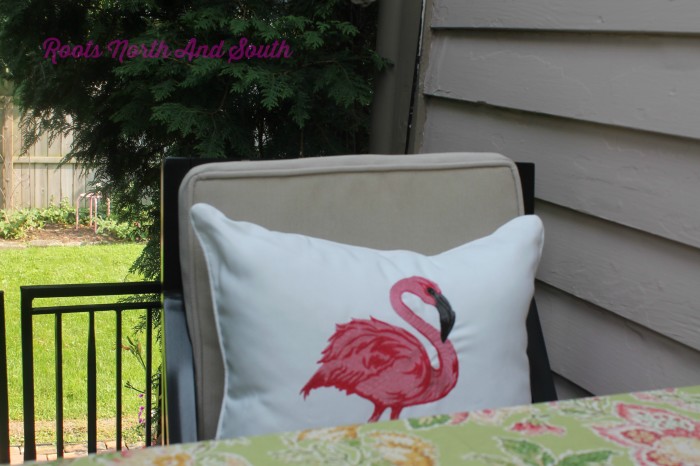 And that's it friends!
The end of my porch tour…
Be sure to stop by the rest of the porches on the tour for some great ideas!
Each of them are such an inspiration to those of us who are newer to blogging:
Special thanks to Kathy from Petticoat Junktion for organizing this tour and inviting me to join in the fun!

And while you are in the neighborhood, stop on over to my Garden Tour. It's a work in progress this year with all the rain, but y'all are always welcome!
Shelley