Welcome to the Garden!
The first time we looked at this old house, my family thought I was nuts to even consider it.
The interior needed some serious updating.
And the yard, you ask?
OMG. An overgrown mess.
But I fell in love with the potential.
My garden tour is made up of photos from the last two summers when it finally dawned on me to grab a camera and take some pics!
Come on in and have a look around.
Grab a glass of lemonade and a cookie on the Secret Porch when you need to sit for a bit.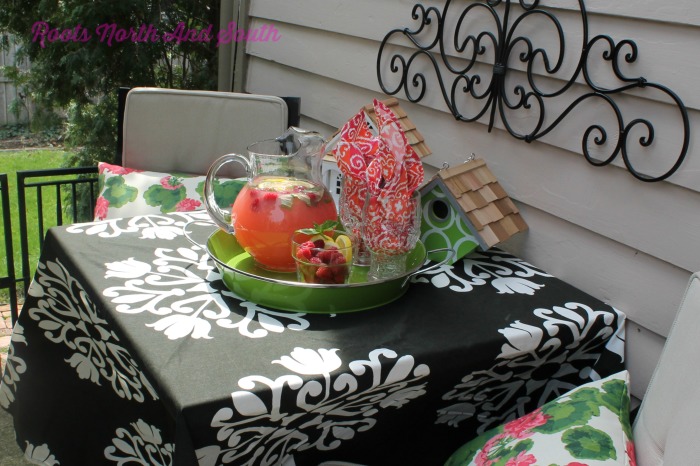 If this is your first visit, you may have missed my disclaimer.
I've been in recovery mode from a serious illness the past few years. So you'll notice some weeds here and there that need to be picked and a petunia or geranium or two that need to be dead-headed.
One thing I've learned  on the road to recovery is that its the journey that counts.
Enjoy it.
So while it might not all be as picture perfect as it was before I got sick, digging in the dirt has helped me on some pretty dark days.
Y'all ready to take a peek?
The Art of a Garden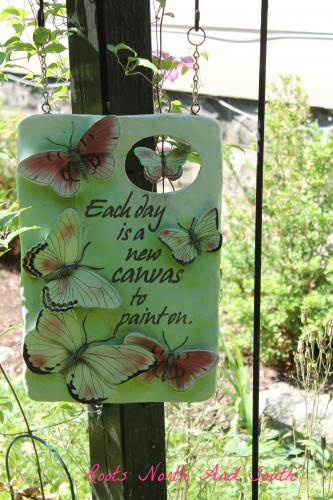 I thought it would be fun to start in the middle of the garden with one of my favorite pieces of garden art hanging there on my shutter screen. He's called, "Too Much Fun" by the artist and sculptor, George Carruth. His studio is just over the river and up the road a bit so you will see his work everywhere inside and outside my house.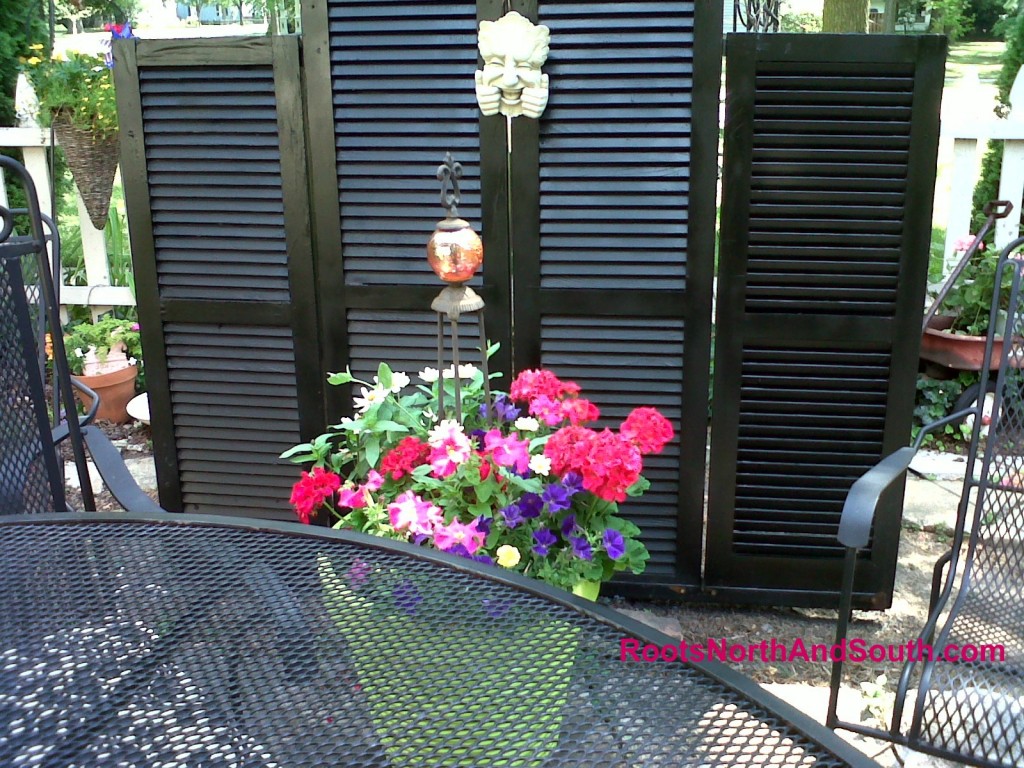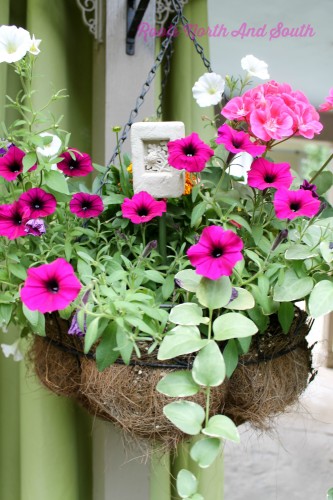 I am also a beginning potter.
Can I just say its harder than you think my friends?
But I've made a few treasures to add to my garden…
This little beauty is my first attempt at one of those cute little garden totems you see in so many galleries these days. I've given my family fair warning that they should expect similar ones as holiday gifts.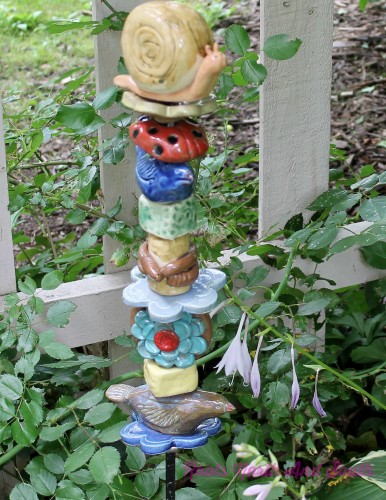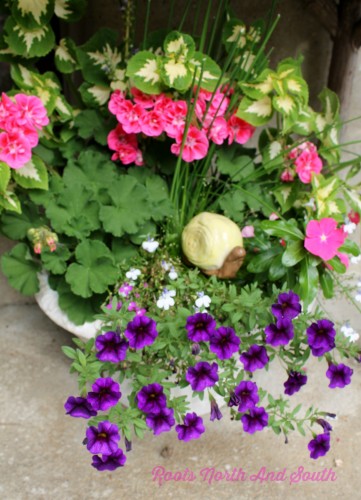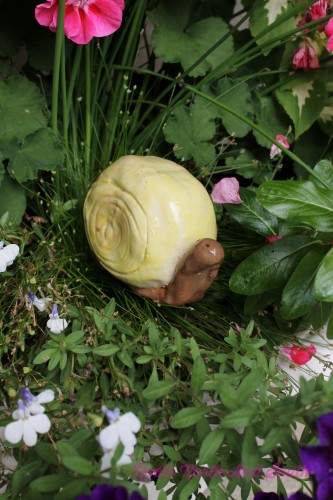 And I also like bring indoor art outside. You can read Tips for Adding Art to the Garden here..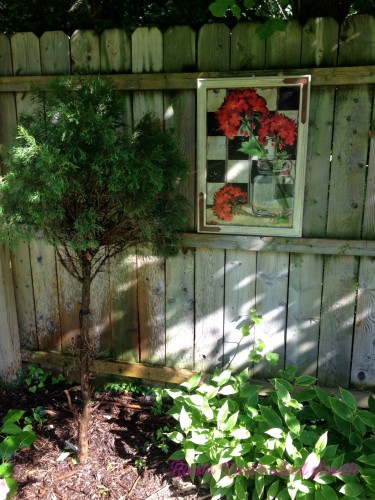 Using Shutters to Create a Privacy Screen
My handy dad (we call him "Pops") found the shutters for me at an estate sale after I told him I had my heart set on making a shutter screen. I wanted it for alongside the table on the main patio.
We live in a historic community with lots of foot traffic. It's definitely a fun location but sometimes a gal just wants to enjoy a martini with the girls or bubbles over lunch with the peeps without an audience.
So with loads of help from Pops…a shutter screen was born!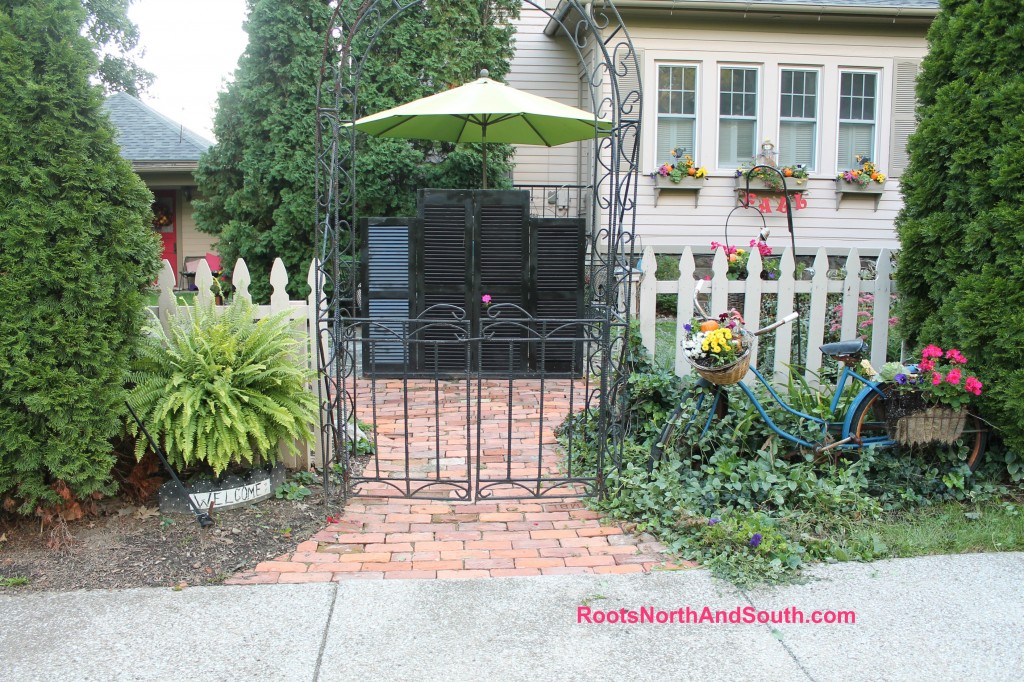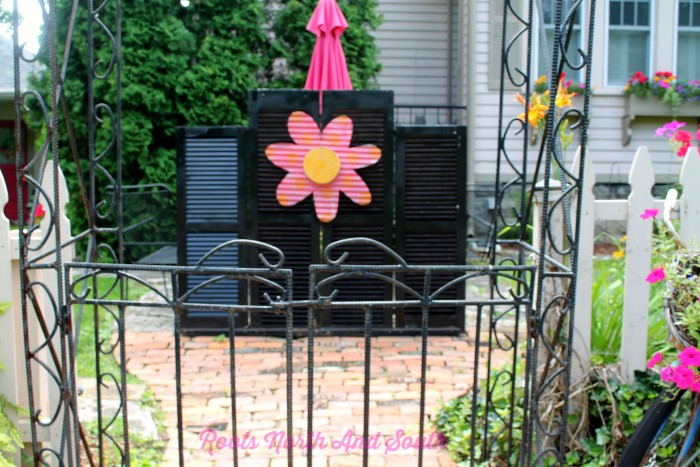 Re-Purposing an Old Blue Bike
I mentioned to Pops that I was on the hunt for an old bike with character…a few days later this one appeared in my yard!
It's been in one spot or another in the yard for over eleven years now. When I first meet people and they realize where I live, its one of the first comments they make… "You live in the house with the blue bike! I love that bike!"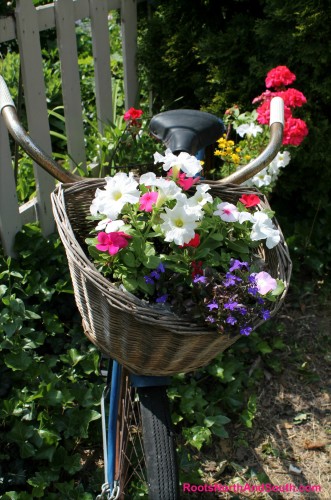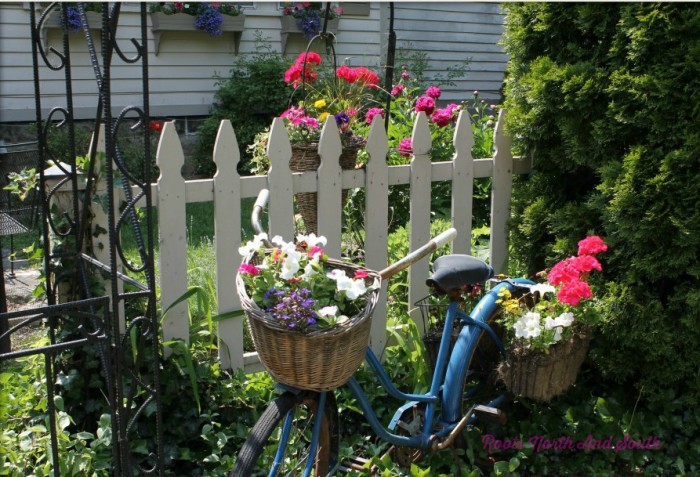 Window Box Love
I can't imagine having a house without window boxes.
Seriously.
People laugh when I say it but its true!
Even when I'm old and they move me to a nursing home…its gotta have 'em. They add so much curb appeal to a house. I just love how you can change them out with the seasons. Even when my health has been at its worst these past few years, my window boxes still rocked!
These photo shows the new ones my sweet Pops made me this spring…
(You can read more about here in What You Should Know Before Building Window Boxes..)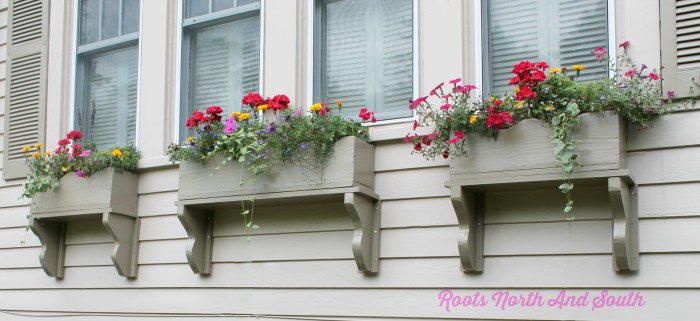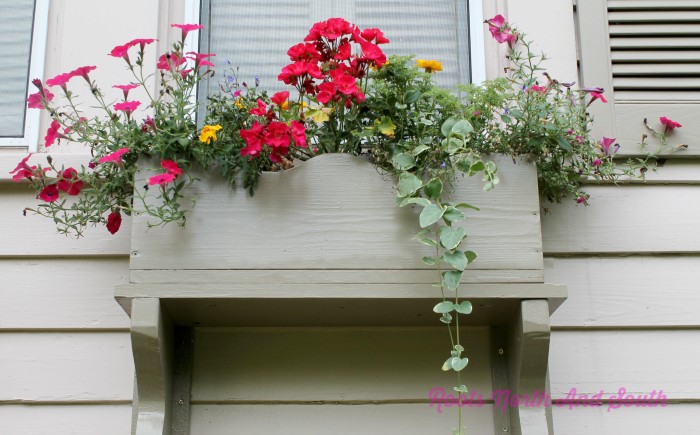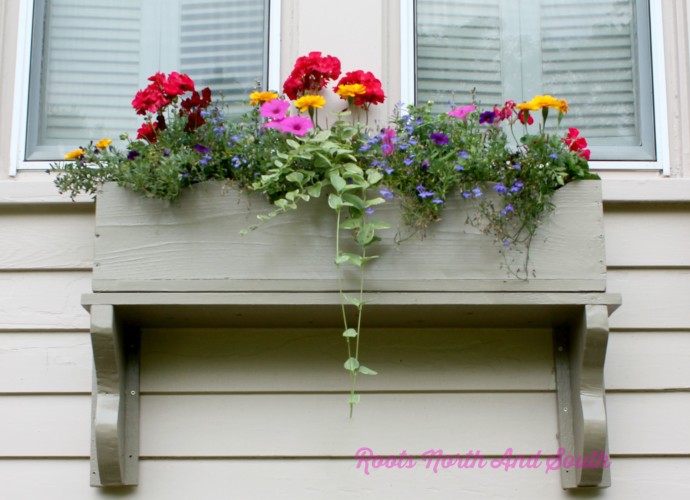 And a few seasonal peeks of the old window boxes…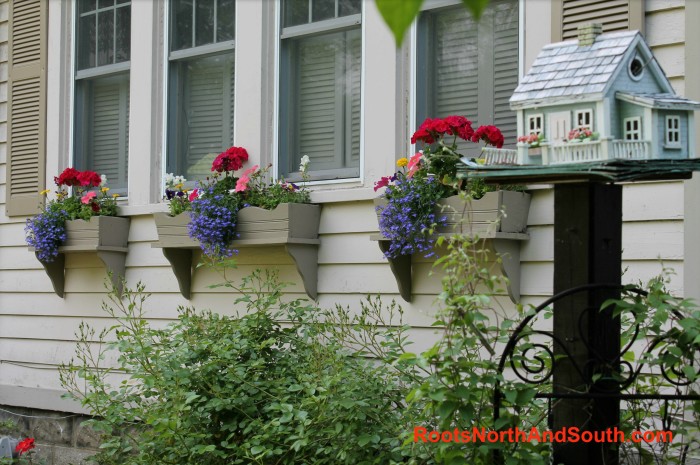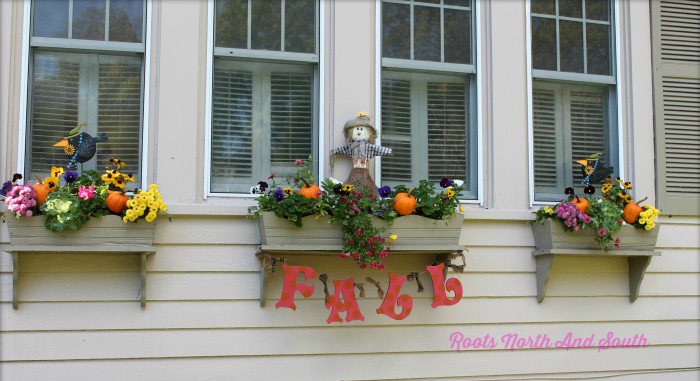 Here's a peek at how you can quickly whip of a FALL banner for your window box…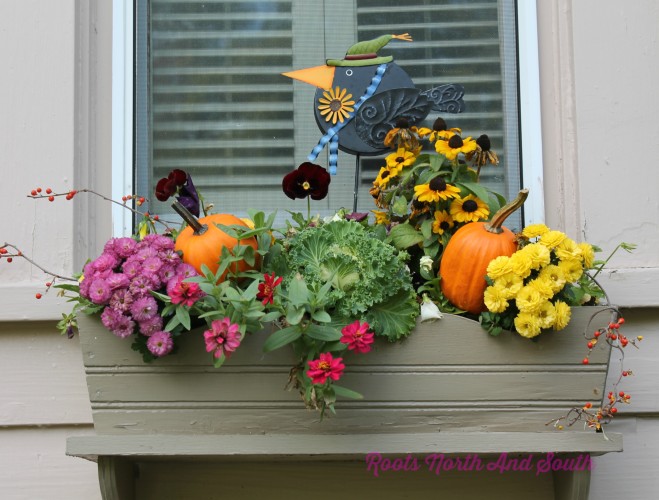 If you would like to see more window box photos and learn more about window box gardening, head on over to Window Boxes for All Seasons.
Container Gardening
Are you crazy for containers?
Ditto!! I will plant flowers in anything that will hold dirt y'all.
An old teapot…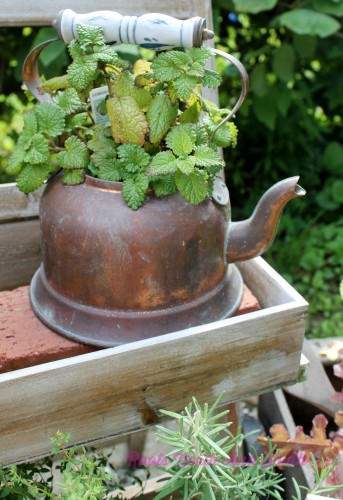 A broken blender…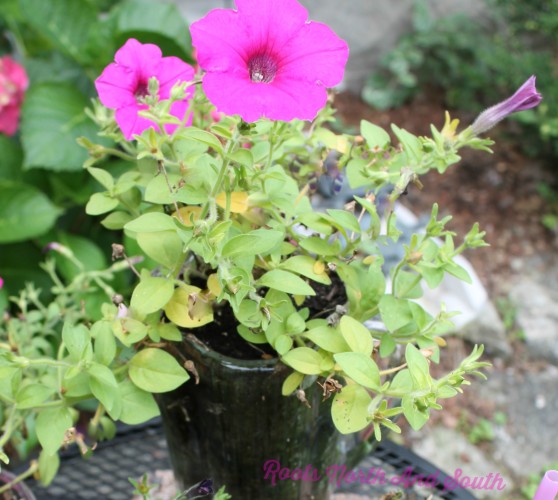 A pair of kids boots…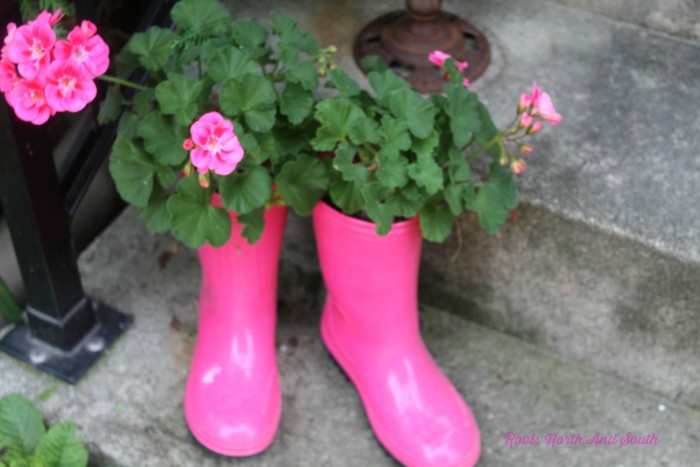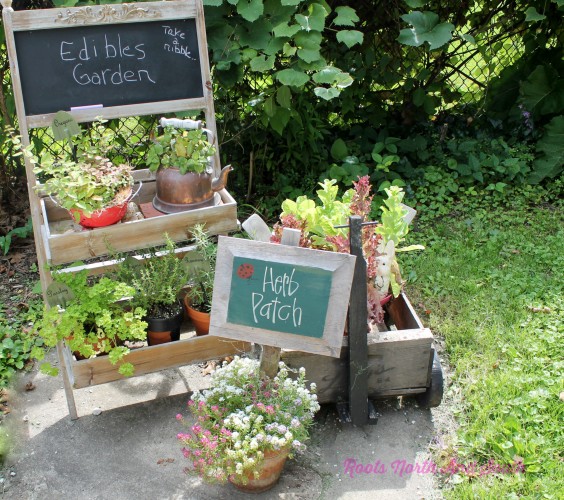 And geraniums are one of my favorites…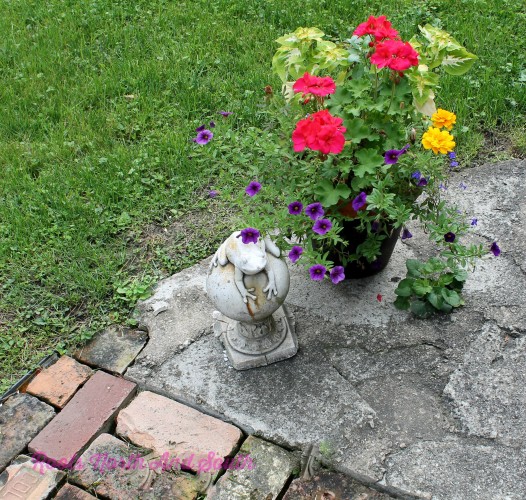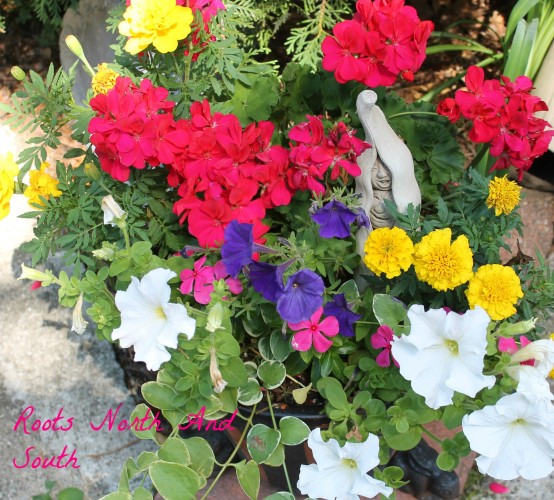 Check out my Barely Contained and Creating a Container Edibles Garden posts to see lots more photos and a few tips on container gardening.
Peeking Around the Shade Garden
The Fairy Garden
The main part of our Fairy Garden lives in the shade. We have a smaller one in an old red wagon on the sunny side, too!
Last year was tough on our Fairy Gardens.
You can read about it in Throw Down in the Fairy Garden.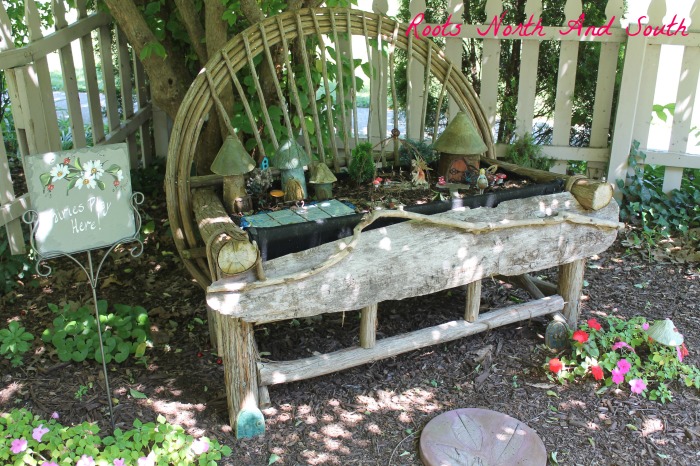 Couple little fairy doors and mushrooms that I made…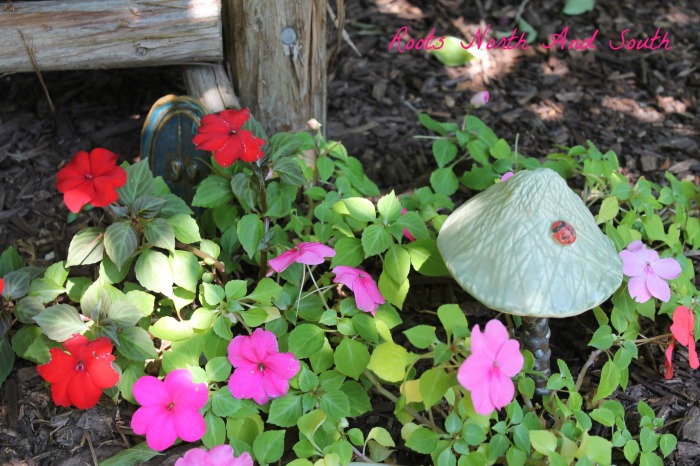 The front corner of the yard, and the back two corners of the border are really the only two shady spots in the yard.
Lunch in the Garden?
The little ones in our neighborhood love this little area!
It's an easy dash from the sidewalk over to this little corner of our shade garden…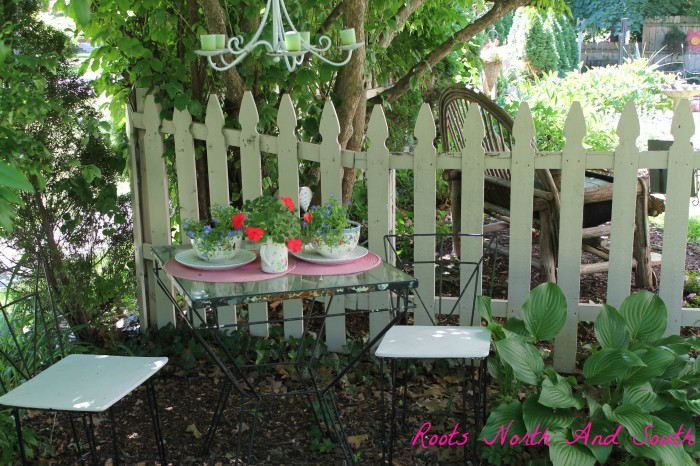 Across the back of our yard is a long border.
It goes from super shady…to hot, hot, hot…back to super shady.
Its taken a lot of trial and error to figure out what works and what doesn't.
The Shadiest Sides of the Garden Border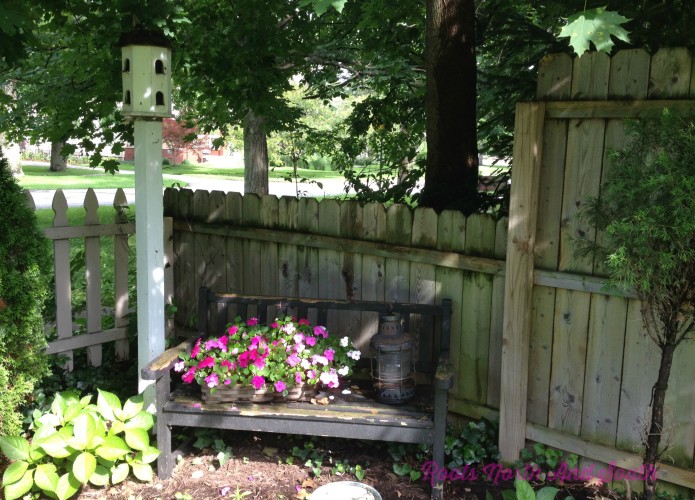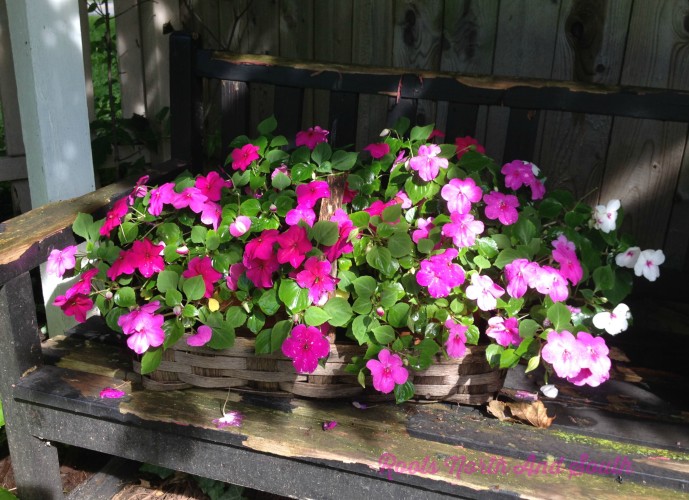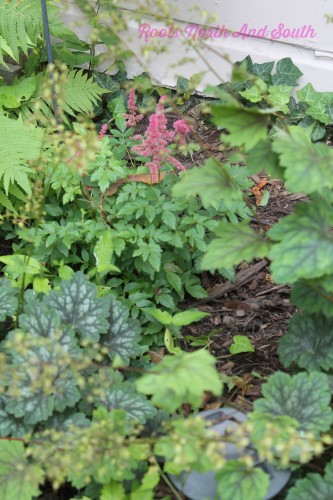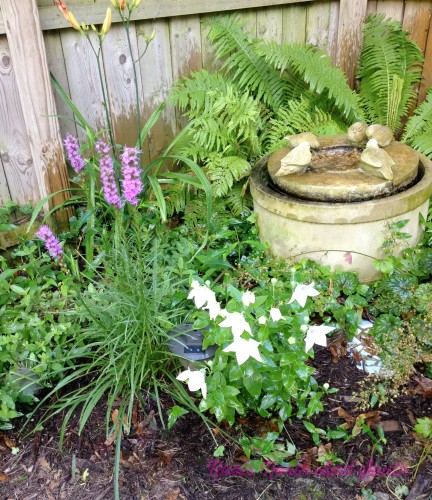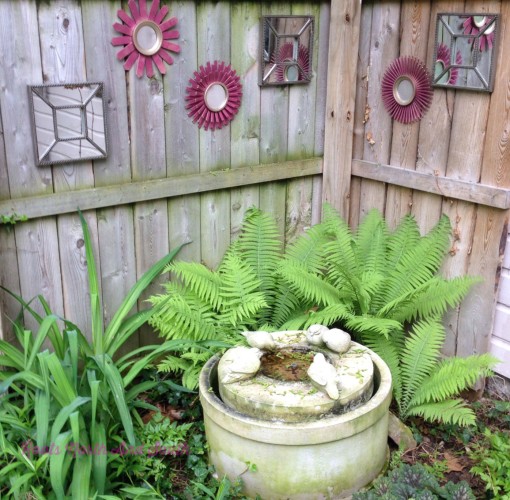 (Read about Using Mirrors to Add Light tothe Shade Garden here.)
The Part-Sun, Part-Shade Areas of the Garden Border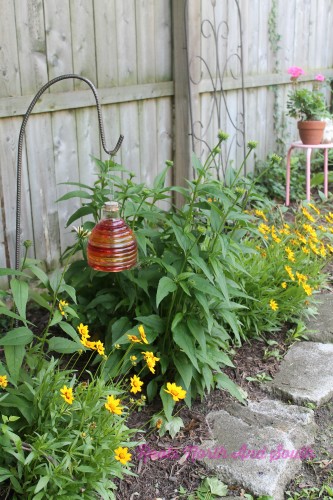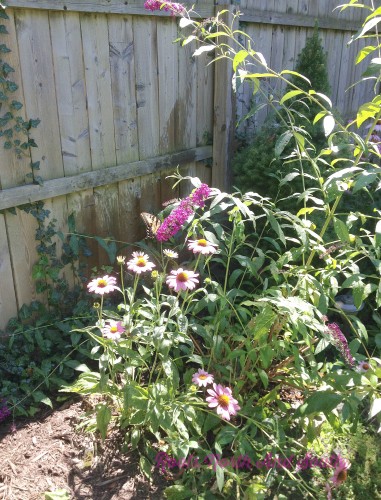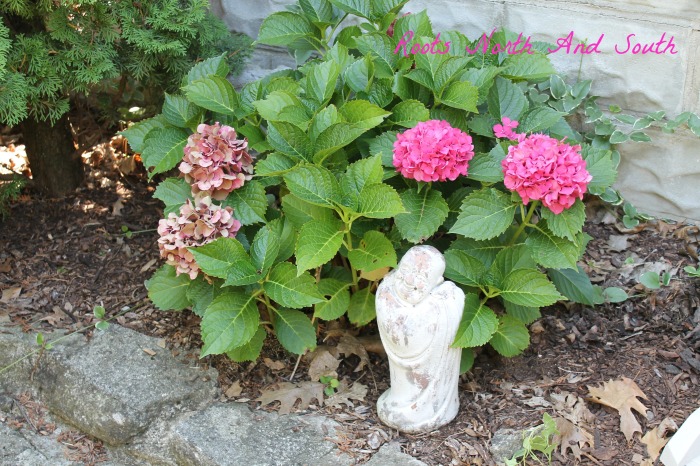 Do you like dried hydrangeas? Here are a few lazy girls tips for how to dry them.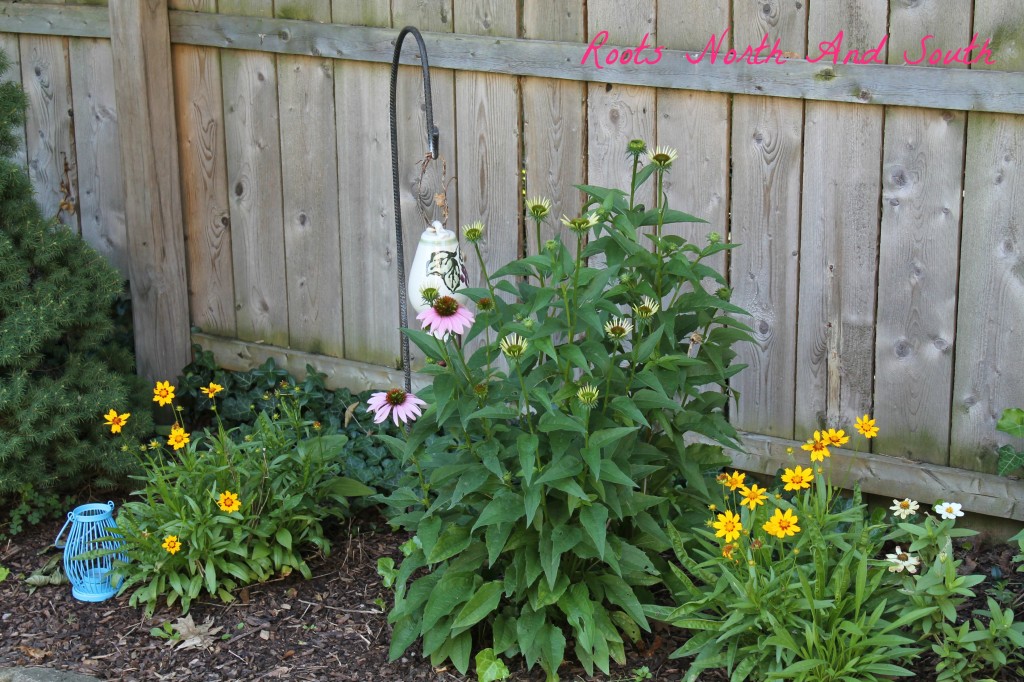 And on to the sunnier sides of the yard!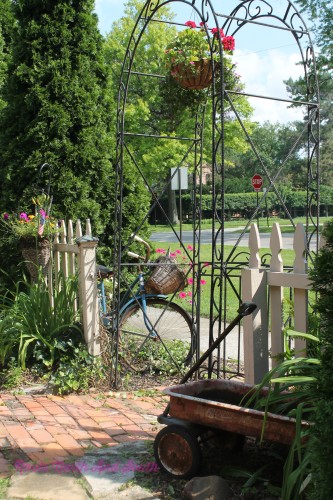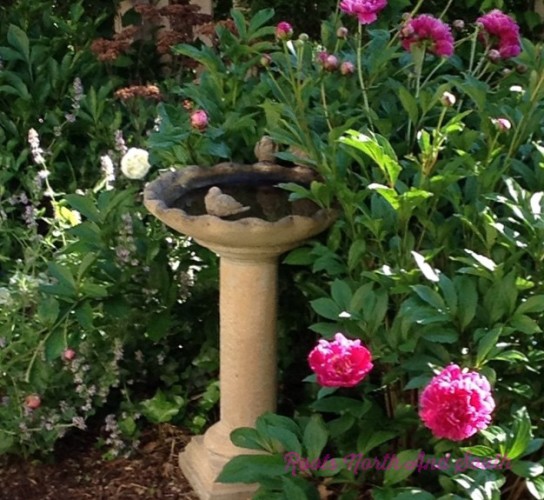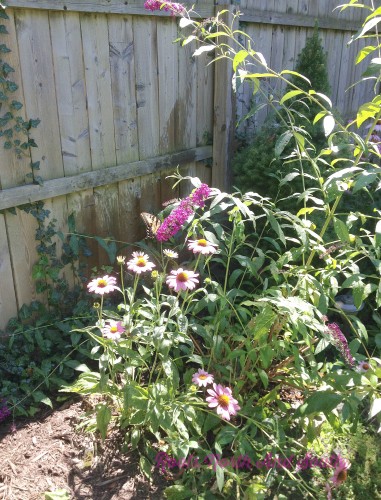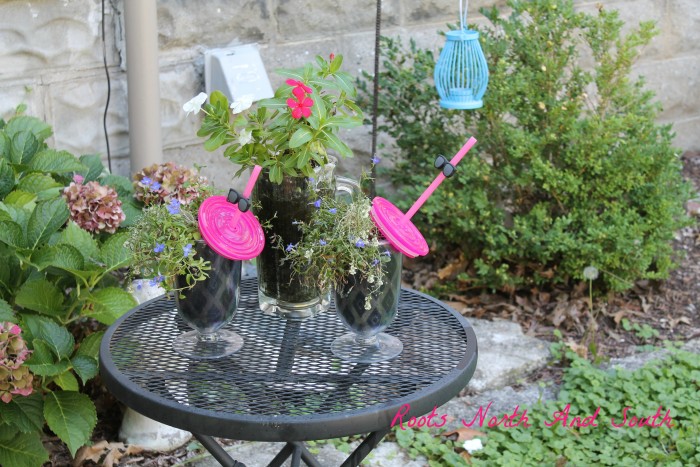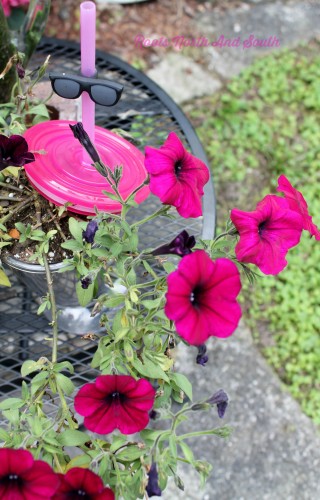 The Girls Favorite: Mr. McGregor's Garden
This is a new addition to our growing collection of fairy gardens and miniature gardens…
You can read more about it in Bringing a Children's Story to Life in the Garden.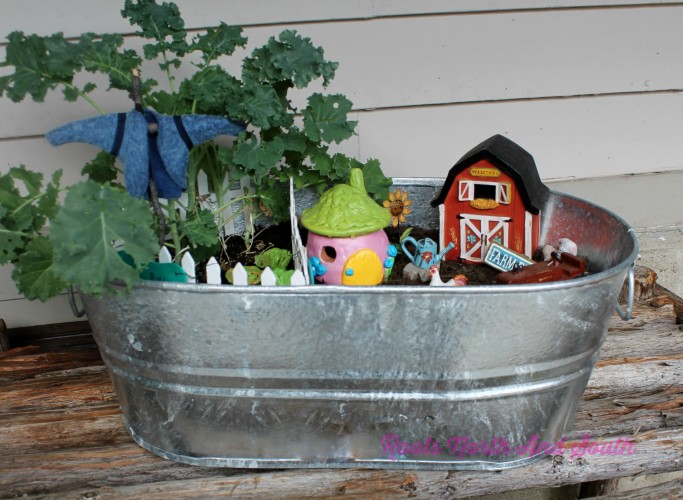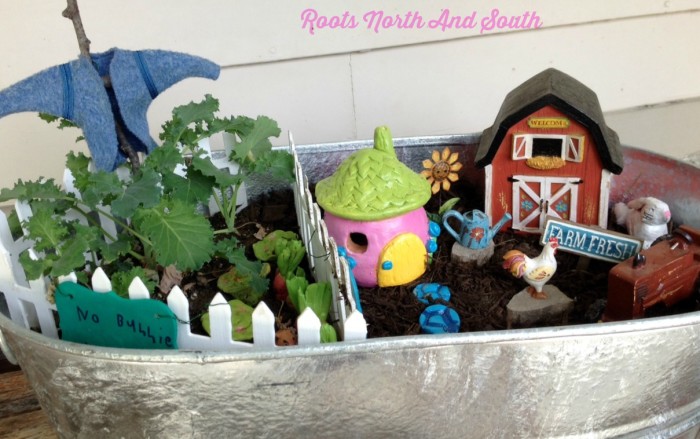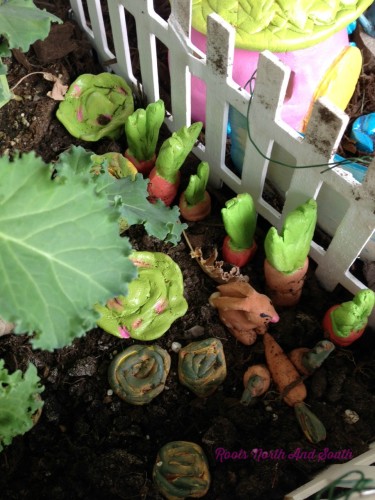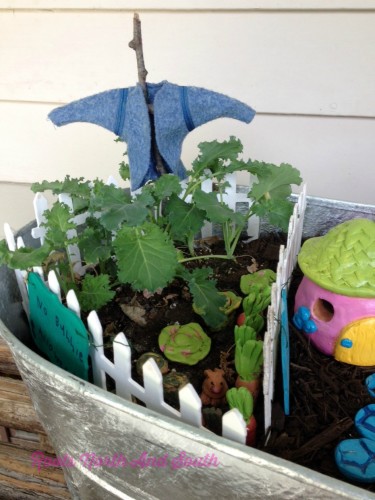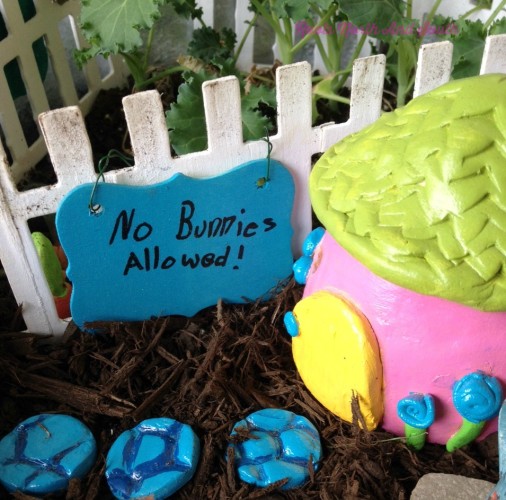 Pottery Bench and Tool Stash
And last but never least… the place where the real work happens!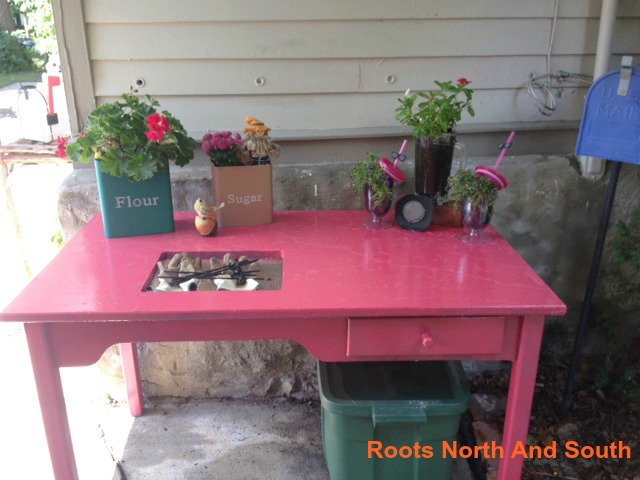 The beat up old mailbox I have used for years to store my gloves, bug spray and tools!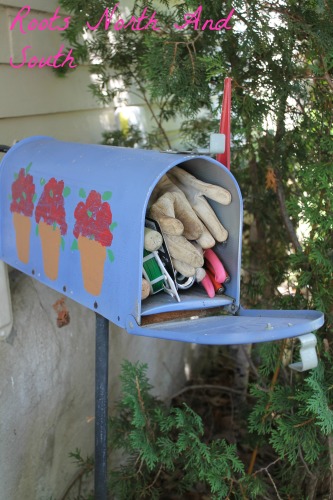 And that's it!
Like my garden, this tour is always a year around work in progress…
Hope y'all will visit often…
Shelley