Living the Gluten Free, Dairy Free Life
One of the questions I am asked most often on my blog and in my daily life (beyond how to make window boxes look better!) is how I manage to stick with my gluten free, dairy free, and egg free diet. I think folks are hoping I have a magic wand I can send their way to make it easier.
Truth is… it totally s*cks. No skirting around it.

An advantage, if you can call it that, I have over people who are interested in adopting this diet in hopes of losing weight or improving their complexion (I know, but people tell me that's why they are doing it quite often!) is if I get off track, I get sick.
Painfully. Violently. Ill. So it keeps me on the straight and narrow most days.
But when we head out to dinner or are at a party with scrumptious-looking treats, you can be sure I'm whining and pouting and throwing a Trump-sized tantrum on the inside.
What I have learned over the past few years, however, is how to adapt some of my favorite foods to make them taste great while staying free from the ingredients that make me…sick.
This one is one of my favorites and a big hit with even my pickiest of peeps.
Gluten Free Chicken & Vegetable Stir Fry
Here's what you will need to round up to get cooking:
Chicken breast (boneless, skinless) (one half per person)
Gluten-free, low sodium soy sauce
Low sodium natural peanut butter
Rice noodles
Green, yellow and red bell peppers
Smart Balance Butter with Flaxseed Oil
Low sodium, organic chicken broth
Paprika
Salt and pepper
I start by baking chicken breasts for about one hour. We like paprika on our baked chicken along with salt, pepper and a little Smart Balance made with Flaxseed Oil. It's free from dairy and has no xanthum gum.
The other step that takes a while is to soak the noodles.We like the Pad Thai noodles from Annie Chun. I usually soak them for at least a few hours and sometimes overnight.
Once the noodles have soaked well, you cook them in boiling water for about 5 minutes.
Don't overcook the noodles folks! It's a fine line between undercooked & crunchy and mushy & gross when you are working with rice noodles so BEWARE. (Lesson learned over and over and over…until I finally got it!)
While you can slice and dice any veggies you want, we like a variety of bell peppers and sometimes a few carrots.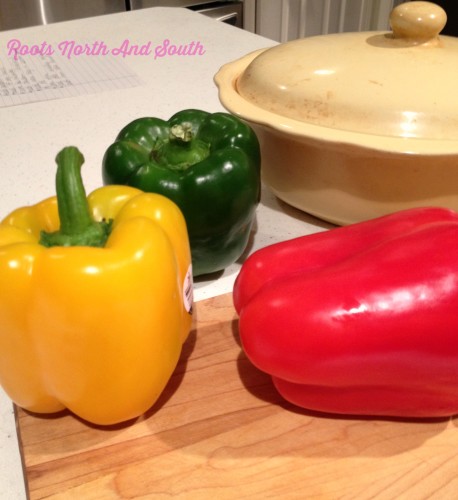 Once the chicken is cooked, I cut it in to bite-sized pieces. Be sure to save the broth!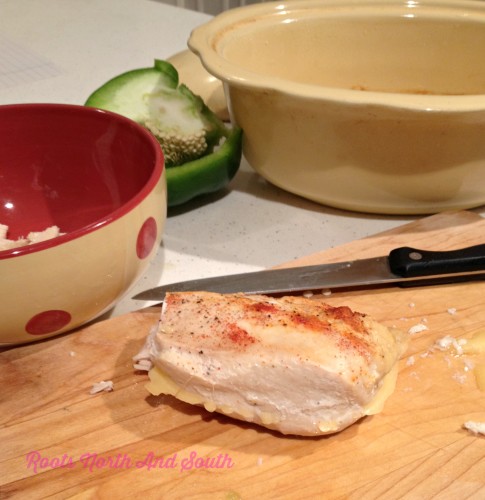 I throw a little of the Smart Balance butter in to a big frying pan on medium high heat, add the sliced peppers and cover it all with the soy sauce. (I use a lot of it!)
(We like the Tamari brand soy sauce that you find in Asian food stores or in the Asian food aisle in larger grocery stores. It is gluten free and low in sodium.)
Add about 2 tablespoons of chicken broth. I usually have enough left from the chicken I baked. If not, I add some that is low sodium and organic.
Let the peppers simmer in the soy sauce and chicken broth until they are good and tender.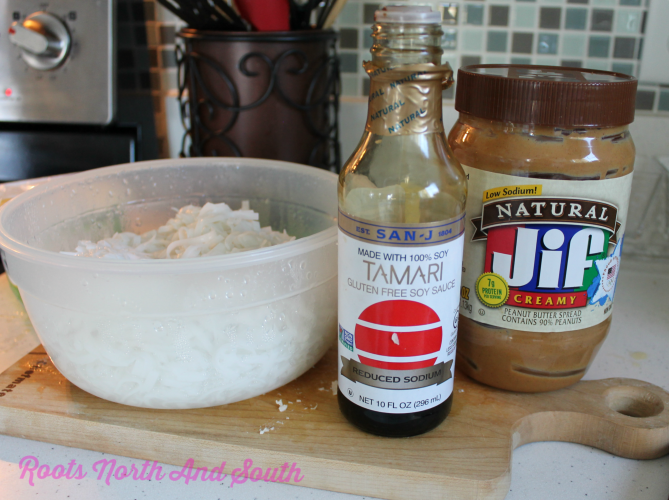 Then add the cooked chicken and the noodles… And a more soy sauce and chicken broth.
Once that is all stirred together and simmering again, I add 2 tablespoons of peanut butter. I really think the combination of soy sauce and peanut butter is what makes this recipe fan-tastic!

You'll want to let the peanut butter melt and keep stirring to blend it well.
That, my friends, is all there is to it!
While it definitely isn't a pretty dish, it is great tasting. Your family and friends will never guess what's missing…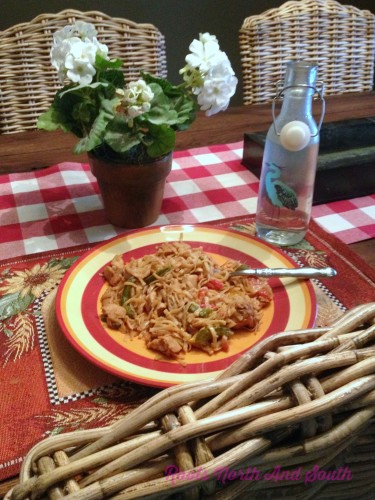 Shoot me an email if you have any questions about this recipe or this crazy diet I have to make work.
I think I'll try to do a round up of some of my favorite gluten free products and treats soon.
I know it can be an expensive trial and error process separating gluten free products that taste good from those that taste like gritty sandpaper…especially if you are new to gluten free foods.

If you don't already do so, follow me on Instagram or Pinterest so we can stay in touch!
And you can Pin this image if you want to make sure you can easily find this recipe when you are ready to whip it up!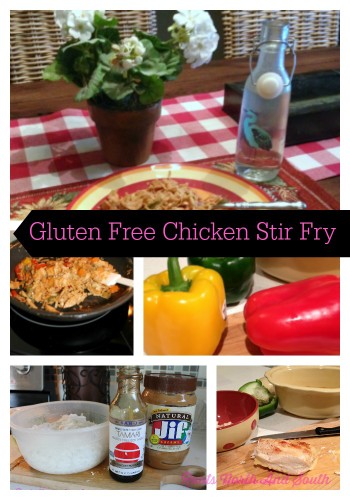 Until next time,
Shelley