Welcome!
Much like our front yard since the gas company moved in many months ago to replace the lines, my HOME TOUR is under construction!
 I'm fairly new to lifestyle blogging. As my photograph skills improve (which is a sloooow process) I'm trying to update this tour.
My goal is to do a better job capturing and sharing the beauty of this 100+ year old home.
My family and friends  strong-armed encouraged me to share my love of gardening, design, and entertaining, as well as my "unique" sense of humor on a blog for quite a long time before I took the plunge.
What started out as writing for therapy turned in to this little blog in September of 2014. I'm having so much fun with it!
Historic Home Love
This old house has been home for almost twelve years now. It is located in a historic little town along the river.
Because the court house burned back in the day, many of the records from the 1800s and early 1900s were lost.
Best estimates are it was built around 1900 – 1910.

Just last winter the house was approved for the Historic Home designation!
We finally got our plaque up after the mounds of snow melted in April.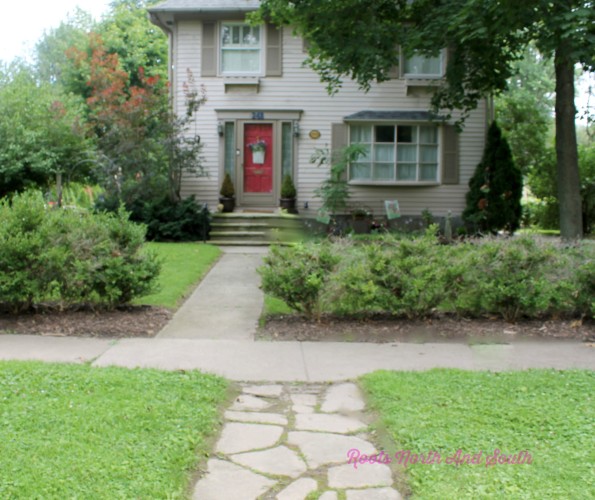 And this grand old front door that has been painted and repainted and repainted again…
Probably about five or six times in the last ten years.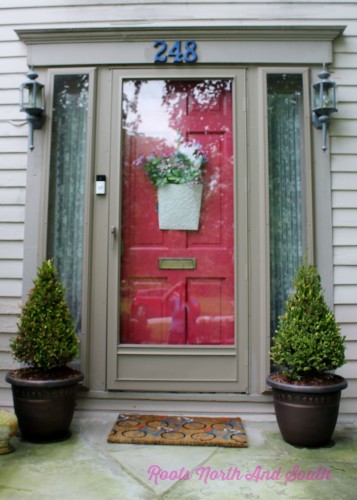 Yes…
I realize I'm in the picture! Along with our uber-green neighbor's Prius…
I've tried this shot from every angle and it's too tricky yet for my amateur photography skills.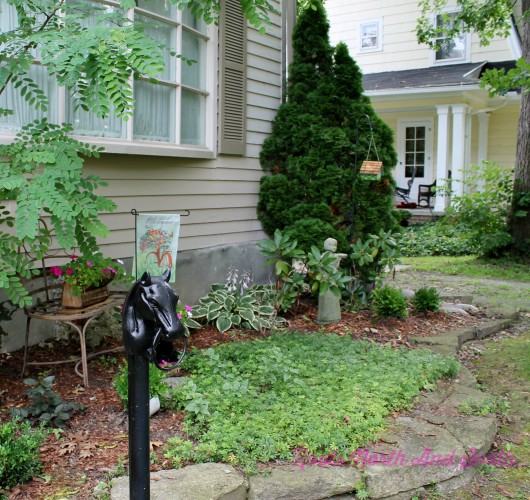 Two of these old fellas greet visitors. One of each side of the porch.
Can't you just picture a horse or two tied to them back in the day?
We decorate them for parties and for holidays!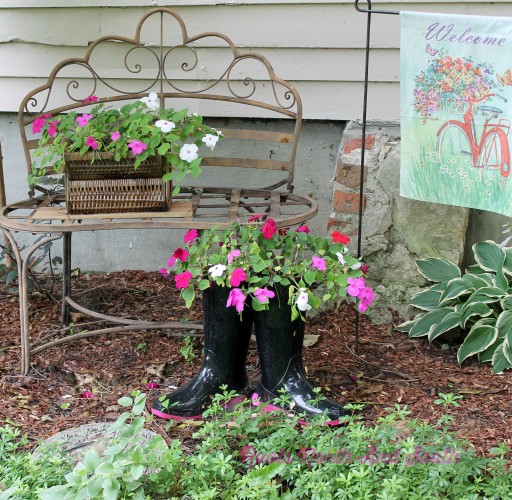 What are you waiting for? Come on in!
This old house has been a lot of work.
I'm slowly working on scanning and sharing the "before" photos. YIKES! It wasn't pretty.
Even though most of the big stuff (ripping up carpets, tearing off wallpaper, restoring hardwood floors) is done, I still carry a paint brush in one hand and a hammer in the other most days.
Primarily because I love to redecorate.
Don't you?
My family keeps telling me I need to stop because we have so many coats of paint on these old walls the house is getting smaller inside.
The Entry Way
I love an old house welcome.
This is how ours greets visitors…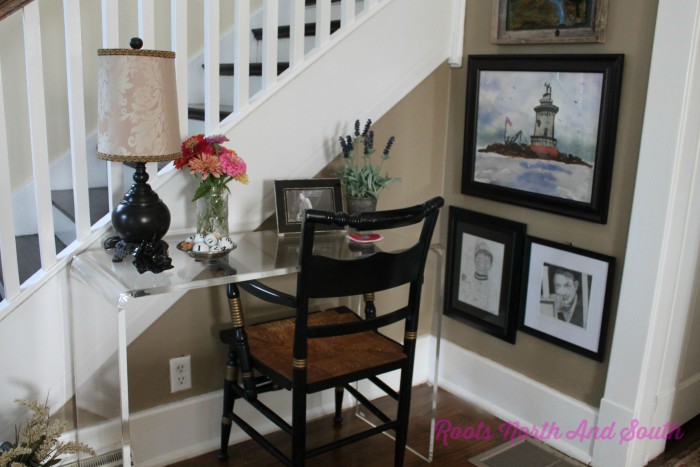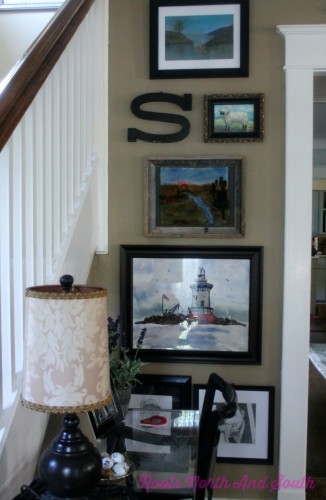 You can see photos of the entry from when I first moved in, a few more entry photos and read about the makeover in Old House Entry Way and Entry REVEAL.
Here's a peek…it might hurt your eyes a little…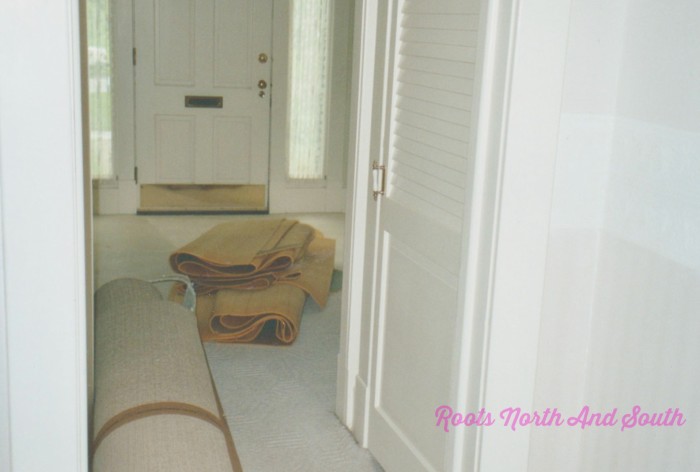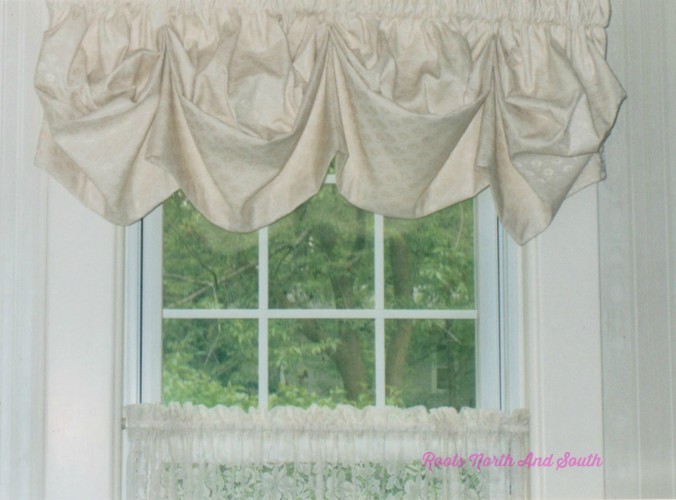 Follow me!
We'll head on back to the dining room and kitchen. I'll show you around there.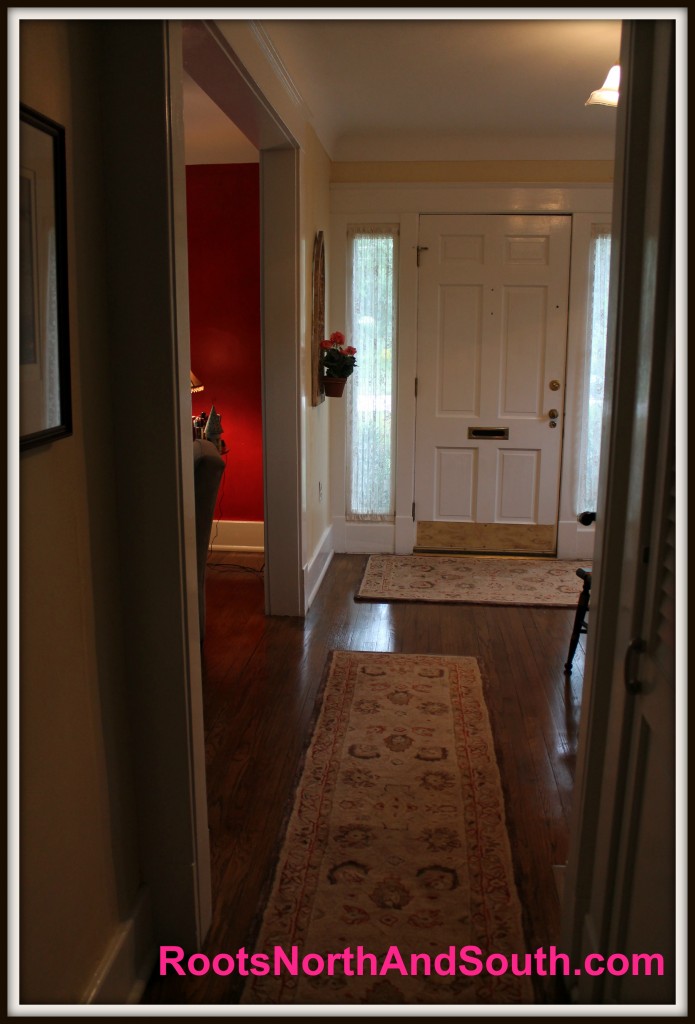 Dining Room
This room was a bona fide disaster when I moved in, my friends.
This rubbery old wallpaper was in almost every downstairs room in the house.
Hiding more layers of equally unattractive other wallpapers in several rooms.
When we tried to remove it, it would stretch. And stretch. And stretch.
Check it out in Historic Home Dining Room Makeover. I've also shared lots of photos of tablescapes and other fun seasonal swaps.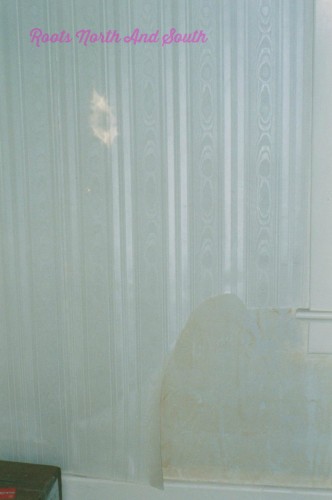 I'm always messing around with something in here.
Playing around with new linens…changing the flowers …testing out a new Chocolate Martini recipe.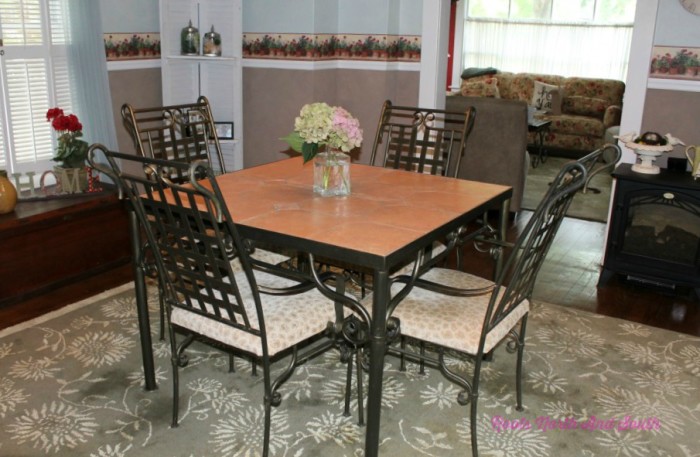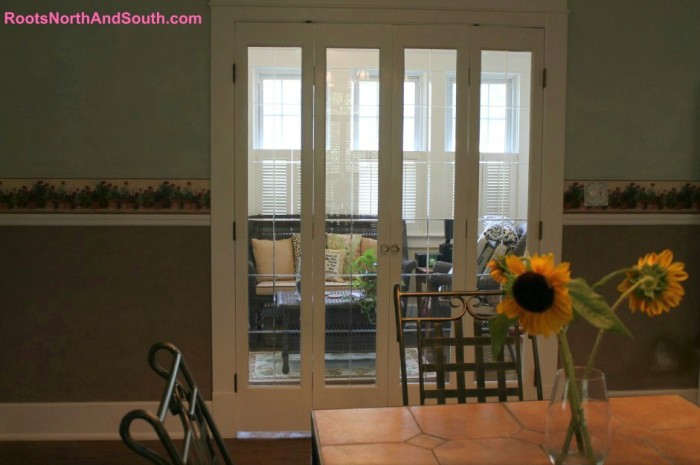 I never get tired of this border!
I've changed the colors above and below it several times, but never the border.
I even ordered extra and stashed it away for the new house we will be building later this year.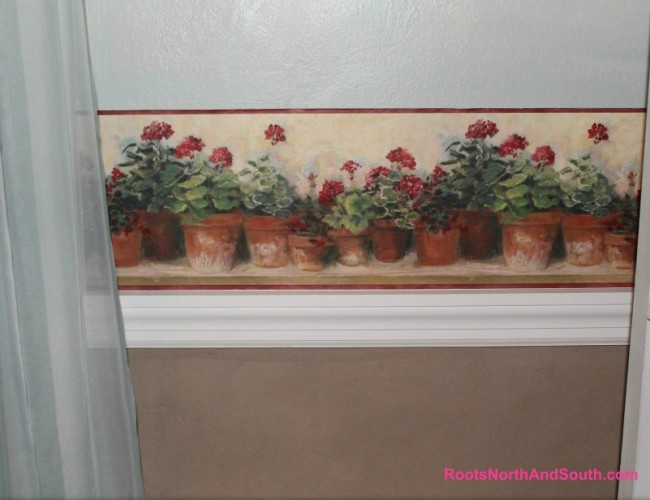 And a few fun seasonal photos…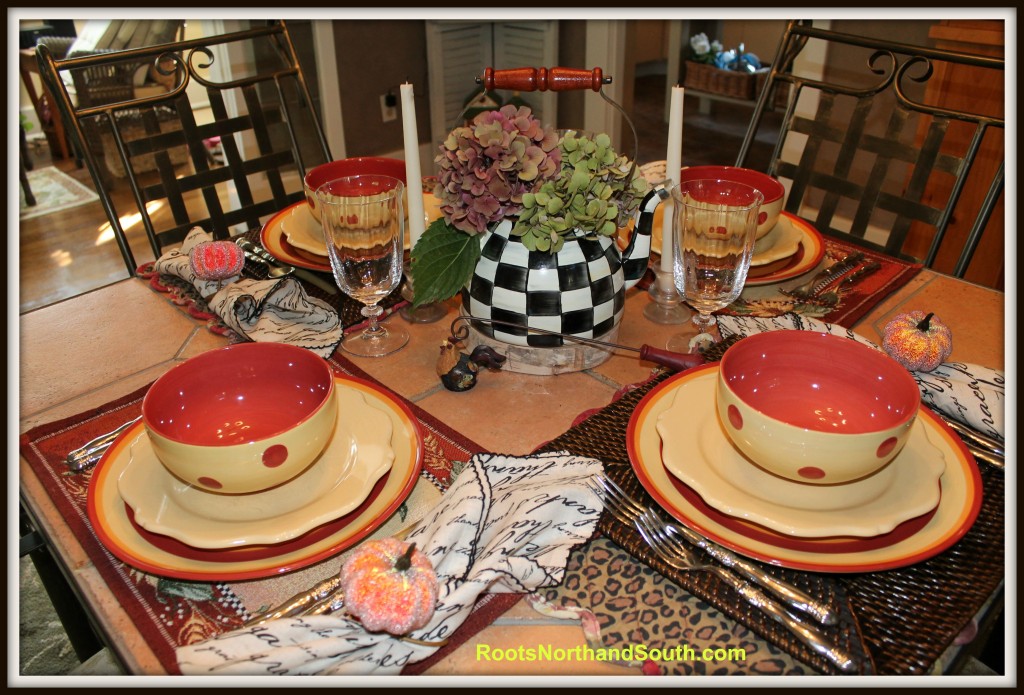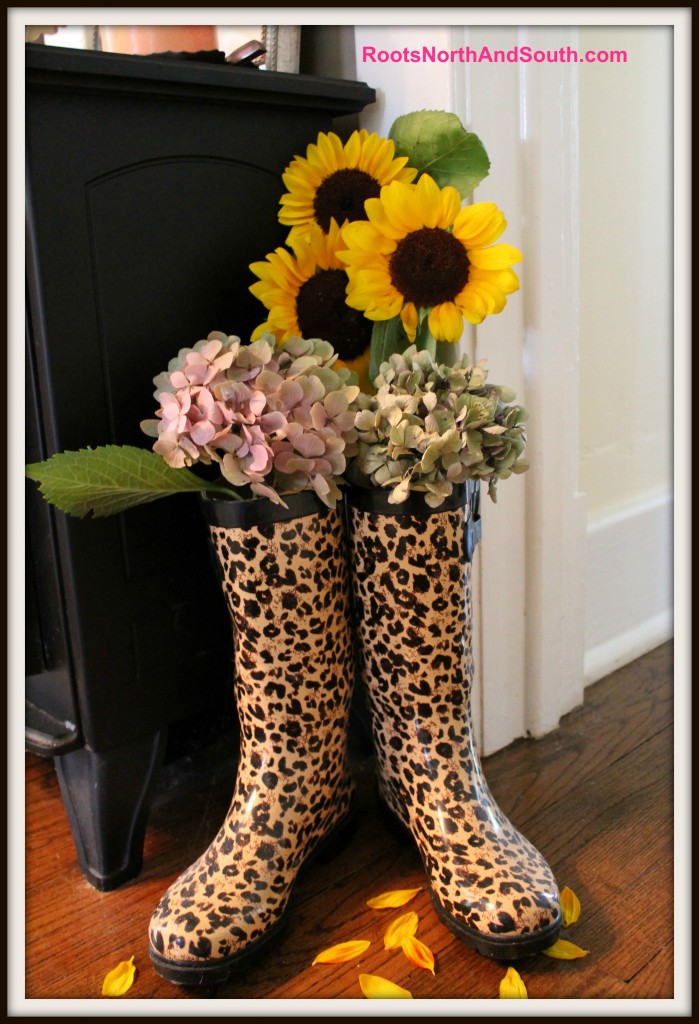 The Cozy Kitchen has a Secret
A room or two in this old house is always getting a facelift.
Since February, it has been the kitchen.
It started when I was a little tired of the kitchen cabinet color.
And maybe the little fat chef border.
And then the rug in the kitchen.
You know what I'm talking about right gals?
Its a slippery slope when you try to change "just one thing" in a room.
Stop back this Spring when – fingers crossed – it should be done!
Here's what I started with when I bought the house (This is my little momma! She will hate it if she knows I'm putting this picture of her up here! Her and Pops were a big help in renovating this old house…)
Somehow it is the only "before" photo I have of the kitchen…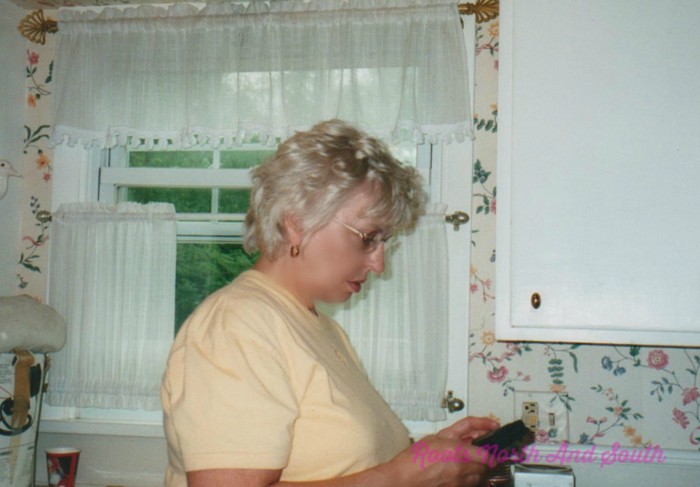 And what it looked like before I embarked on the latest facelift…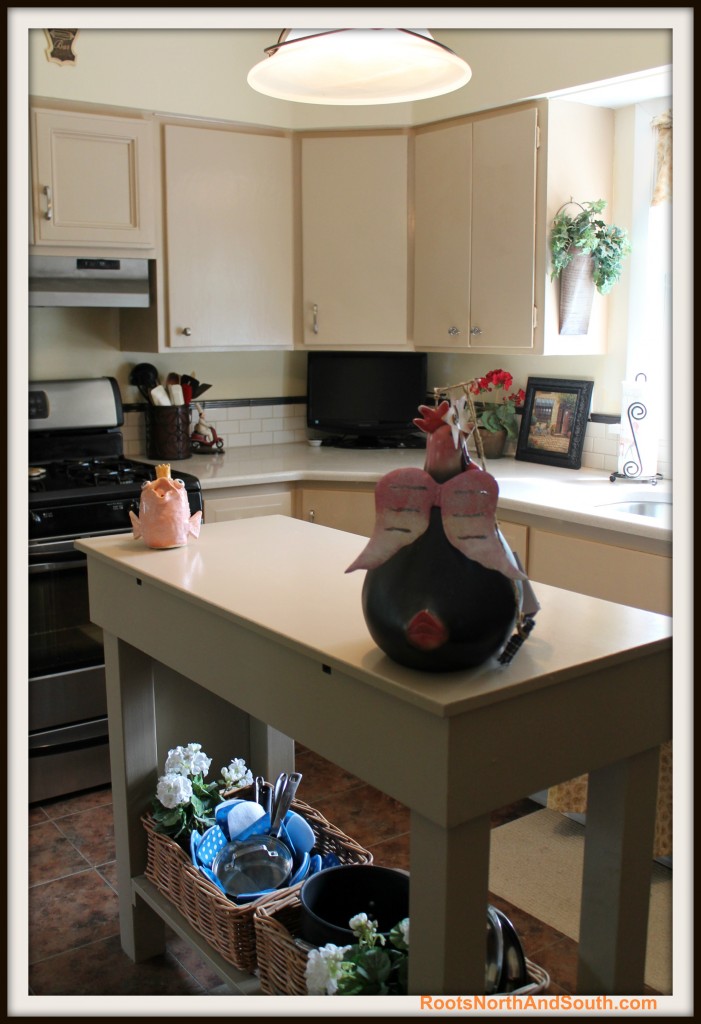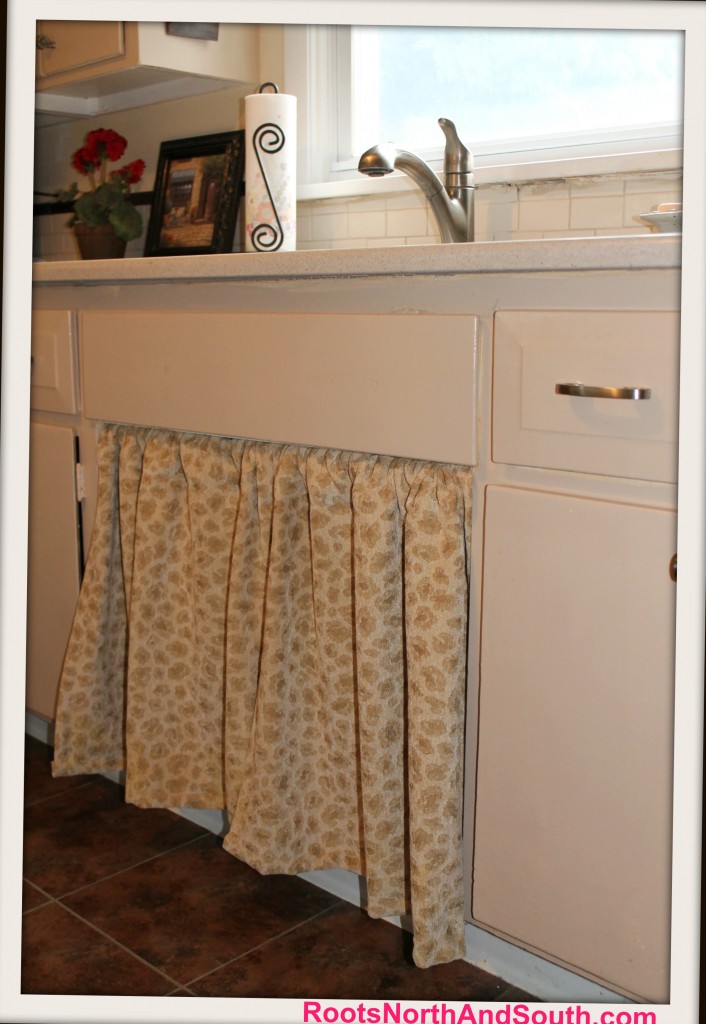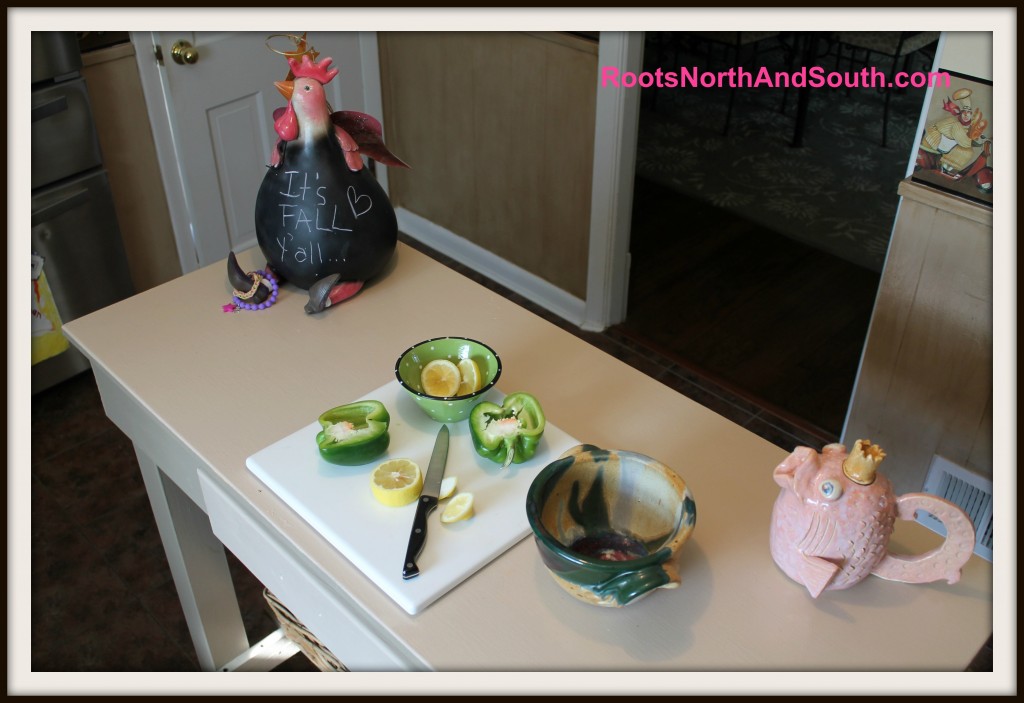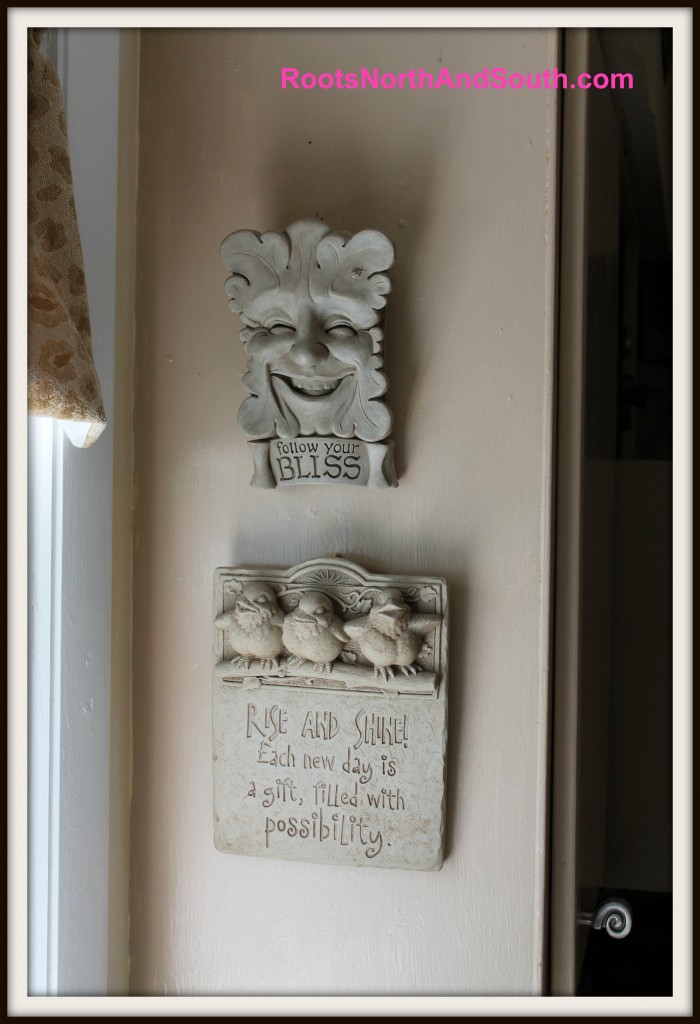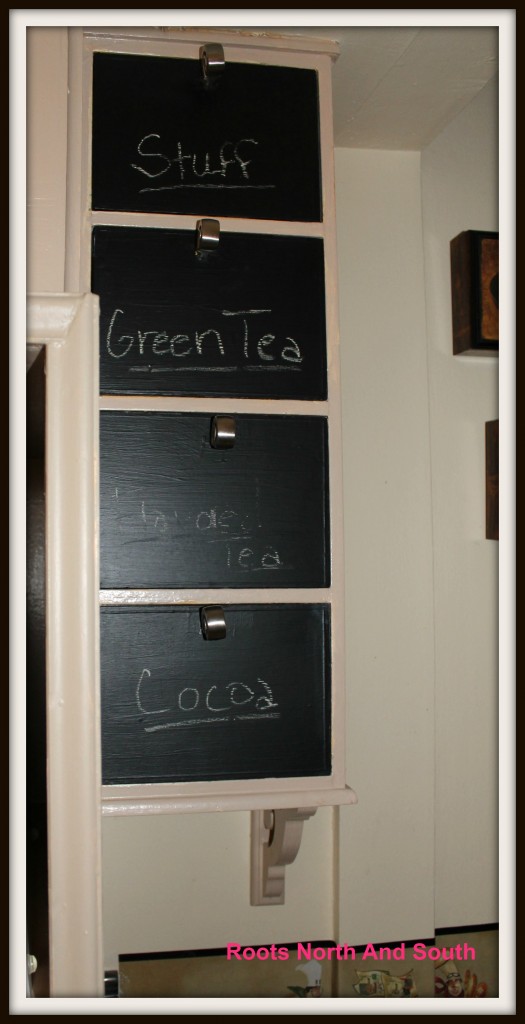 Here's the Kitchen's Little Secret…
A back staircase from the kitchen to the master suite!
One of my best friends says it's the route boyfriends can take when they hear the husband come home. Just kiddin'.
Its likely the reason my clothes are a little tighter after almost twelve years of living here. Too easy to run downstairs for a midnight snack…
One of our little people named it the "secret passageway." At just five years old the little dude came up with that phrase all on his own. Harry Potter influence? Hard to say.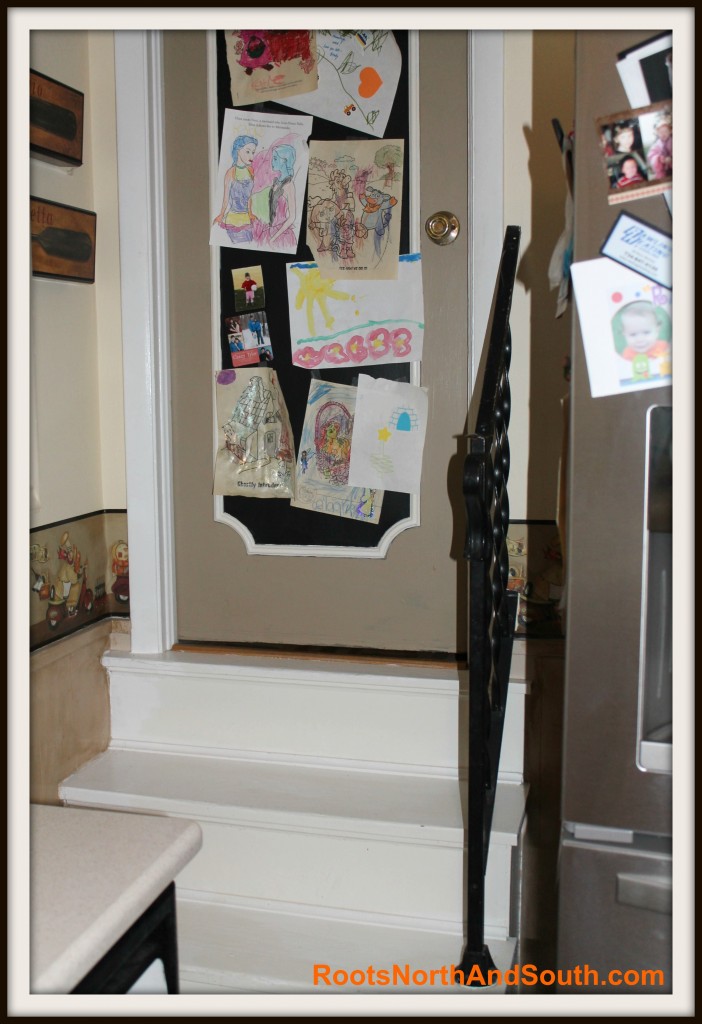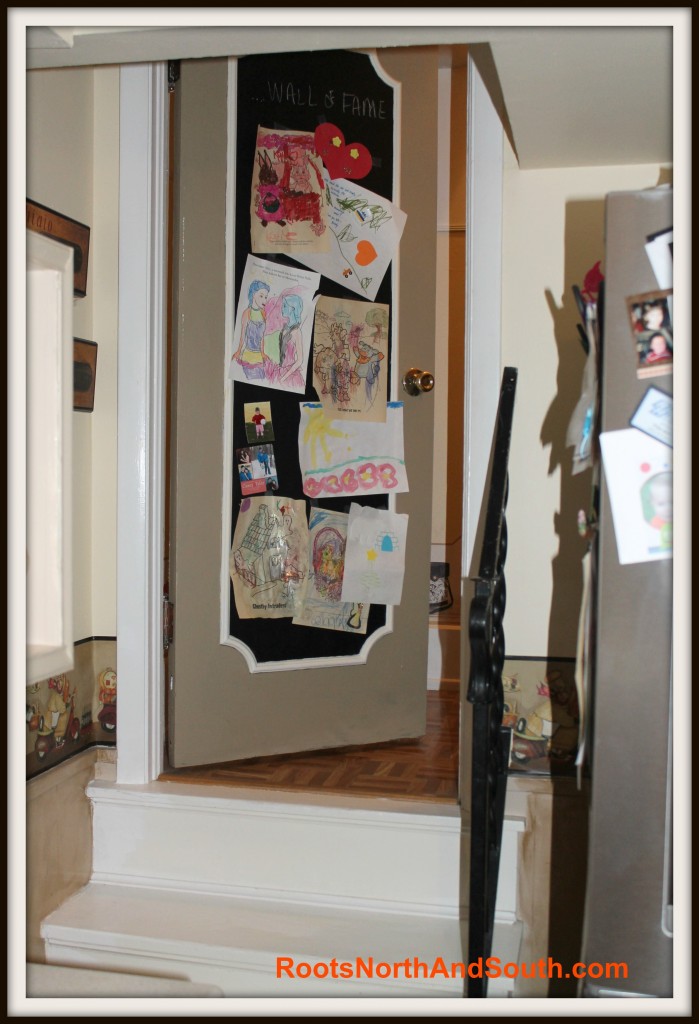 From the Kitchen to the Sunroom
Can I just say how much I love the sunroom?  It is so warm and inviting!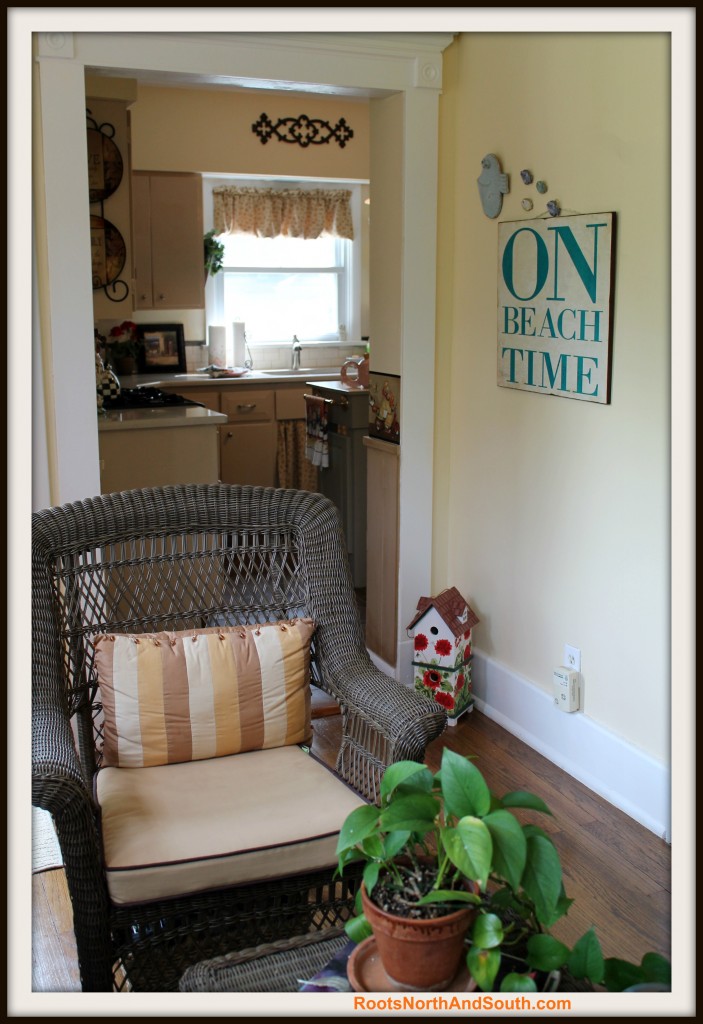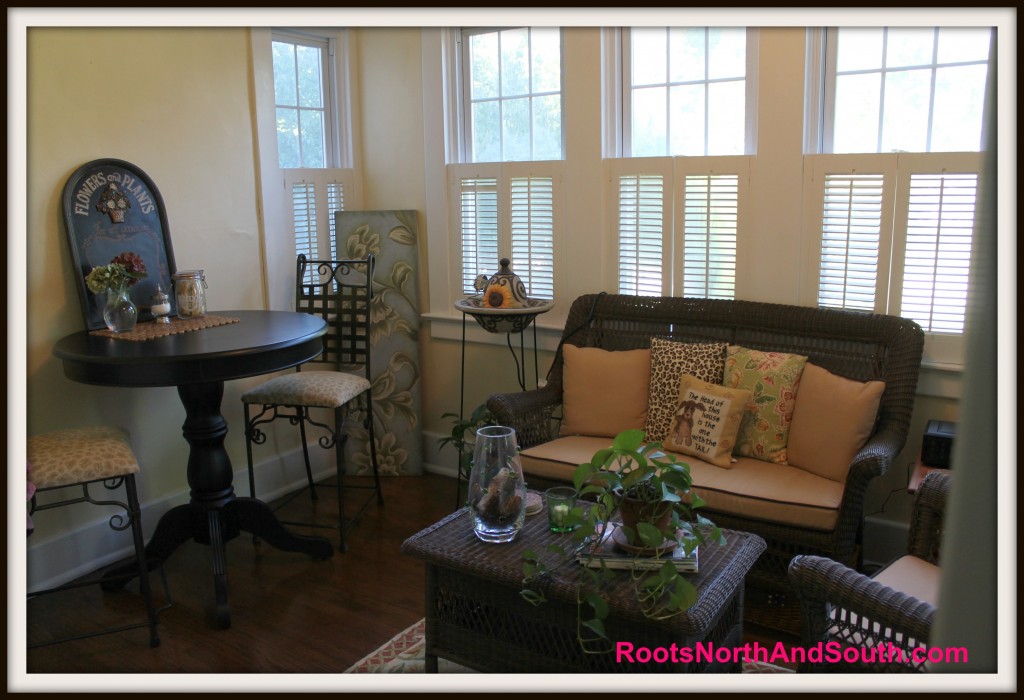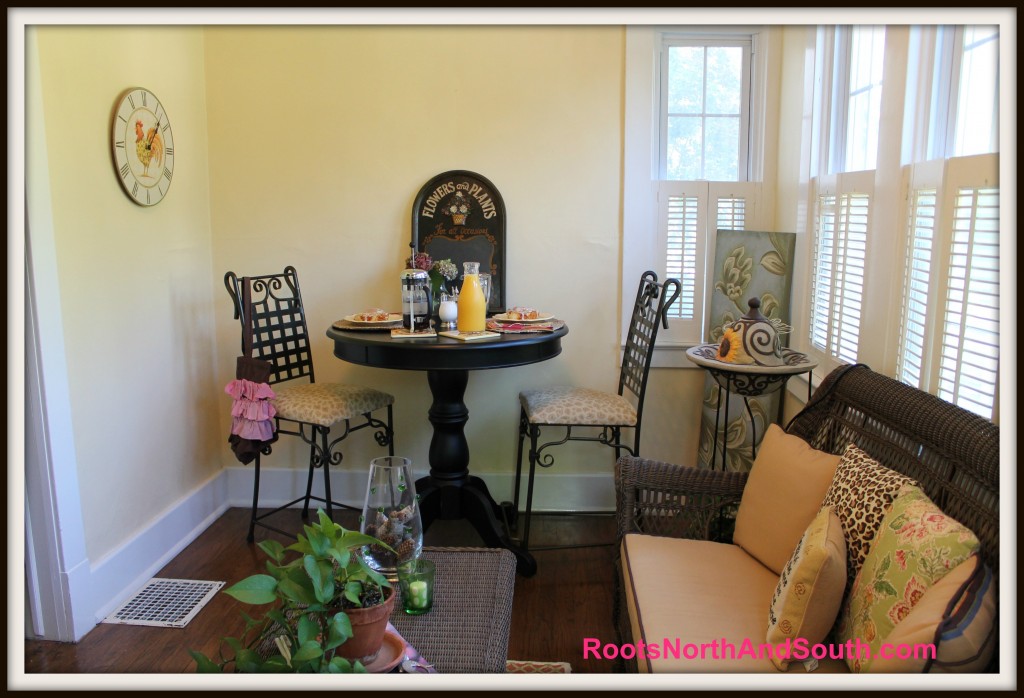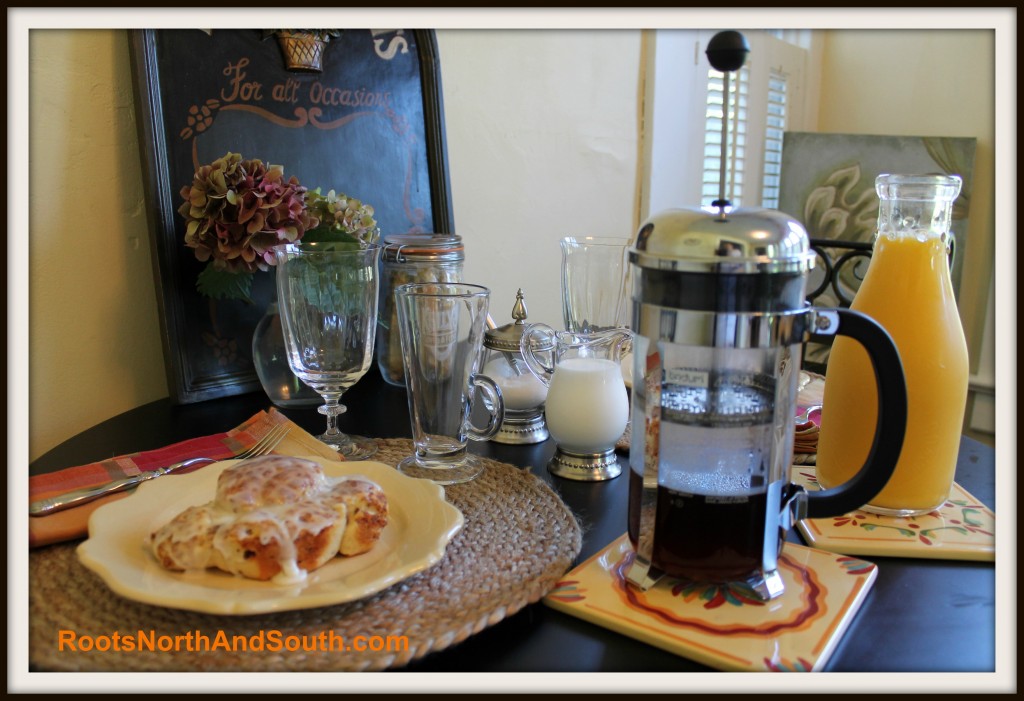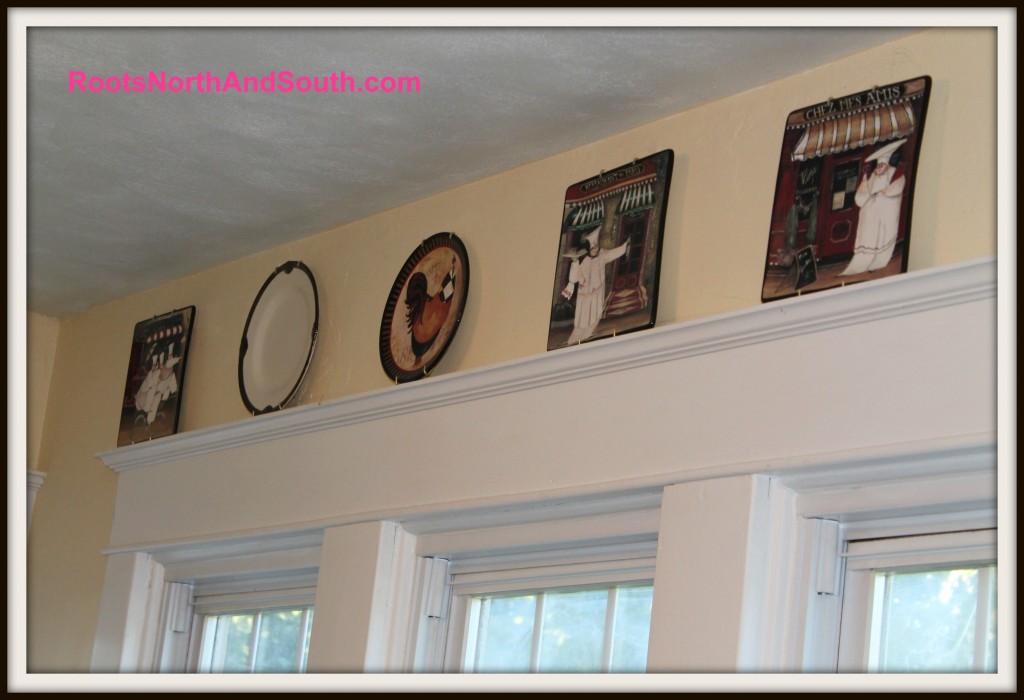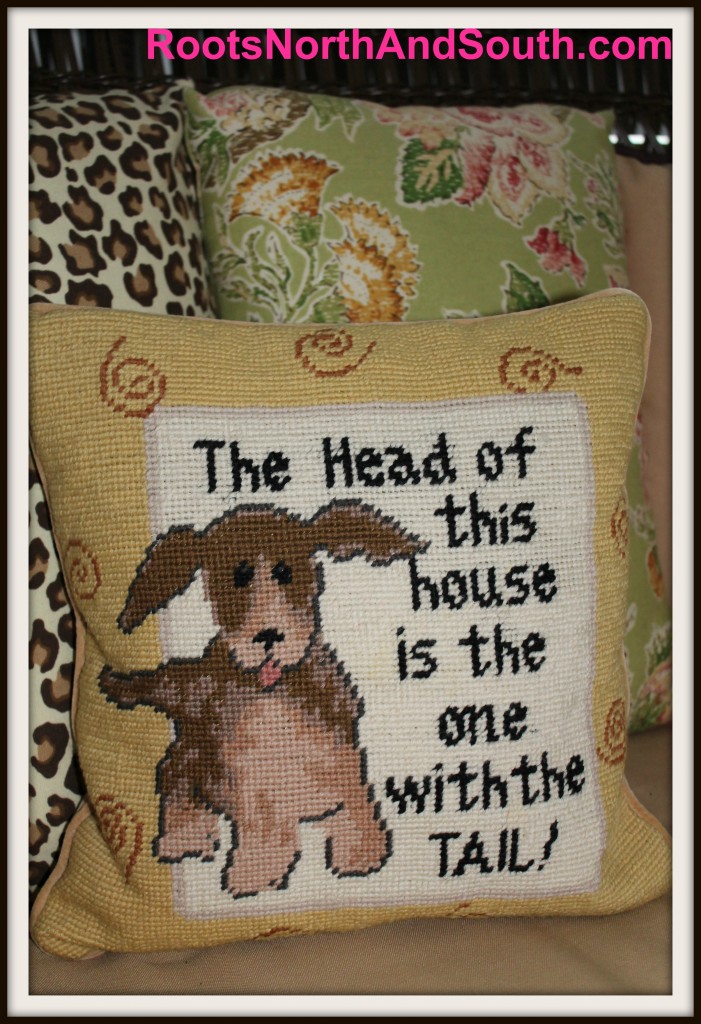 If you read a a few of my blog posts, you know I just started beginning pottery classes.
Its tougher than it looks y'all… So don't judge me.
Look closely at my kitchen photos for a peek at another one of my favorite pottery projects. She's a teapot fish I named "Hollywood" because I got a little carried away with the size of her lips.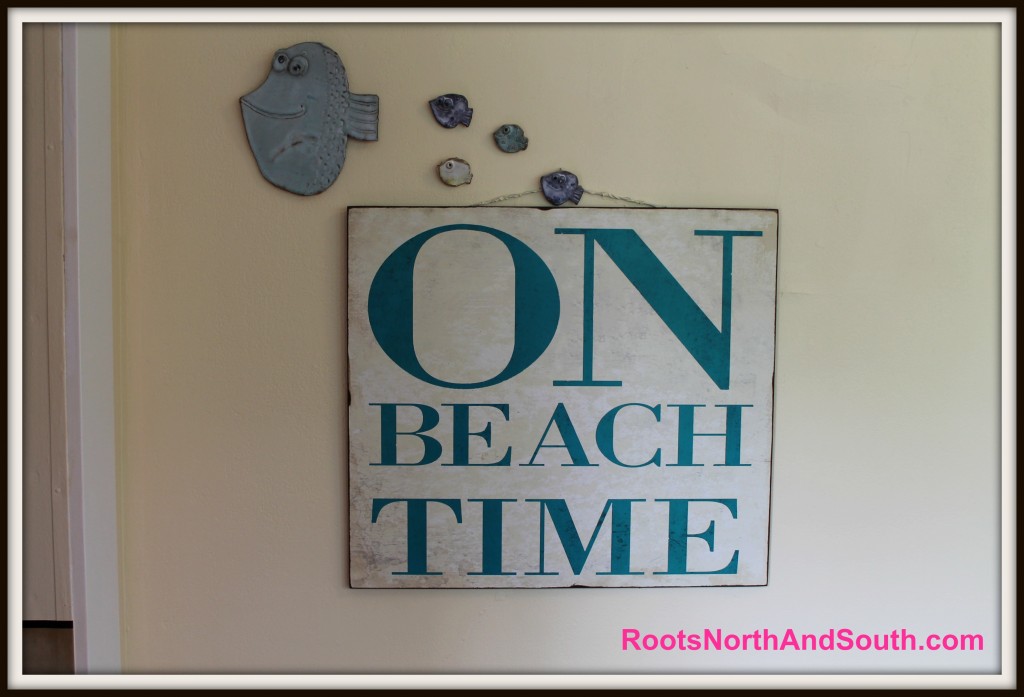 Another reason I love this room is that it leads to a little side porch.
I'll show you…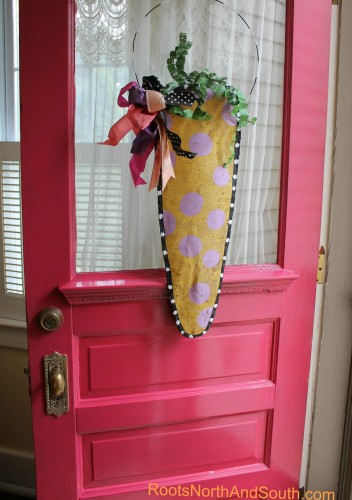 Sheltered Side Porch
This cozy little porch just big enough for lunch for two or to enjoy a little watercolor painting on a sunny day.
It's mostly sheltered from the rest of the side yard and the sidewalk.
Great place to people watch without being seen!
I participated in a fun Summer Porch Tour in July.
You can read about it and see the photos in Blogger Tour: Historic Home Summer Porch Makeover.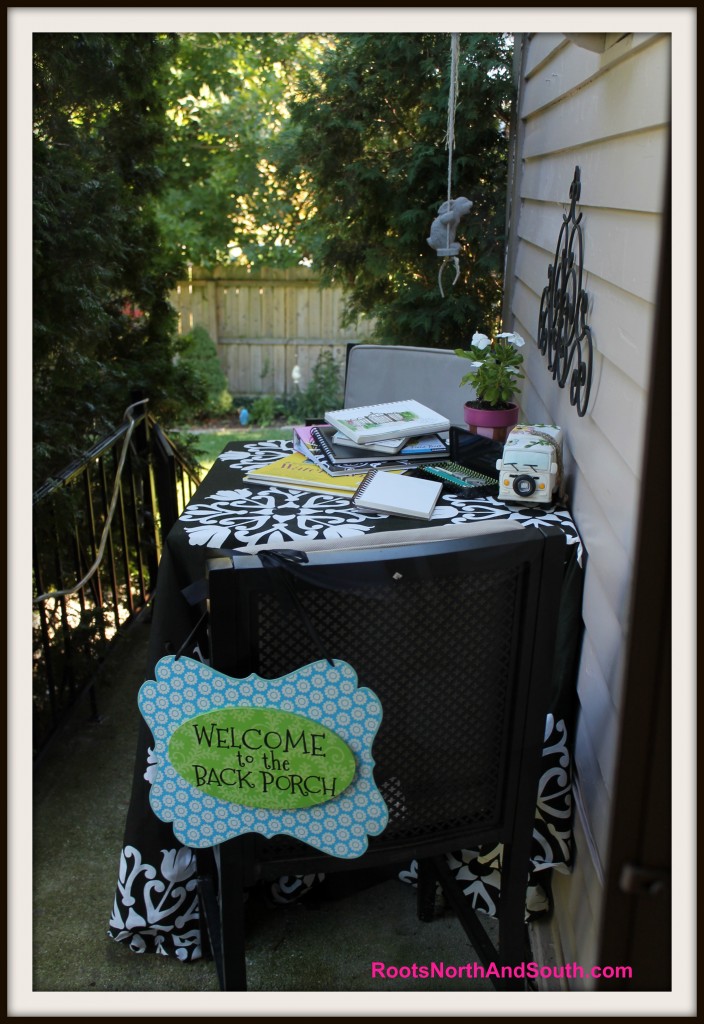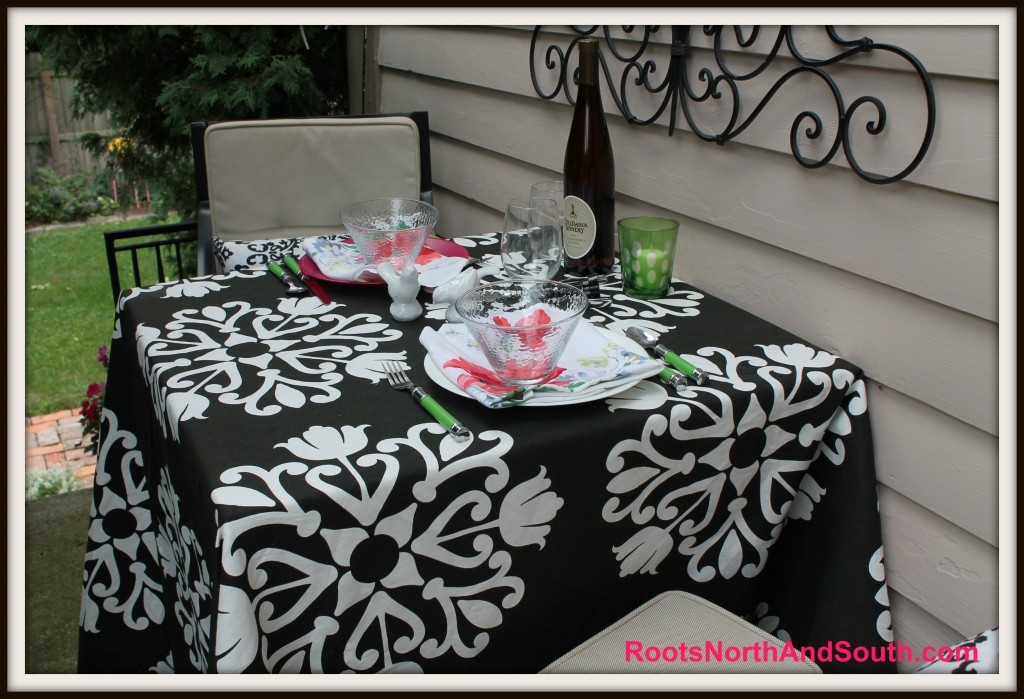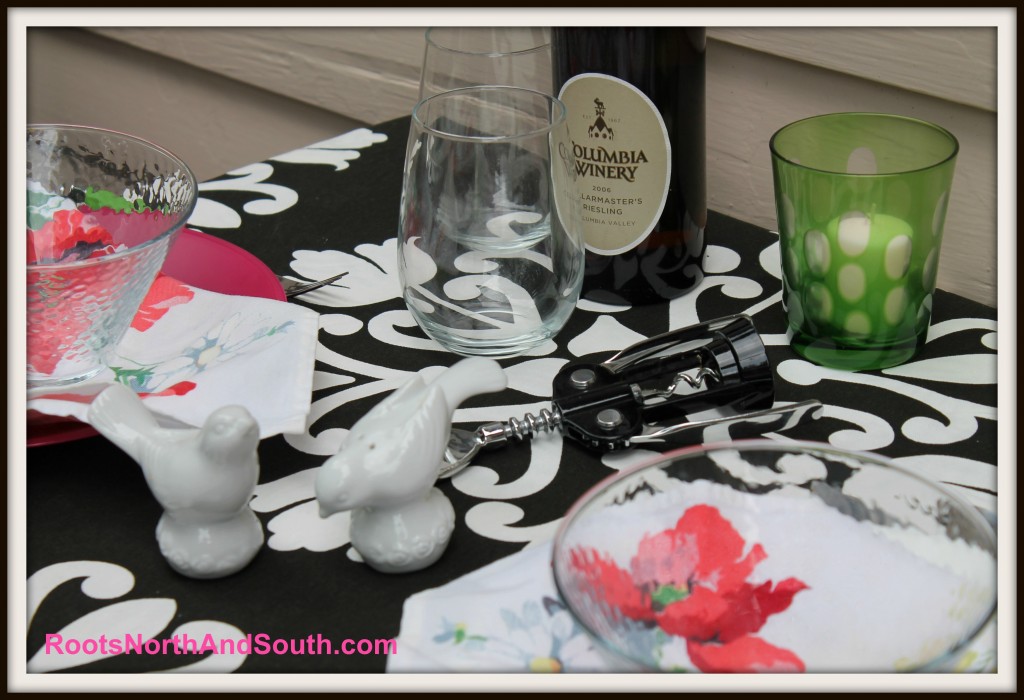 These little rock speakers are hidden around the yard.
See this one peeking out behind the hydrangea?
Its just under the secret porch.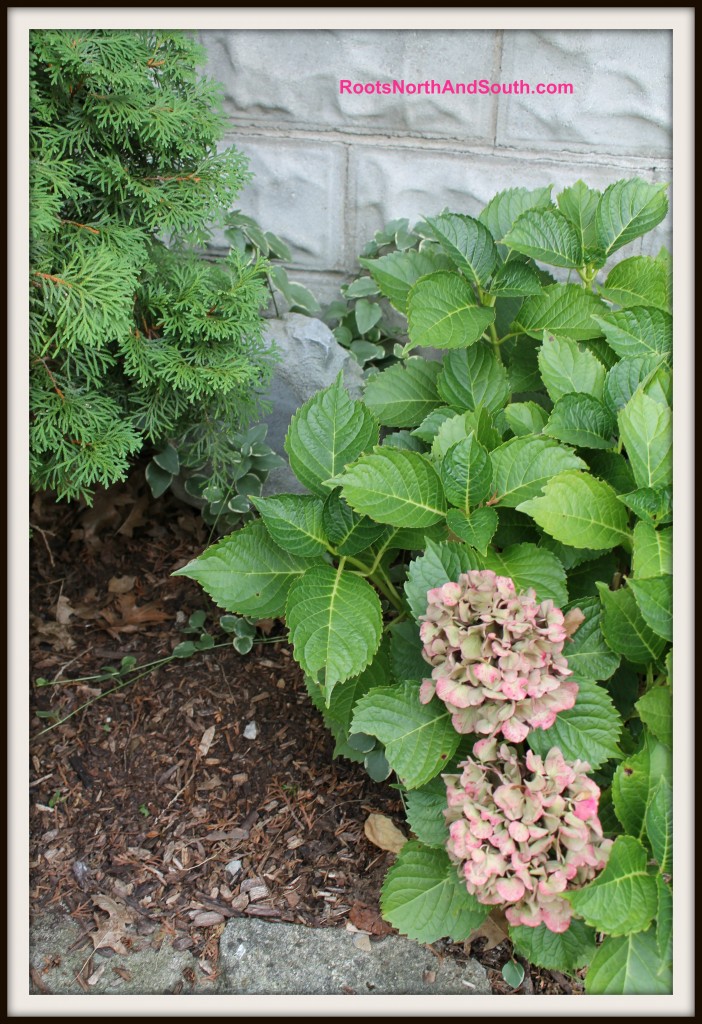 Stop on by my Garden Tour for a look around the yard…
It's actually my favorite "room" in the house!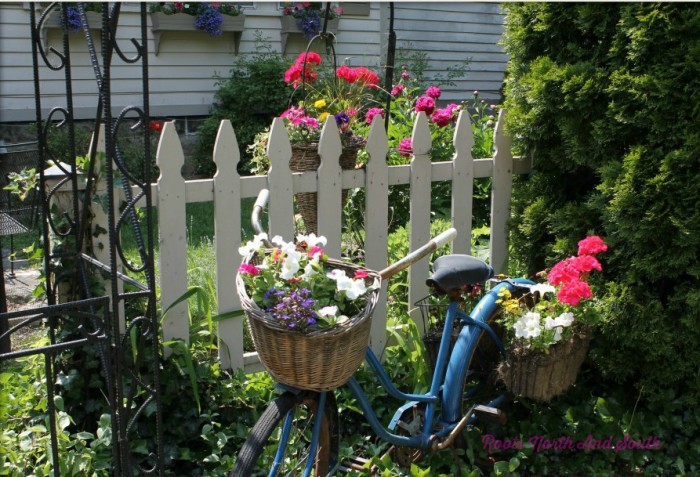 Let's head back inside and check out the rest of the house!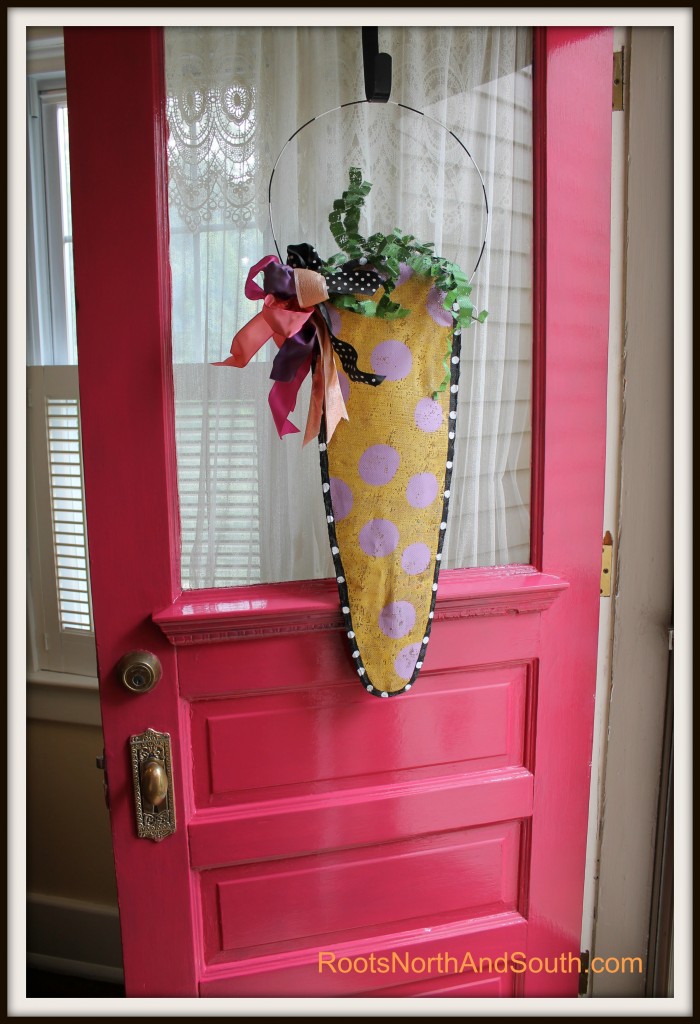 On to the Living Room
My bad photography skills are most obvious in this room.
Its such a beautiful and bright room! But I can't seem to get the angle or the lighting right.
I will keep working on and it post better photos when I can manage to master this!
But for now… this is our living room.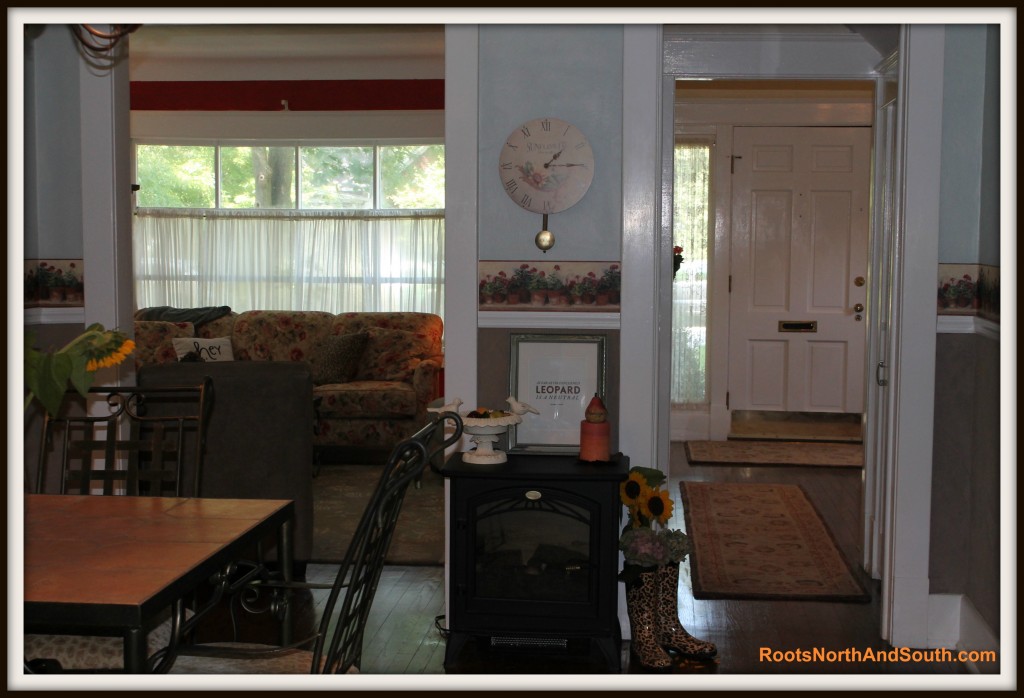 A gal with southern roots can't not have a bar right?
The piece above it is from Nashville artist, Mimi Heldman. I have a few of her pieces and love them!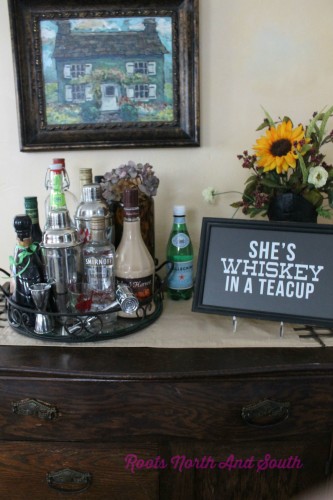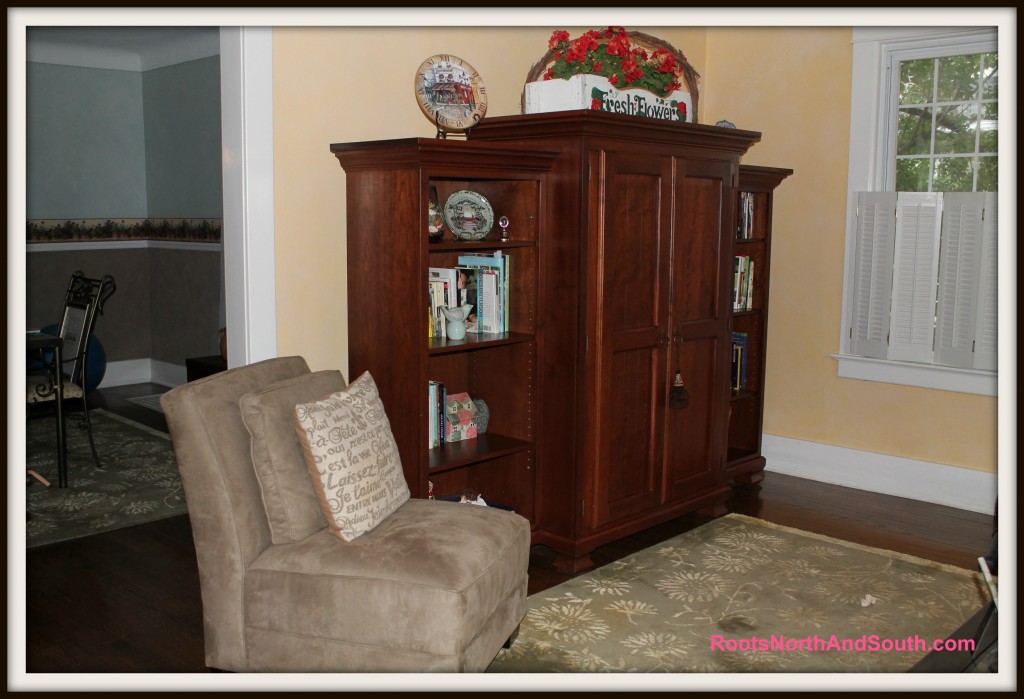 I know its kind of a chick thing but don't you think a tassel just finishes off a room?
I love my leopard one…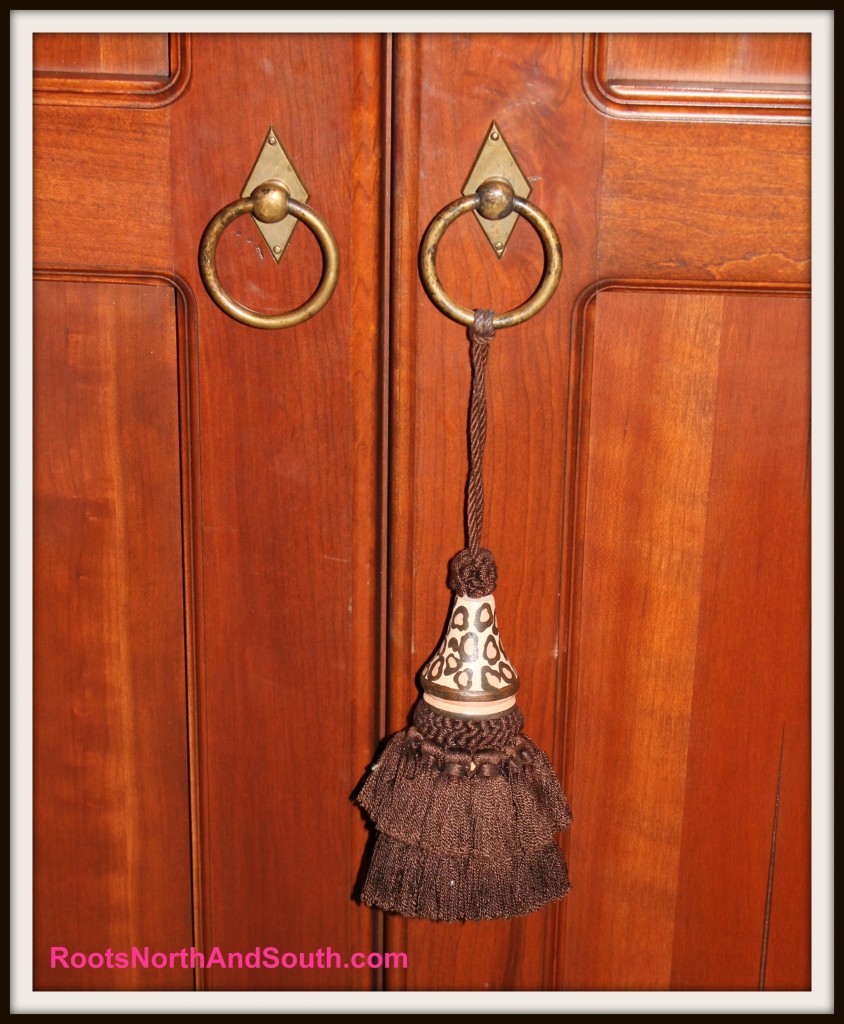 Our living room is always full of books, dog toys, home and garden magazines and art. Other artist's work or one of my own works "in progress."
This fish is by the artist Jan Pugh. It lives on the top of one of our shelving units.
Her work is scattered everywhere throughout my house, but I think this was my first purchase back in my grad school days. She is the queen of whimsical, majolica style of pottery.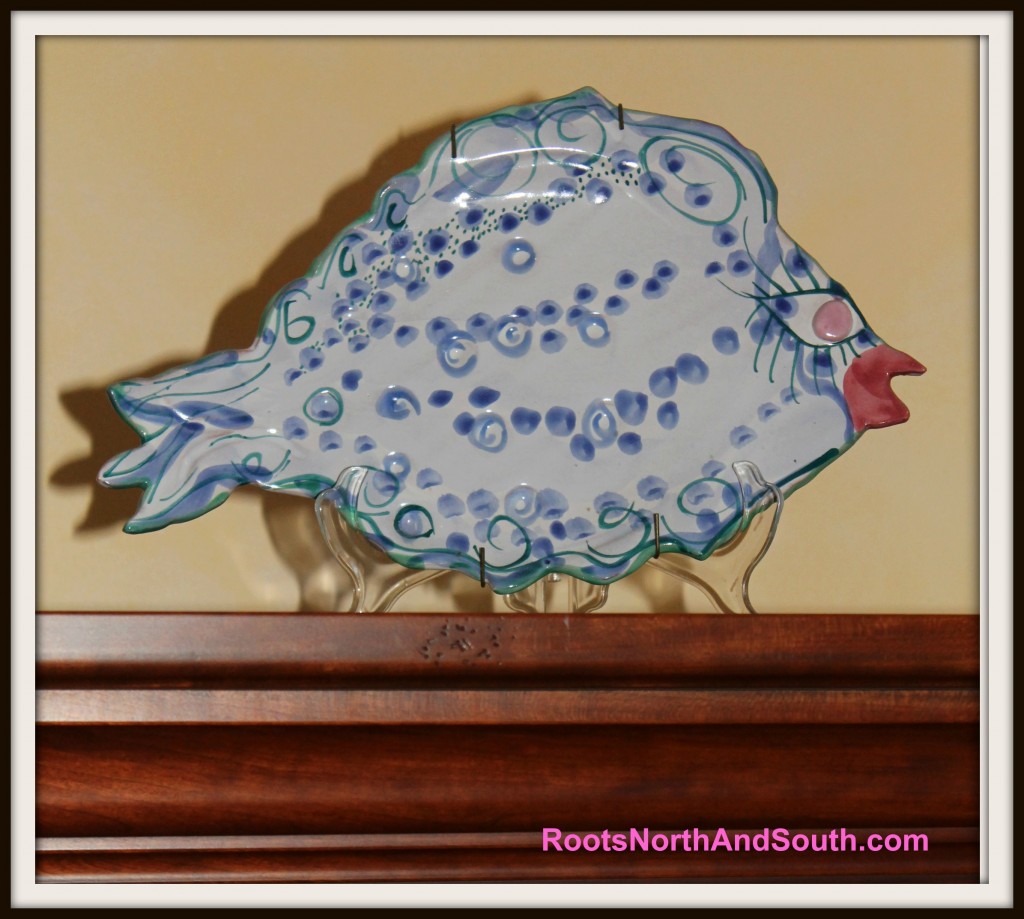 Let's head on upstairs now…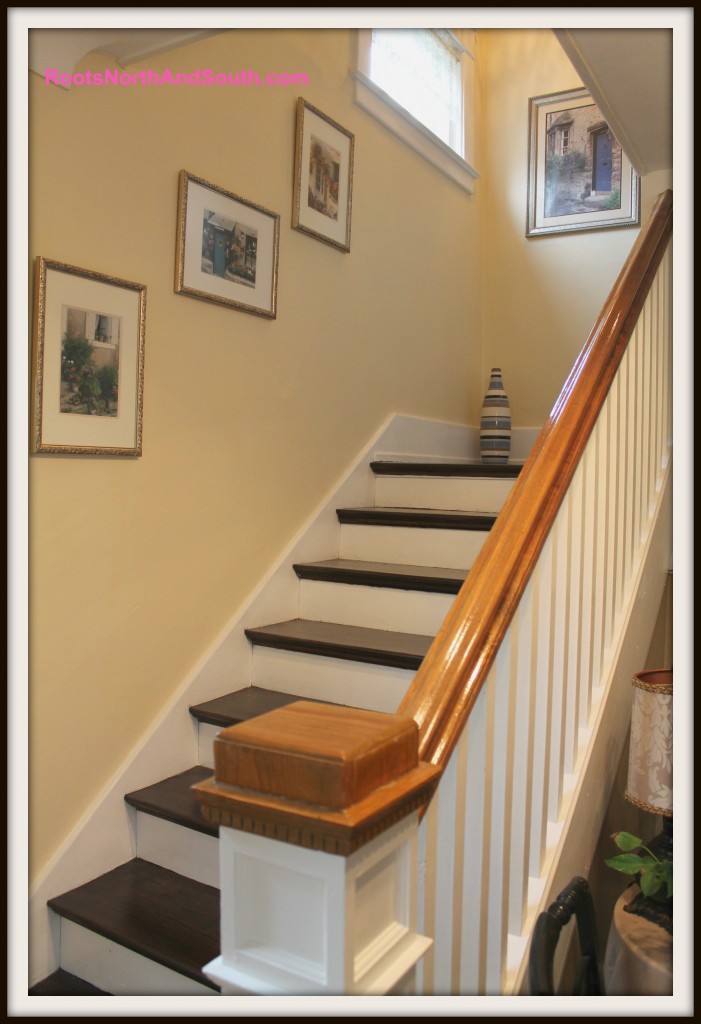 The Guest Room
The guest room is one of my favorite spots in the house.
What makes it so are all the little nooks and crannies.
It also makes it difficult for a rookie photographer to capture it. I will keep trying though! In the mean time, here's my best effort.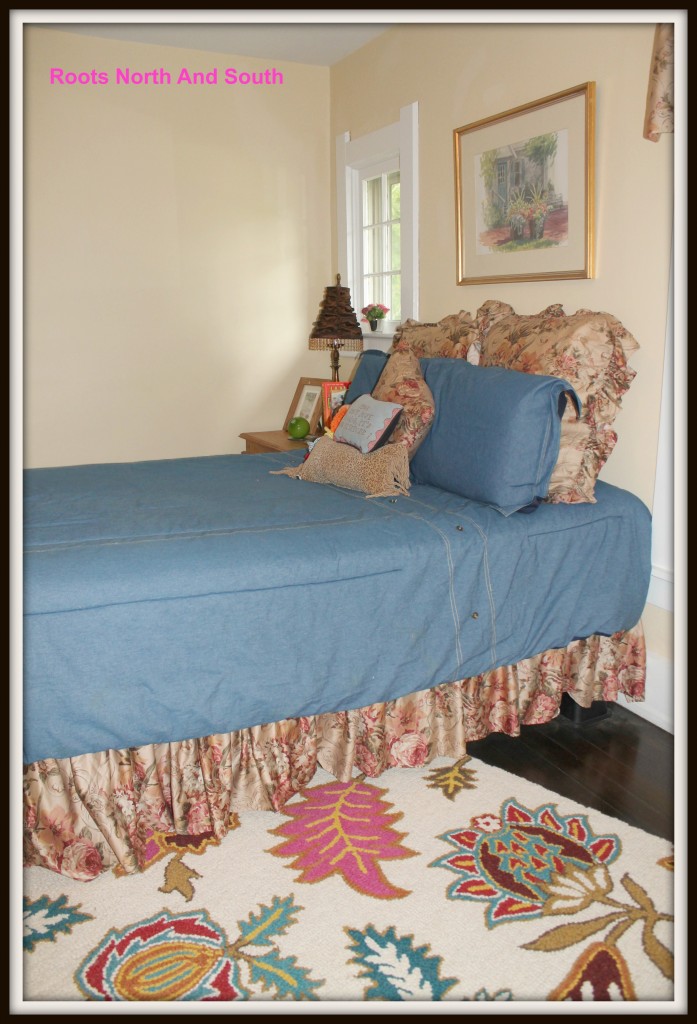 Guest Bathroom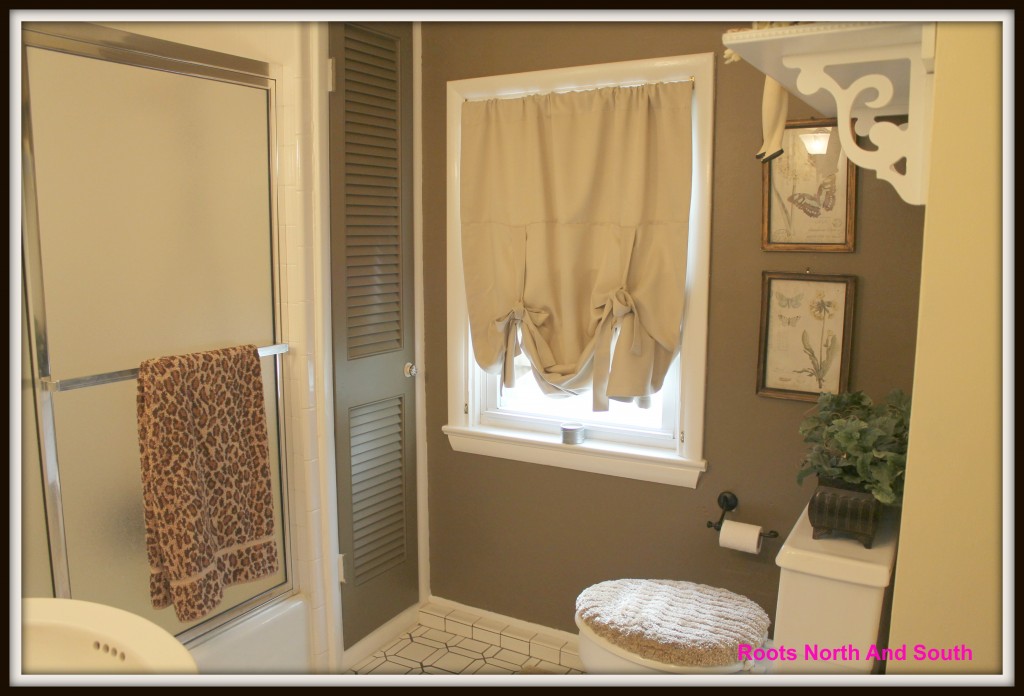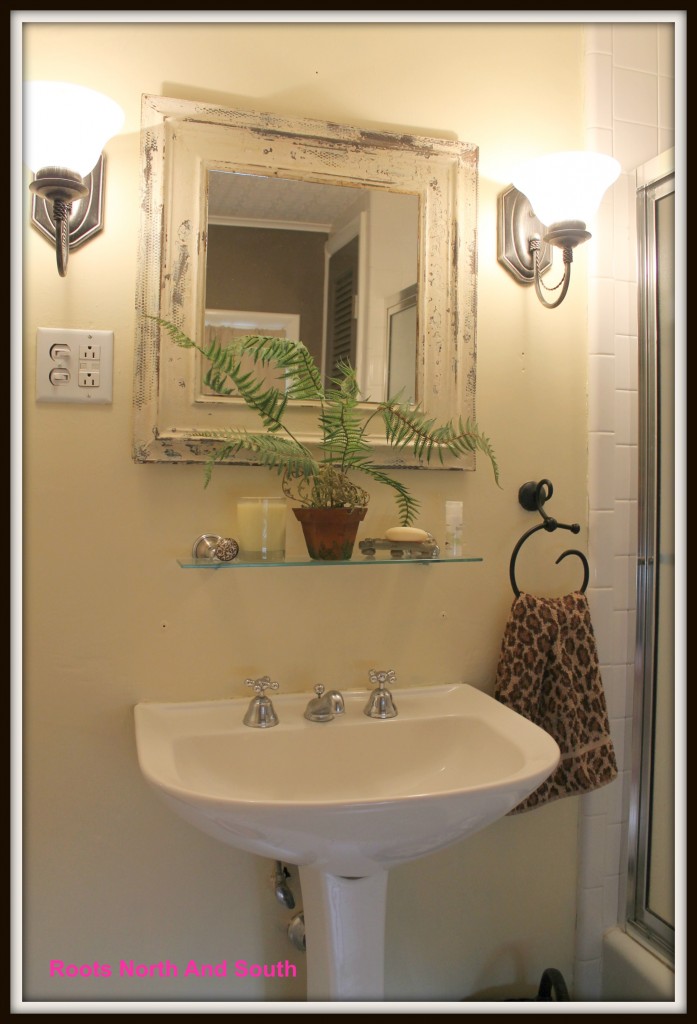 Home Office
This is going to be my winter project.
 Here's a quick peek at what it looks like now.
Since we will likely be moving next Spring/Summer, I've got to get it together!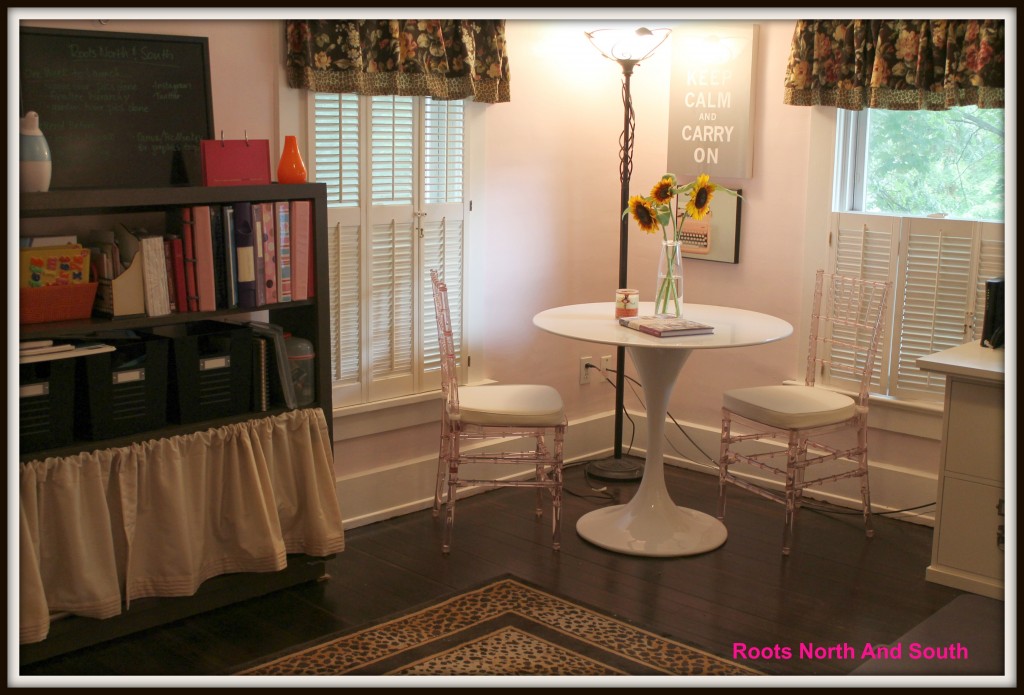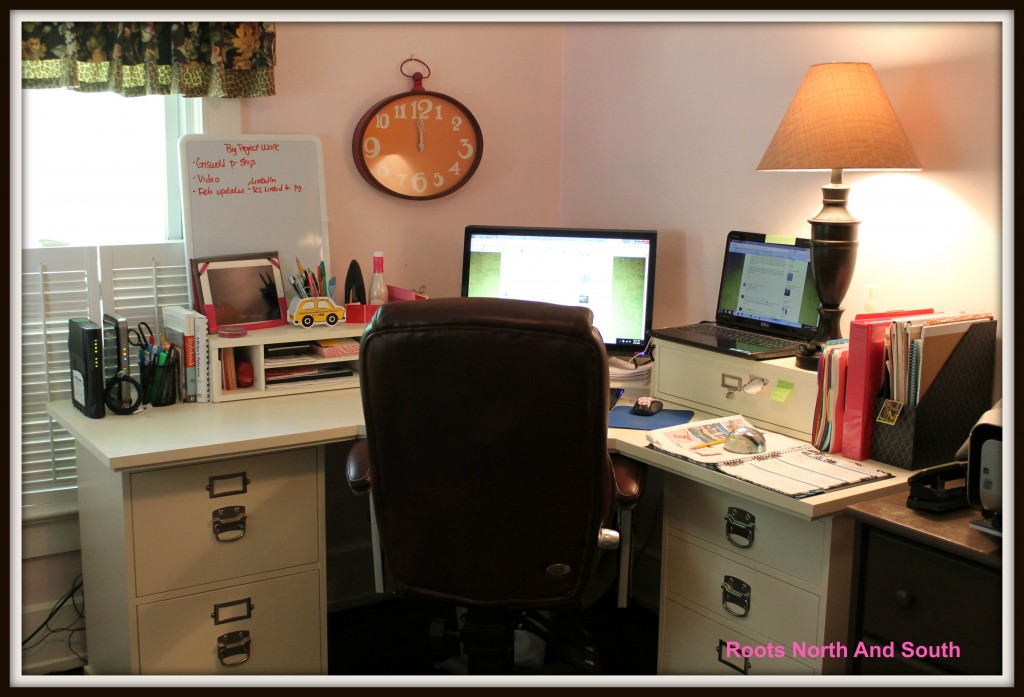 Master Suite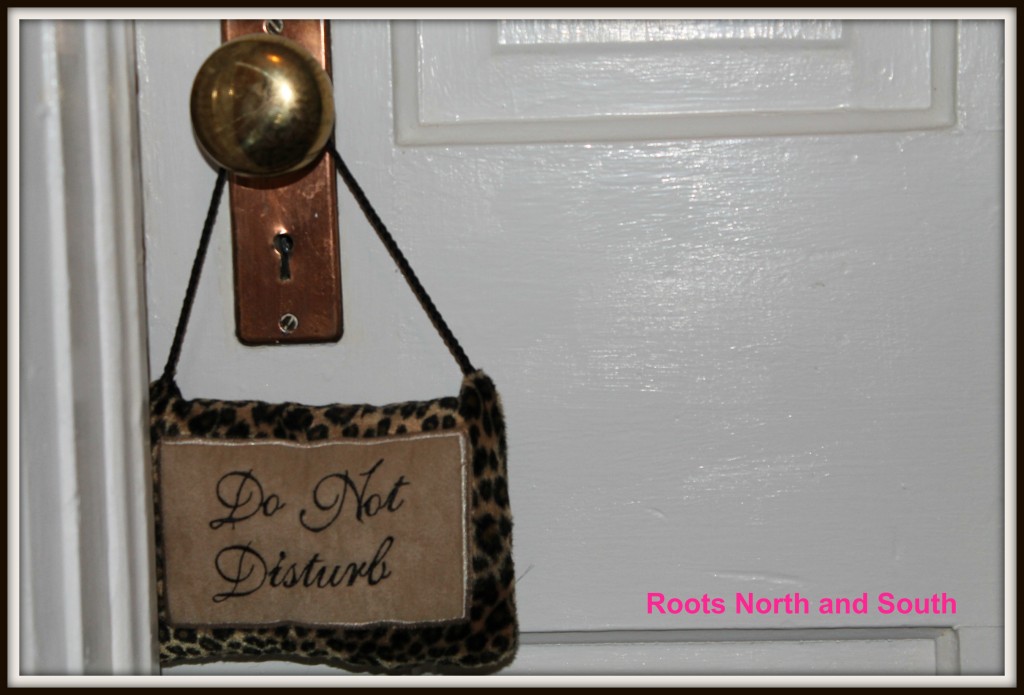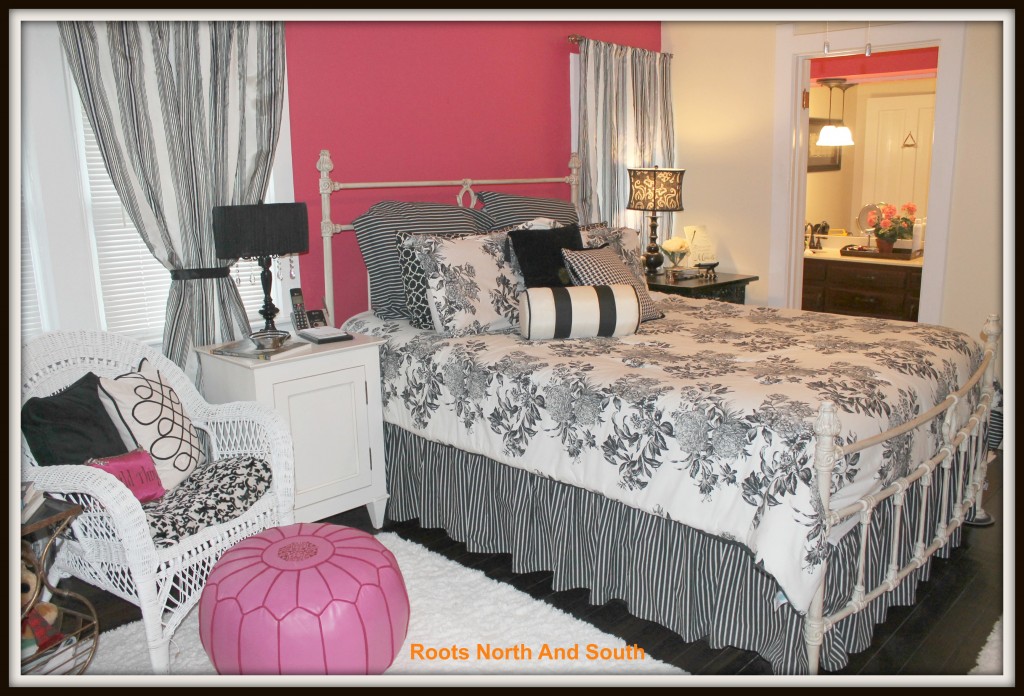 We had all of the upstairs hardwoods refinished last year.
Major pain!
But aren't they pretty? Worth all the mess…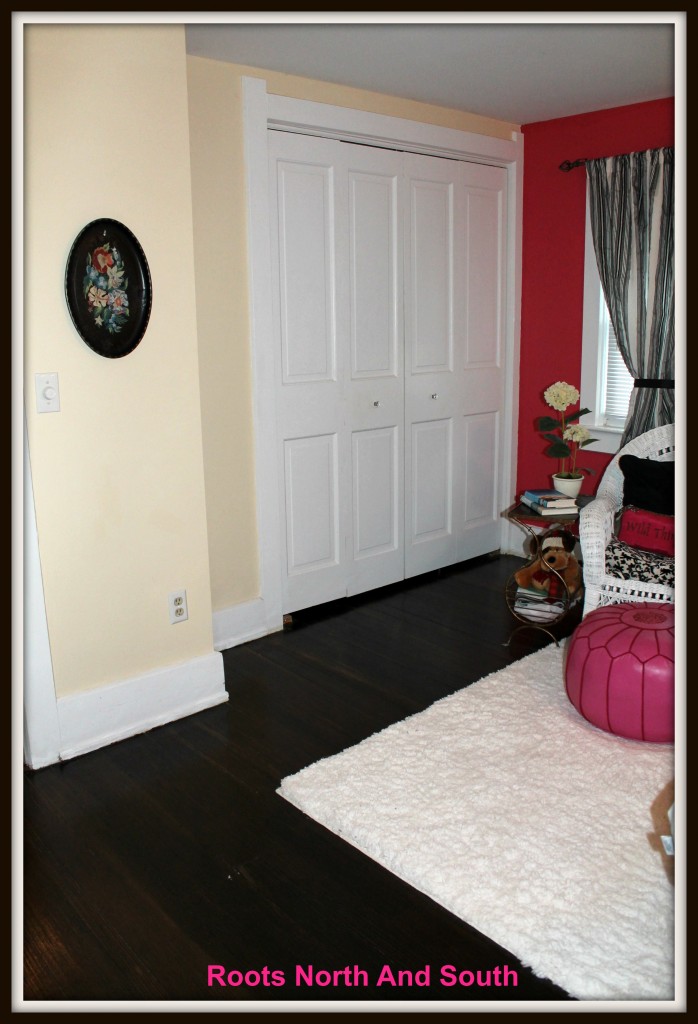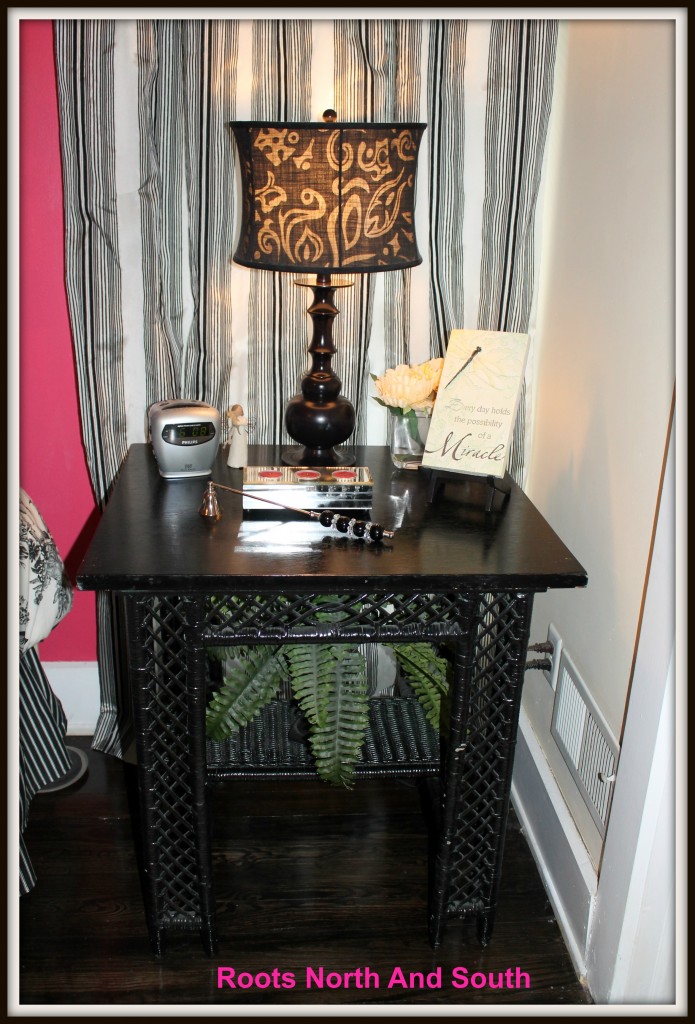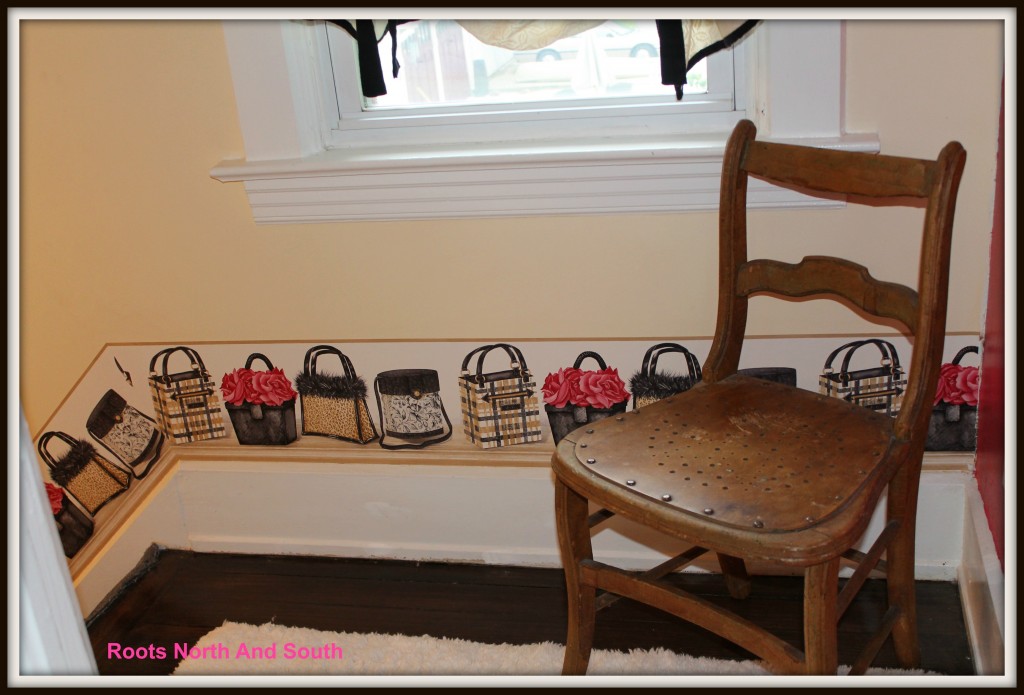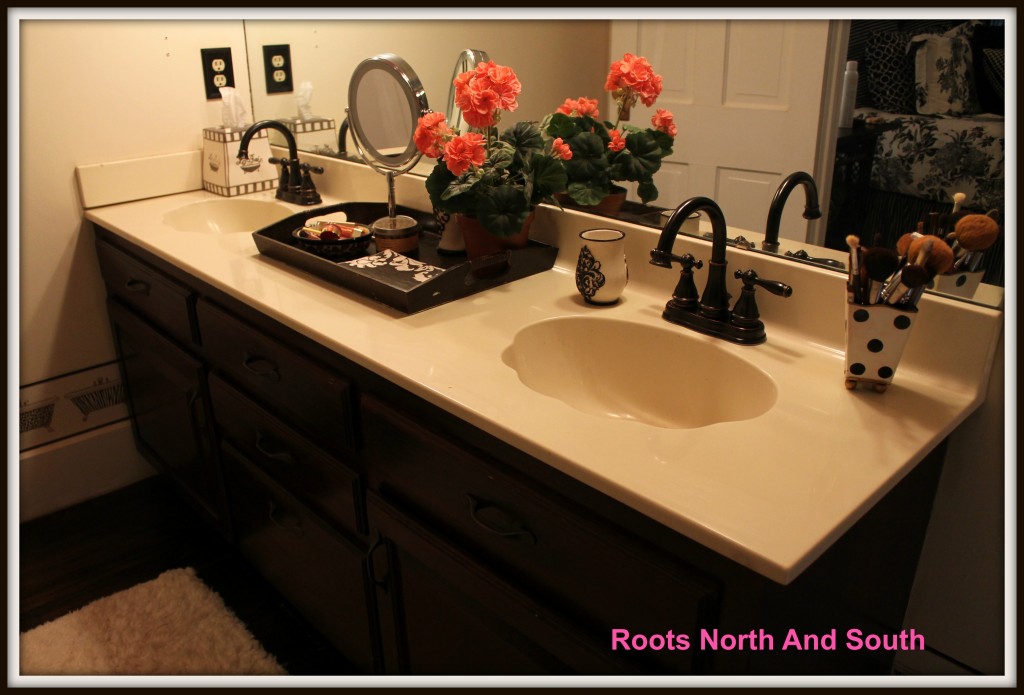 That's it for the upstairs!
Still a few rooms here and there not on the tour.
Hoping to get a little better at this photography business and switch out some of these photos.
Last stop on our Home Tour is  a peek at the detached garage and covered walkway.
Another bit of old home charm I just love!
Covered walkway to the detached garage
Like many historic homes, this one has a detached garage.
The covered walkway continues around to the side door.
Just to add a little southern sizzle, we painted the ceiling of the walkway Charleston blue.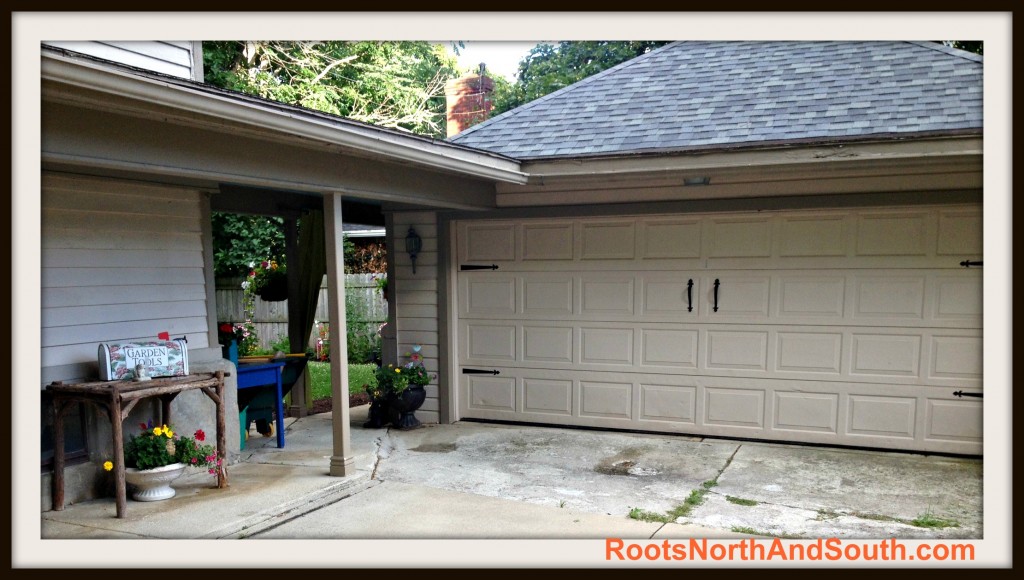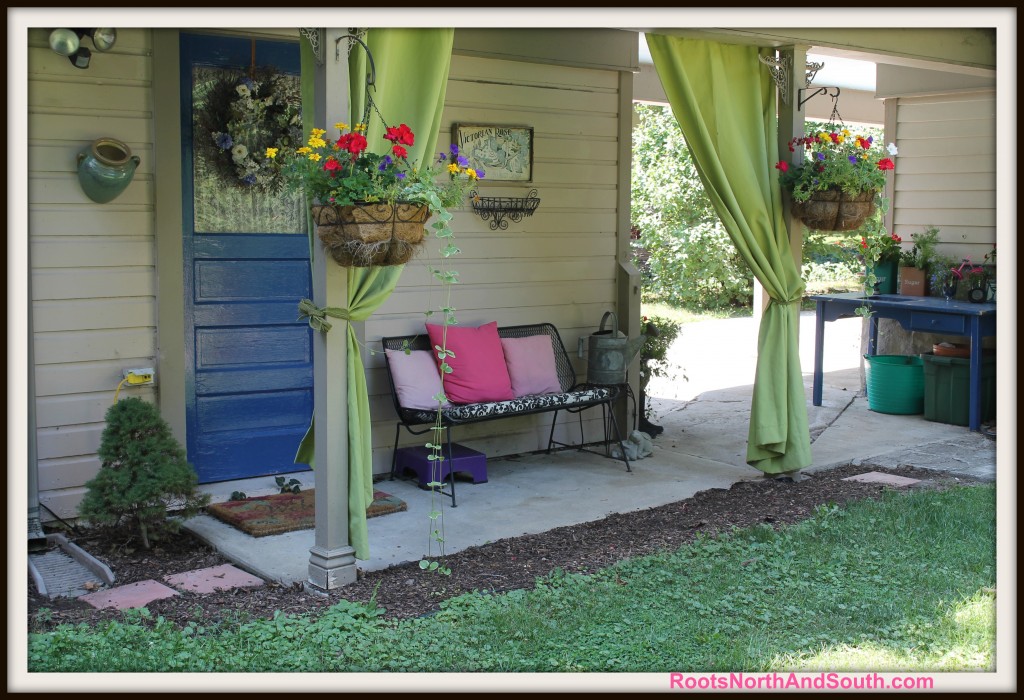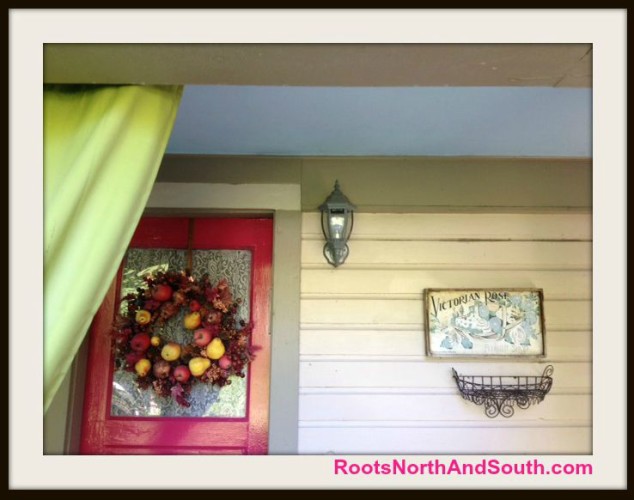 That's it…Hope you enjoyed the tour.
Thanks for stopping by!
Don't forget to check out the Garden Tour before you leave.
Shelley