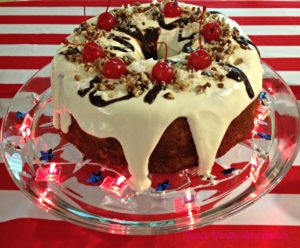 Are you scrambling to find some last minute desserts for your July 4th parties?
Ditto…
And, judging by the line up at Whole Foods this morning, I'd say we aren't alone.
I shared a round-up last Sunday of fun foods, drinks and decorations for July 4th parties.
But this Banana Split Cake my little momma makes is the bomb!

(Do the kids still say "the bomb?" Now that I think about it, I haven't heard any of our family's peeps use that term lately.)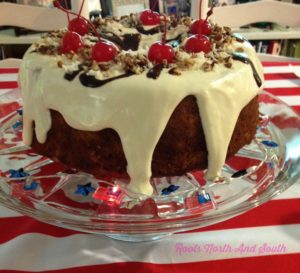 And it is so easy to make.
Which makes it even better tasting for "she who is stuck baking on a holiday weekend" right?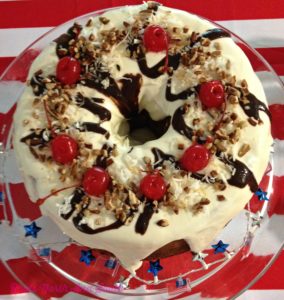 Here's the skinny on how to make it…
July 4th Party Cake
Ingredients to Round Up for the Cake
2

cups

flour ( use Cup for Cup because it's gluten free!)

1

tsp.

baking powder

1

tsp.

baking soda

1/2

tsp.

salt

1/3

cup

butter, softened (yes…I use a non-dairy butter here…ugh…#NoChoice)

1- 1/4

cup

sugar

2

large eggs

2

tsp.

vanilla
3 medium sized ripened, mashed bananas


1

cup

sour cream

1

cup

chopped walnuts or pecans (or mix of both?)

1/4

cup diced

strawberries
2/4 cup pineapple bites
What You Need for the Glaze
6

tbsp.

butter, melted (usual disclaimer about dairy!)

2

cup

powdered sugar

1-3

tbsp. almond milk
If you prefer a chocolate version, just add:
1/4

cup

unsweetened cocoa powder
Then add any additional fun toppings you like on your banana splits…
Strawberries, nuts, cherries, caramel sauce, butterscotch sauce…
You get the idea right?
Whipping Up the Cake
Preheat oven to 350 degrees.
Grease bundt pan and then sprinkle with flour. (I cheat and use the floured cooking spray!)
Combine flour, baking powder, baking soda and salt in a small bowl. Set aside.
Cream butter and sugar together until the mixture is fluffy.
Add eggs one at time.
Add vanilla and mashed bananas.
Add in about half of the dry ingredients and then the sour cream.
Add the remaining dry ingredients.
Stir only until everything is lightly blended – don't over mix it or the cake will be tough!

Fold in walnuts, pineapple and strawberries
Pour into pan and bake for 40-60 minutes.
Let cake cool and then turn it upside down on to a cake plate or platter.
Then it's time to make the glaze…
Melt butter in a medium bowl in the microwave.
Add powdered sugar.
If you are opting for the chocolate version, add the cocoa powder.
Slowly add milk and whisk to blend everything together.
Drizzle the glaze over the cake and top with your favorite goodies!
My mom added these fun little flag lights she found at Dollar Tree last summer.
Fun and festive, right?
Hope you enjoy the cake and have a happy Independence Day weekend!
Until next time,
Shelley
The easiest way to find this recipe later is to Pin this image!