Hello 2017!
Is your new year off to a great start? Or should I really be asking… are your Christmas decorations down and neatly stored away?

Mine are down… and stacked up all over the storage area downstairs waiting for me to get them "cleaned out and better organized."
If you are a regular subscriber to my blog, you know that we moved from an old house in a historic community to a newer one in Michigan last summer. One that needed a bit more work than we originally anticipated!
So all of last fall my goals for our new house were:
To get it clean – seriously. Ugh. Just ugh. They left such a mess behind inside and out it took several months just to make it look, feel and…smell clean.  (And no, it wasn't a foreclosure!)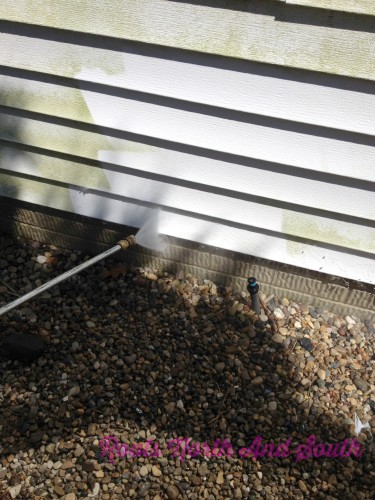 New flooring throughout. We had to replace the bright blue and bright red shag carpeting. As a side note, the flooring company told me this blue shag was fairly new and pretty expensive carpeting. Who knew brightly colored shag was still a thing??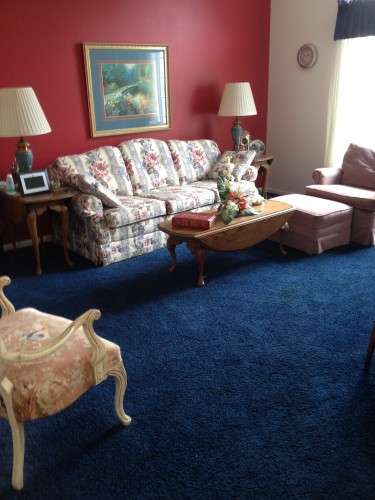 Paint every surface and change out light fixtures. YIKES! Wish I would've thought to take pictures when this Volkswagen sized light was coming down… It was quite a production.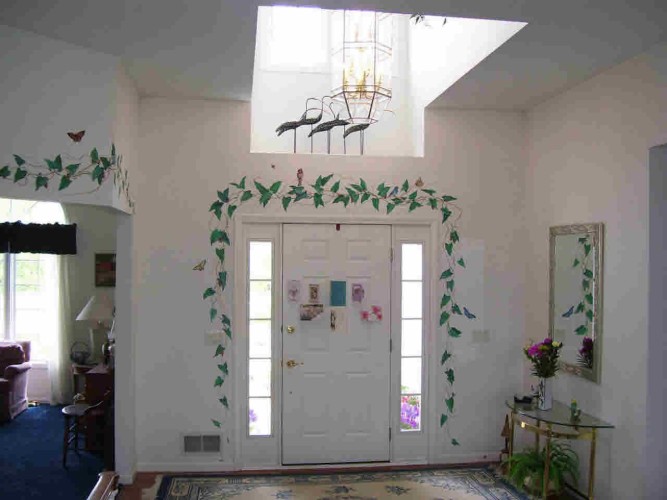 Tear out the HORRIBLE landscaping in the front yard and help the 4 million weeds and thistles that were tall enough to me in the eye (yep…5'3″ tall thistles with concrete-like roots) find the weed version of the afterlife. Holy Hannah… that was a project and a half!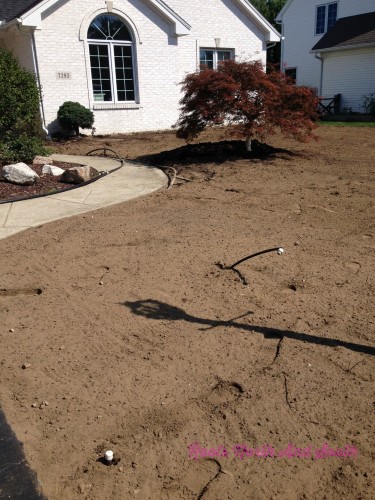 Here are a few sneak peeks of what we managed to get done before the snow started flying…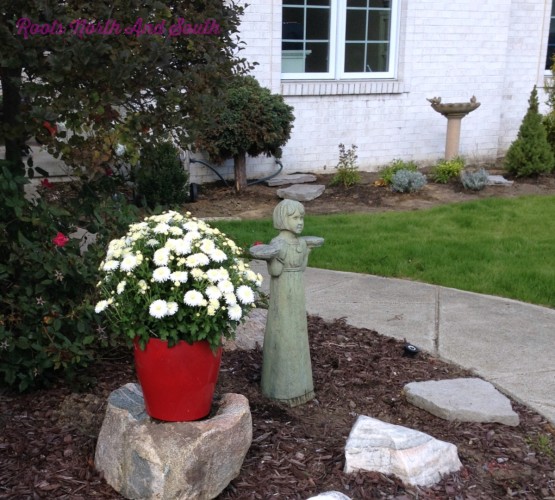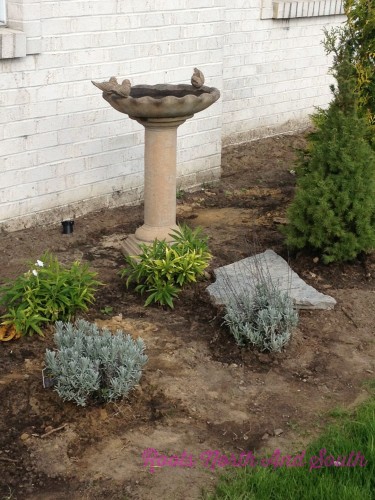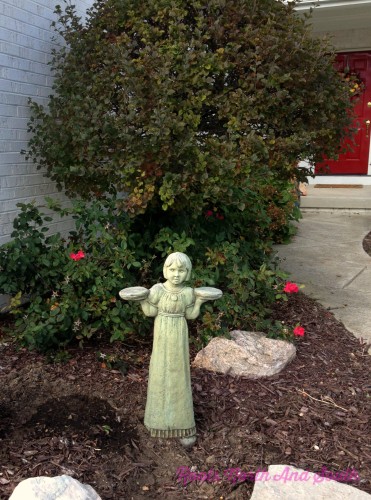 Making Over the New House
And along the way, the house started to take shape and gain some character and personality.
Enough that I didn't feel the need to cry myself to sleep at night or beg the people who bought the old house to let us move back in so I could sit right here at my desk in the entry again…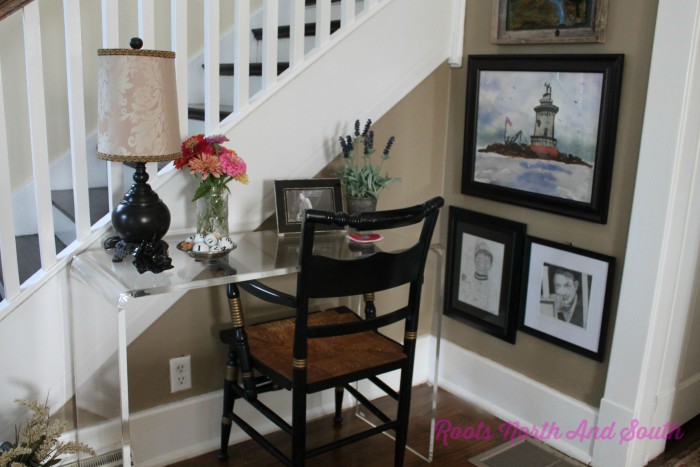 From our new floors…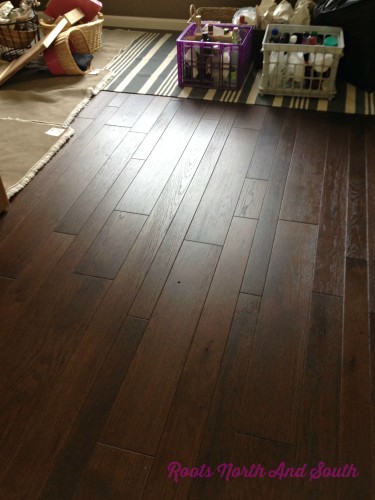 to our fun planter for the mailbox… (and yes…a functioning sprinkler system now!)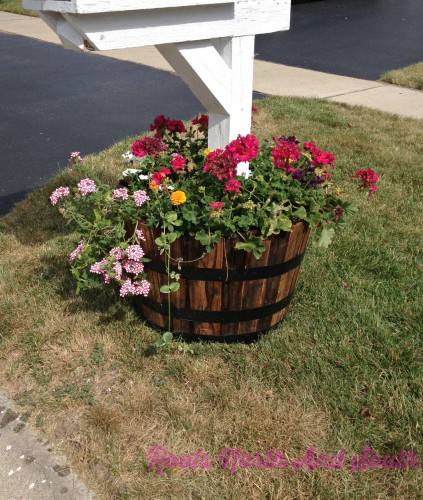 to the arbor Pops made for me at the old house…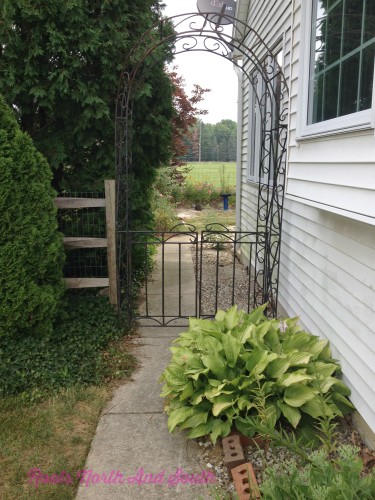 to a fresher, more inviting kitchen (still a work in progress!)

BEFORE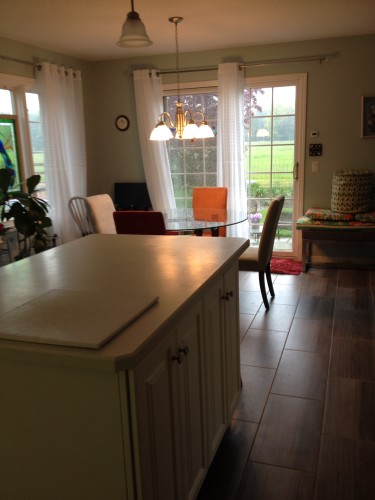 WORK in PROGRESS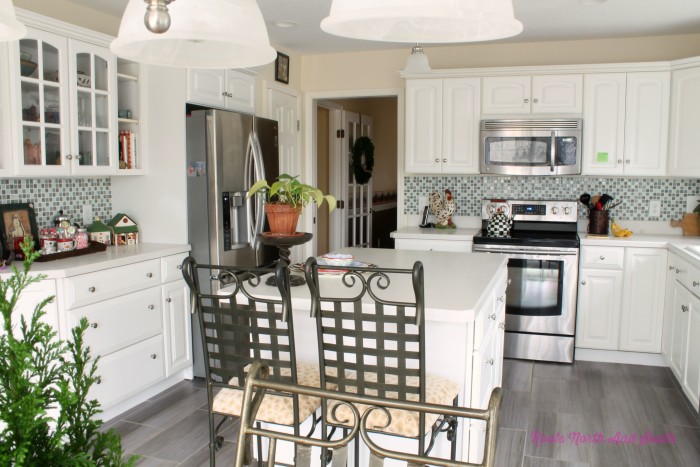 to our almost finished dining room…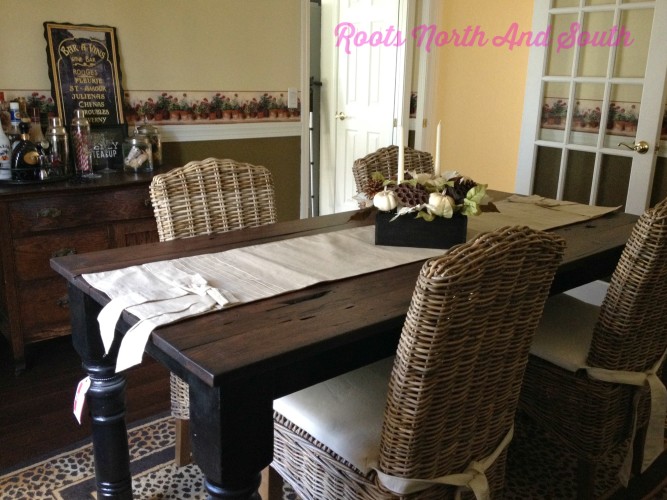 We've made great progress in giving our northern house a southern-style makeover a short amount of time …
Home & Garden Goals for 2017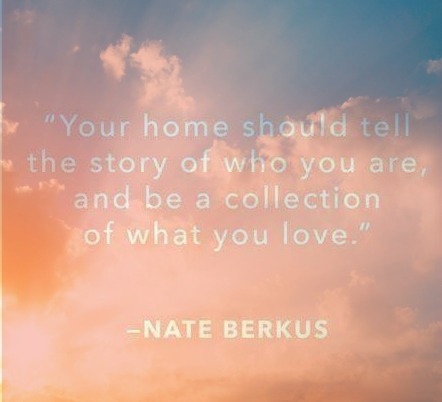 Now my goal is to continue to pump up the "character" inside and out…
You see,  I'm missing magnolia in our new house…that old southern style I love so much.

To me, southern style means:
Mixed metals
Leopard as a neutral
Burlap
Magnolia and boxwood wreaths
Warm paint colors
A crackling fireplace
Blurred lines between indoors and out
Window boxes
An eclectic mix of old and new
Hand scrapped wood floors
A warm, inviting kitchen
Gardens overflowing with herbs, cutting flowers, hydrangea and critters
Outdoor living space with cozy chairs for napping and reading on the porch
Music…
So my goal for 2017 is to bring on the magnolia!
Home & Garden Goals for 2017
Starting with window boxes. The window boxes at the old house had their own fan club in the neighborhood…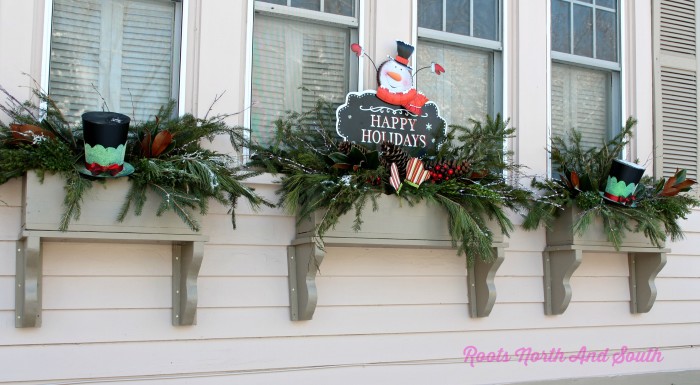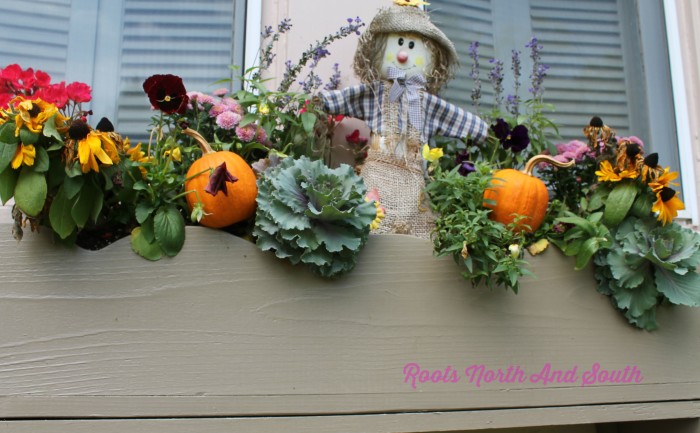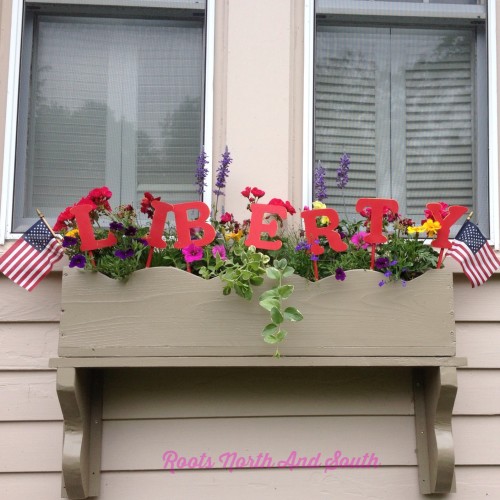 This time around  I'm thinking wrought iron?
I found this great window box company online (Flower Window Boxes, in case you are wondering) and have narrowed it down to two choices…
This is Vienna… isn't she a beauty? She's my favorite most days.
And this old gal is Savannah… I want this to be my favorite mostly because of the name!
What I need you to keep in mind as you are helping me decide is that the antique horse head posts my sister, Bunny, got for me for the old house will be making an appearance at this house… fairly close to the window boxes.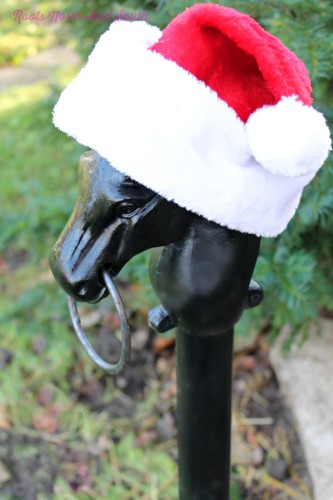 Giving the Kitchen a Mini-Makeover
And the kitchen is getting a little Botox. Not a full on facelift… just a bit of a spiffing up to make it more inviting.
It gets tons of natural light which is a great asset, but also makes it tough for my amateur photography skills to capture good photos. So my apologies for the pics!
But we all know the kitchen is the heart of the home whether you are living in the north or the south, right?
I already changed the wall color (Sherwin Williams White Hyacinth was the winner!) and painted the trim white.
I sanded off the terrible blue paint on the fireplace and repainted it with a color that coordinated a bit better. Just enough so the fireplace wasn't such an eyesore.
Once I get new counter tops, replace the busy backsplash, track down better lighting and add new hardware… the fireplace trim will probably get another tweak. Probably something in the charcoal grey family.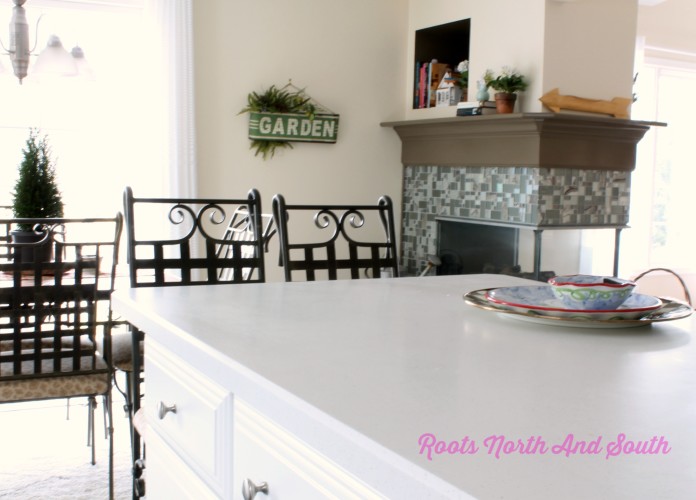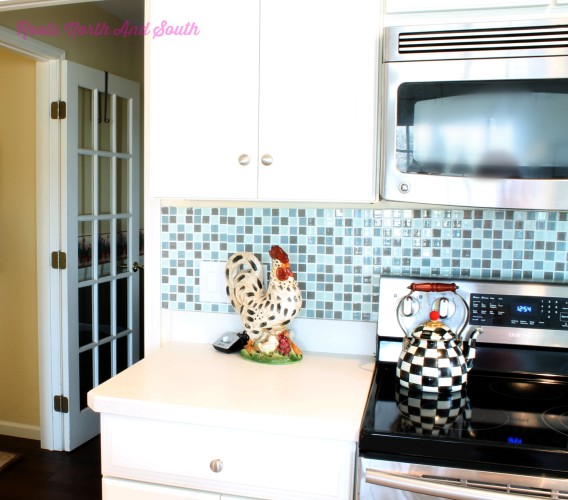 Plans for our Outdoor Living Space
I also have big plans for the gardens now that the front yard is almost done (photos to follow once the snow melts!). From an herb garden to a cutting garden and a place for our fairy garden, 2017 will be a big year for our house outside.
Including expanding the patio and tracking down some new furniture – a rectangular dining room table and some "curl up and take a nap here" stuff.
I'm kind of liking looks similar to this…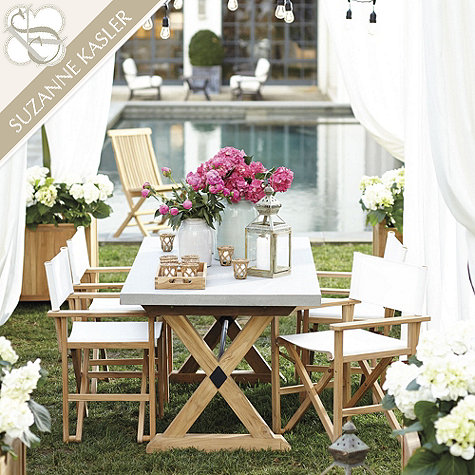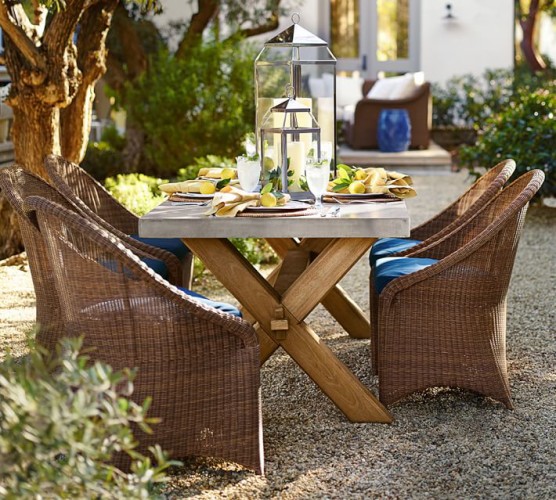 But with an aged wicker for the dining chairs and the couch similar to this…
(Except for, you know, our house is far less grand than the backdrop of this photo!)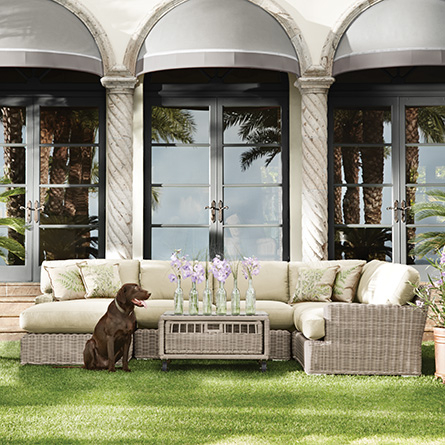 I have to make up my mind so I can start doing some online coupon stalking… I know patio furniture can be a real budget buster!
The Sound of Music
The old house made it easy to use cute "rock" speakers in the garden that hooked up to the sound system located in the sunroom.
But I decided it's time to make the leap in to the new century and get something wireless.
Anyone have any advice? Wondering about SONOS? Or should we go with Amazon's Electra and Echo?
I want a speaker in the kitchen that we can just pick up and move to the patio…
I guess I better stop yapping and get busy right?
Before you leave, will you help a girl out and cast your vote for which window box I should order… Vienna or Savannah … by Commenting below?? (Just don't be like me and let the name influence your choice okay?)
I just can't decide…
Until next time,
Shelley
Pin Me!
(And any other images you like  on the site!)