Welcome to Our Home!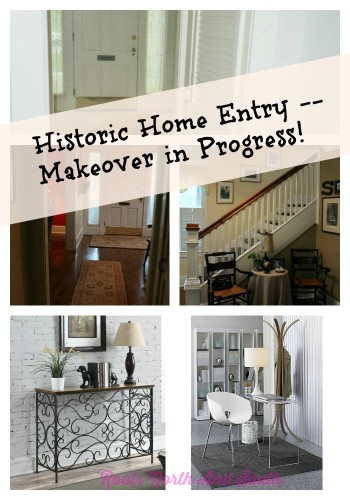 Since the day the key to this historic home was FINALLY placed in my hot little hand, the entry way has baffled me y'all!
 You may need to cover your eyes, but these first few photos below are the BEFORE shots.
From when I first bought the house and got to work.
I know right?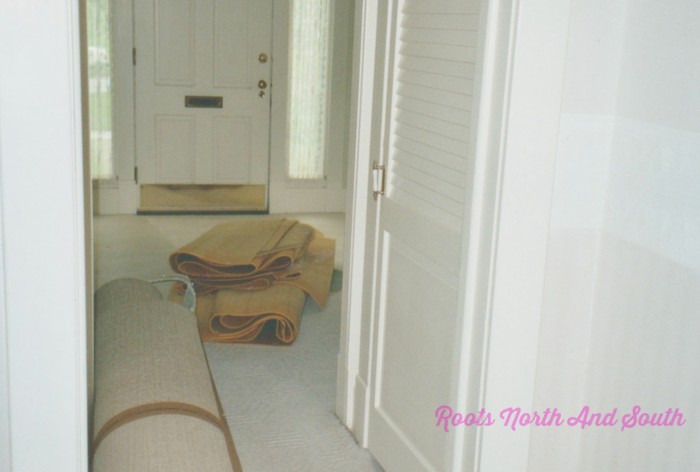 We joke that the previous owners were in the witness protection program.
Every window had at least three layers of window coverings. Even though the walls, carpet, wall coverings and window treatments were all stark white, the entry was the only area of the house that saw even a peek of light because of it.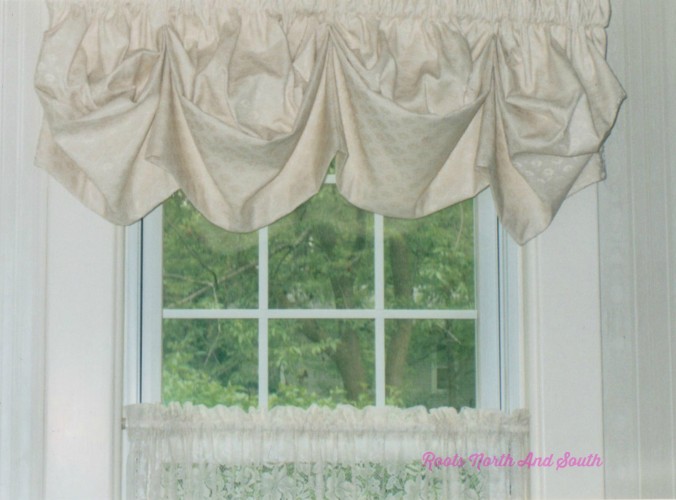 And the whole house was a mad clash of styles that just didn't work…
Bless their hearts.
In a HOT real estate market, it had been for sale for nearly three years.
It needed a ton of work and was dramatically over priced.
But I fell in love with it!
My family?
Not so much.
Everyone thought I had lost my mind taking on this much work when my life was already moving at a flat out sprint most days.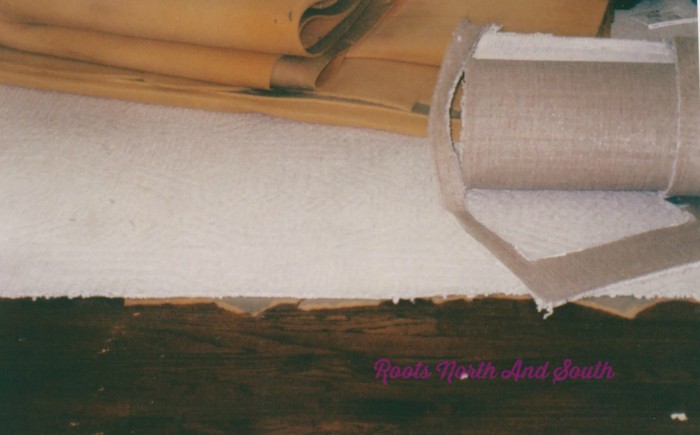 Can you believe those folks lived in this place for several years and never bothered to see what was under that awful white, stained-like-crazy, so-ugly-it-outta-be-illegal-in-a-historic-home berber carpet?
The photo above is what we found within an hour of getting the key.
Thick, beautiful hardwood! They were everywhere on the main floor except the kitchen…
Living room, entry, dining room, and sunroom!!
So the early entry makeover plan was a slam dunk.
Tore down layer after layer of old wallpaper. Ripped up terrible looking carpet. Dug out staples and nails. Cleaned and shined these beautiful old hardwoods to return them to their former glory.
Since then, I've shuffled more tables/pieces of furniture and art through this little area than I can even count.
I've changed the accent color at least four times…
(Mr. Family Wiseguy says I've decreased the square footage in the entry I've painted it so many times.)
And last year we had the stairway and all of the upstairs hardwoods sanded down and refinished.
(Yes…it was a hot mess of a project! Thank you for asking…)
Here's what our old house entry looks like right now:
This antique lighting fixture is so pretty in person!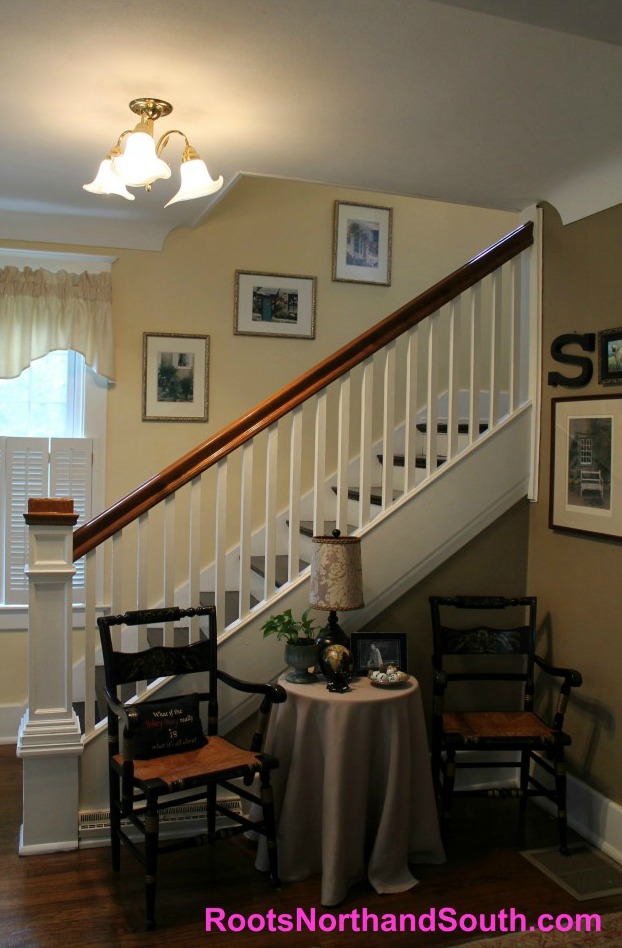 An old house door is just so inviting isn't it?
They sure don't make 'em like this anymore.
One thing I love is the location of this old door's peep hole.
Because people were shorter "back in the day" I can actually see out it!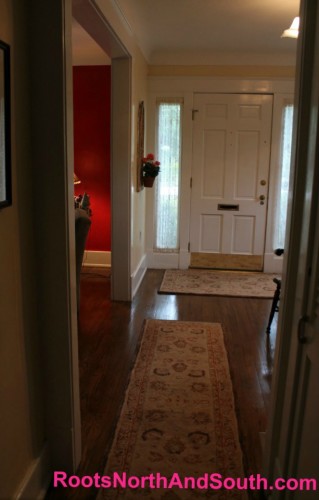 This was actually a part of an old gate.
Don't you just loved reclaimed treasures?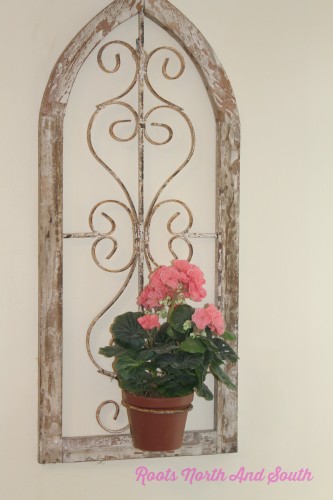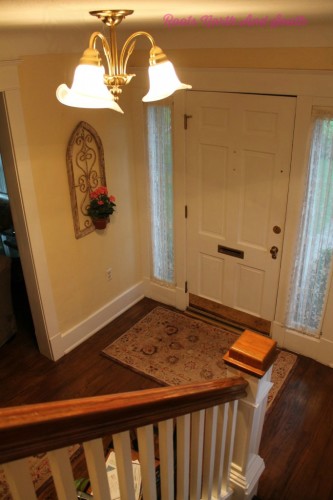 A few more fun details in the entry:
My handsome and oh-so-sweet nephew!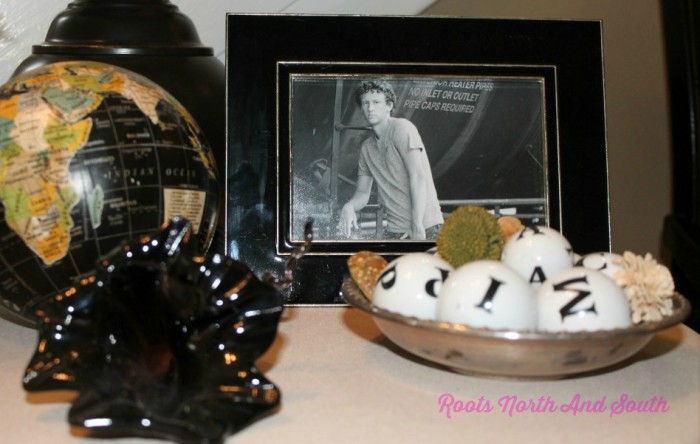 One of the two Captain's chairs I received from a dear family member's estate.
She was a New Orleans decorator, y'all! What an eye she had! We surely do miss her.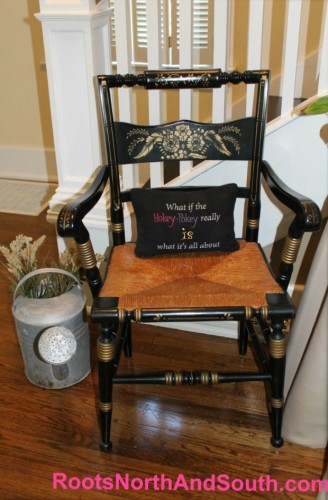 My Hokey Pokey Pillow!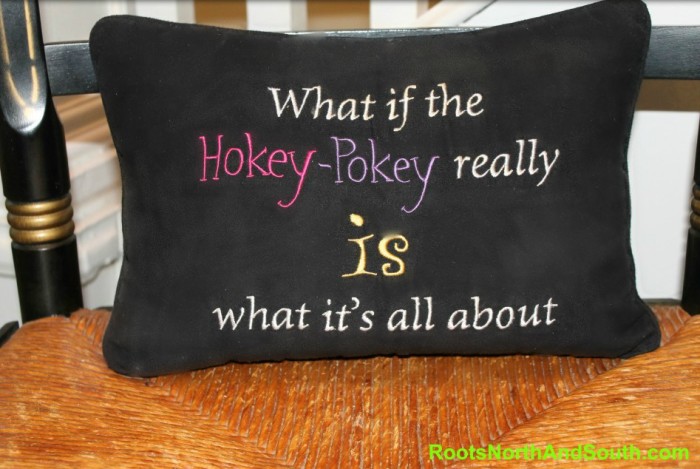 And the entry way during the holidays last year:
I just love the holiday season!
Hand to God – at least one third of our basement storage is devoted to Christmas decor.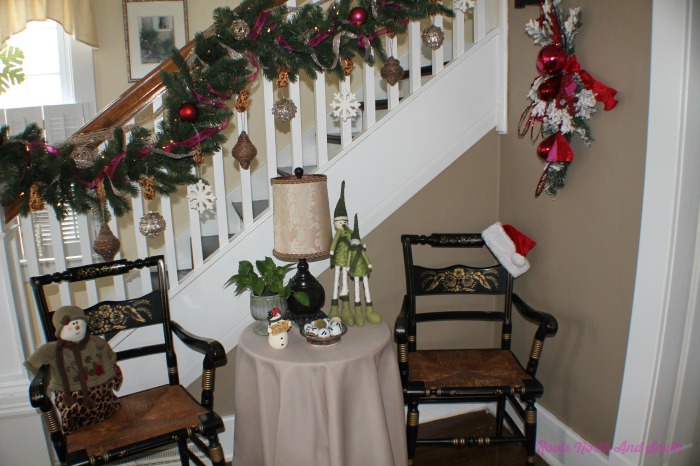 Isn't that old white trim beautiful?
Took a lot of cleaning and scraping and more than a few coats of glossy white paint to showcase all of the baseboards and trim in this old house.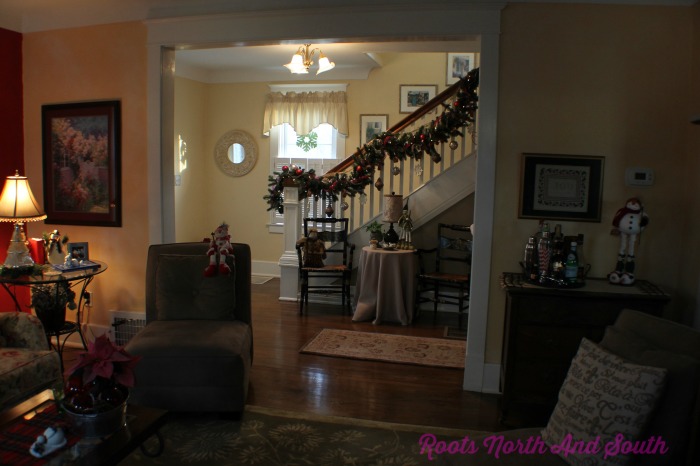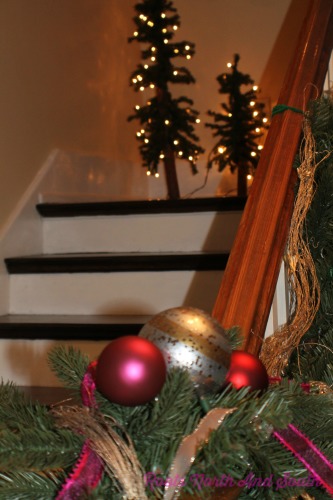 Entry Way Makeover Considerations
But now I'm fixin' to get serious! I mean it. It's time to shape up this old entry.

So here's what I'm struggling with:
The space is narrow
The baseboards and stairway trim are too beautiful to block
It is a crazy busy area of the house
My family insists I create a gallery wall to display my own watercolor and pastel paintings
The Console Tables I'm Considering…
And here are a few tables I'm considering…
What do you think?
My southern roots are screaming for the iron and wood table, but I love a little edge. Both the lucite and the glossy white tables fit that bill.
Tough call… right?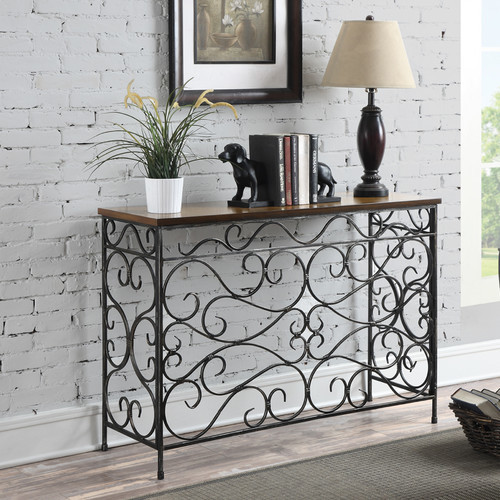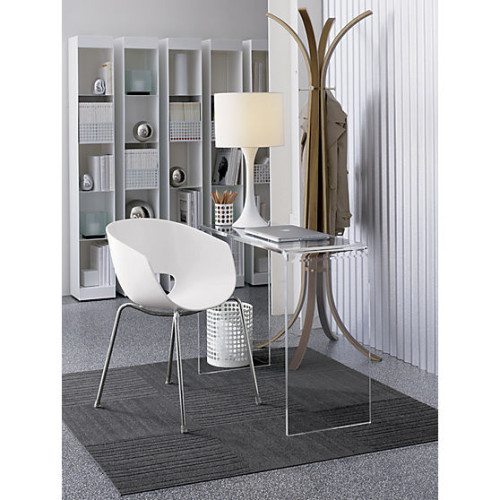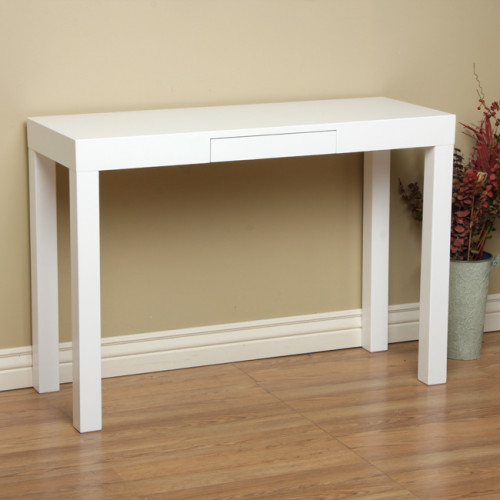 I'm trying to wrap this project up before we head to northern Michigan for the rest of the summer so the clock is ticking…
I've given myself two weeks to make some decisions and get moving.
I'll share my big reveal for this little project in the very near future…
Meantime, any ideas and suggestions are welcome!
XO
Shelley