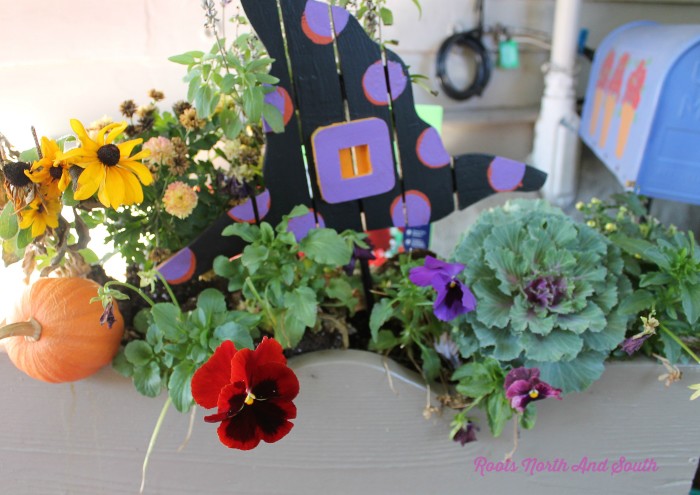 Can You Plant Spring Bulbs in Window Boxes by the Great Lakes?
I don't know about you but I am just hanging on tight to this fabulous Indian summer we are having!
Winter is tough around here y'all… Especially for those of us who spend a lot of our time digging in the dirt.
I would say I'm definitely one of those people who gets the post-Holiday – will this bleeping winter ever end blues.
So I'm taking advantage of this unusual weather and spending as much time as I can outdoors…
I've been prowling around making a list of things I will need to do after the snow thaws
And it reminded me how much I look forward to my bulbs blooming every year
I've always admired those house that have window boxes with beautiful spring bulbs blooming…
How do they do that? I find myself wondering every spring

I've never been brave enough to try it until now
Since it is the second week of November and (knocking on wood as I type this) our weather has stayed in the 60s and 70s or higher… it seemed like the perfect time to give it a whirl!
The Tricks for Growing Spring Bulbs in Window Boxes
As I do with many new garden projects, I consulted my posse: my little momma and a friend who is the Chief Garden Goddess (I made that up because I'm not sure her real title y'all) at a fantastically beautiful public garden near me.
This is some of her work below which —even on my 100 year old iPhone — is stunning!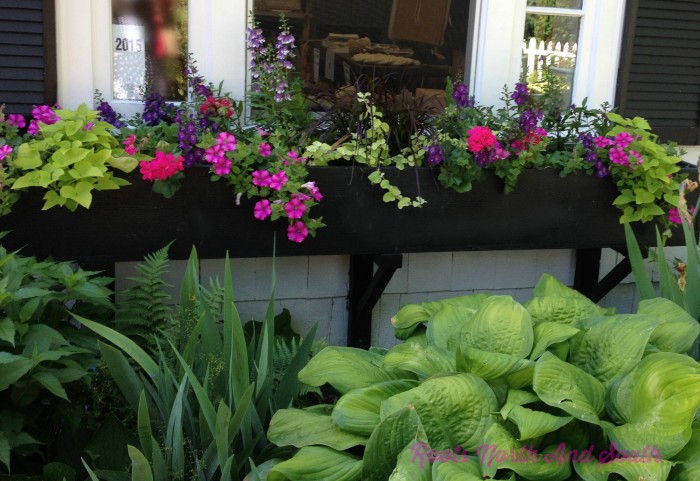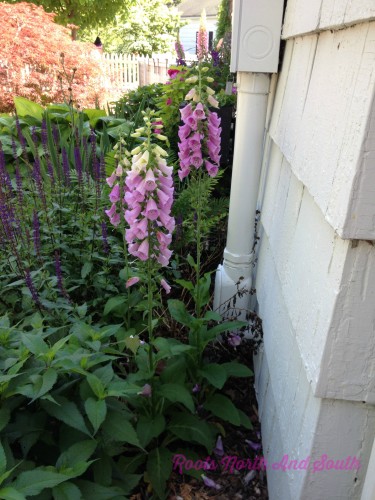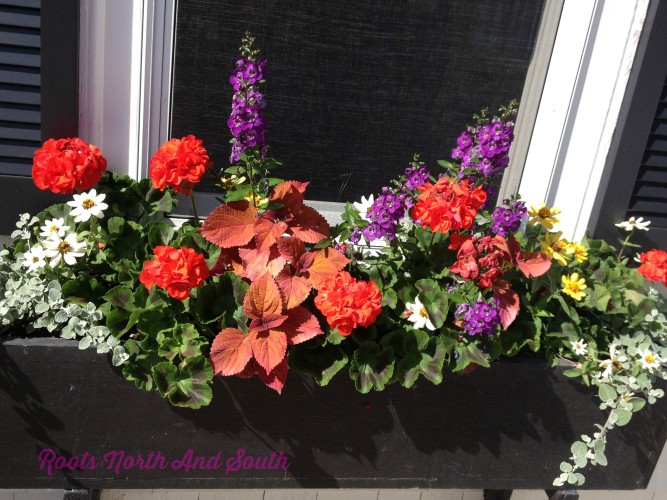 So I thought I would share with you what these gals say are the gardeners best secrets for growing spring bulbs in your window boxes…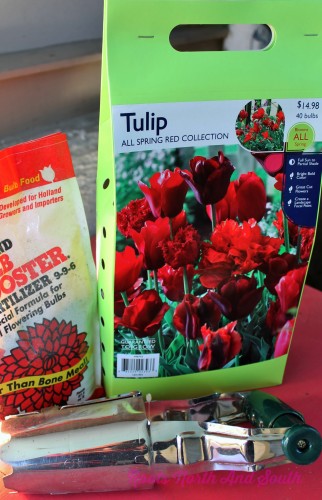 I picked up a bag of 40 tulip bulbs. Lots of different styles in one bag.Fortunately, I had some bulb booster and this nifty bulb planting tool.
I have this short version of the tool and one with a looong handle. It helps keep you from breaking your back when you are planting loads of bulbs in one area.
I love these tools! They make is so easy to get down to just the right height and they also lift the dirt right out of the ground (or window box in this case) inside the tool.
Once you pop the bulbs in, you can hold the tool back over the hole…give it a few good thumps…and the dirt falls right back in to place.
Seriously couldn't be any easier!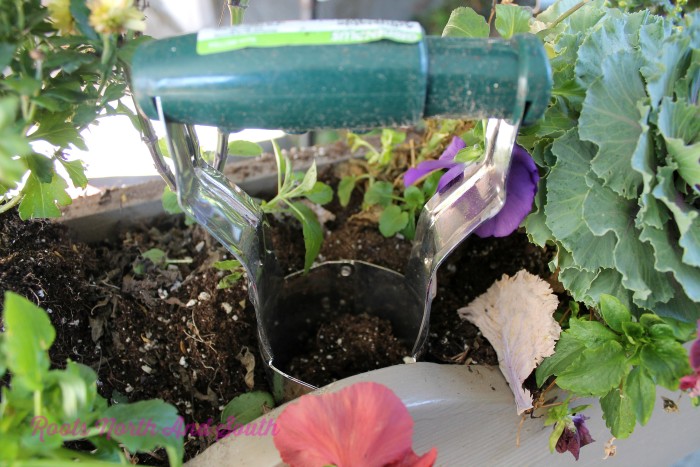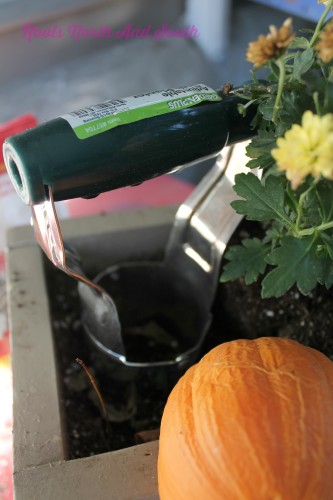 Don't forget that the side of the bulb with the little points goes up!
I like the really packed full look with my bulbs, so I put a lot of them in…
You might prefer the here and there look that doesn't require as many bulbs!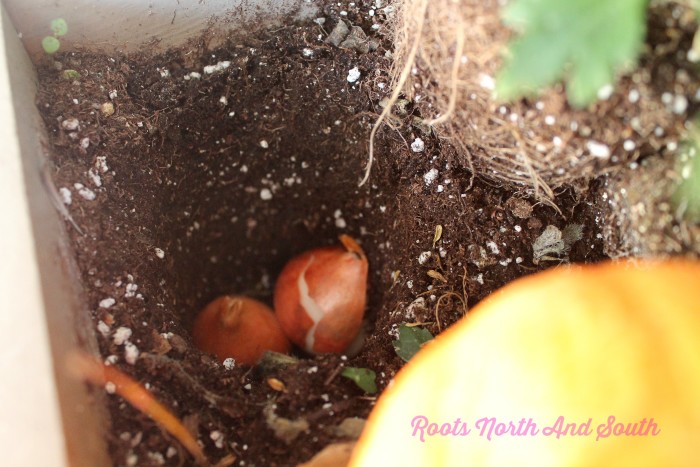 Both of my garden "consultants" recommended giving the bulbs a little food before you cover them back up. I had a bag of bulb boost left from other bulb projects, but you can also use bone meal.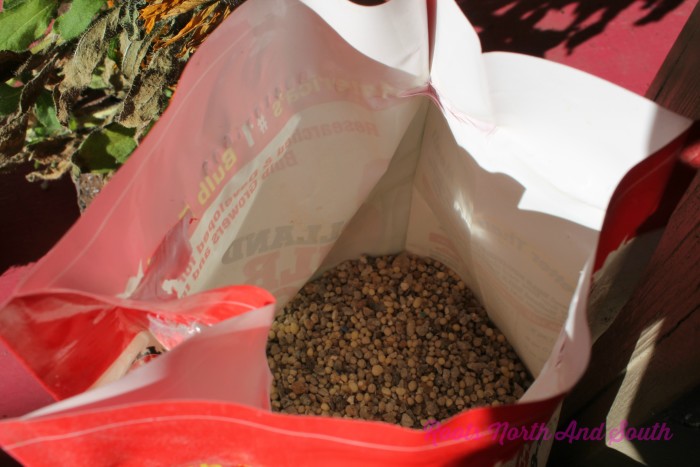 Few More Tips for Planting Bulbs in Window Boxes
Here are a few final tips I got from my posse:
Get the bulbs deep enough enough the dirt to shelter them but still leave some dirt to cushion them at the bottom. I think using the bulb tool helps you gauge that better… Personally, I'm not so good with guess-timating on things!
Bulbs need to feel the elements of the winter a bit. Its why they are one of the few flowers that look better up here in the North. So I'm going to keep them watered until its time to turn the hose and spicket off for the year.
Because I put greens in my window boxes for the holidays through until about March, they advised me to water the window boxes in the winter even if the water freezes. Sounds crazy right? But I guess those little rascals like it kinda rough (tee hee) and the greens will provide too much shelter for the bulbs. So I will be hiking through the snow drifts to rough them up this winter.
Now all that is left to do is wait patiently impatiently for spring to see what happens!
Cross all your finger and toes for me…I've got my heart set on seeing those tulips pop up in April!
 XO
Shelley