The past two days have definitely been the grit and grimace kind that led me to start this blog. Feeling so tough I have only made it over to swim once in the past three days… I thought it might help distract me to put together a new spring centerpiece for the dining room table. I had a few things on hand and bought a few things last weekend at the craft store. Let's see what this will turn out to be! Stay tuned… I'm sure I will be as surprised as you are!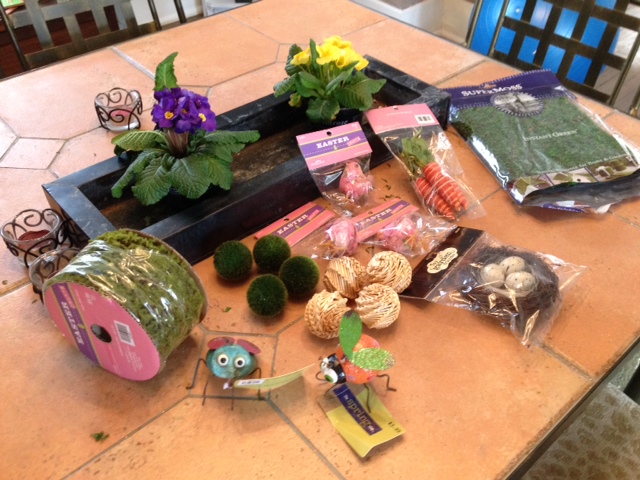 Update: This has been a fun project during a week that is supposed to be almost Spring! Ha. Here's the mess this was during "production" and my nearly finished project. After I dug in, I decided I wanted  to add a candle and save space for tiny, single stem, fresh flowers to complement the primrose that I picked up at the grocery… I stuck this candle in here just to mark the spot. I'm going to have to find a shorter, chubbier one when I'm out and about next! Of course I had to throw a few jelly beans around, too. Aren't these bugs fun? The carrots, like the jelly beans, are a nod to Easter. Hoping the bunny can find his way through the snow or a few little basket hunters in my bunch are going to be a bit sad.
Final Update:
I didn't find the chubby candles I wanted to work in to this so I ditched the candle idea all together. So its a wrap on my spring bug centerpiece. Which, by the way, was a big hit with the three little 7 and 9 year olds I adore! So the bug centerpiece will be making a return visit next year. My photos don't do its "cuteness" justice. I need to take a camera class and finally learn how to use mine!