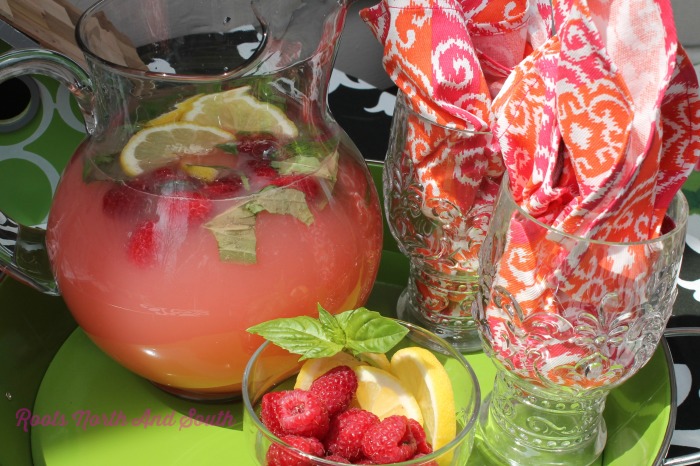 Fresh from the Garden: Raspberry Basil Lemonade
So we finally saw the sun around here this week y'all!
Makes up for how disappointed I was NOT to have scored a single dress, sandal or bag at the Lilly Pulitzer for Target madness this morning.
Speaking of sandals…
All my friends in the south have been posting pictures of their gardens and flowering shrubs and cute new sandals for ever it seems.
While those of us living in the north were still running our furnaces all day…
But when the sun finally broke through and the mercy soared to 75, I decided it was time to whip up one of my favorite non-alcoholic summer beverages.
This Raspberry Basil Lemonade will give sweet tea a run for its money.
I'm not kiddin' – it is the bees knees!
Ingredients for Triple Top Secret Raspberry Basil Lemonade
I first tasted this flavor of lemonade at my cousin's bridal shower three summers back.
I loved it but thought it needed a few tiny little tweaks.
So I added my own spin to it.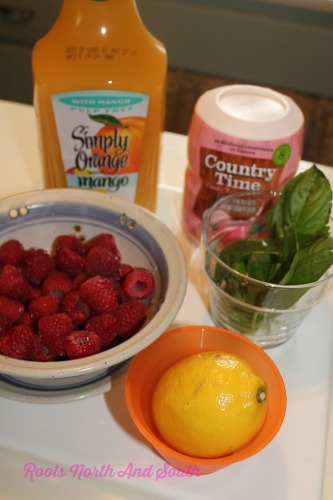 As you can see from the photo above, here's what you need:
Country Time Pink Lemonade Mix
Fresh lemon
A bunch of fresh basil
Fresh Raspberries
Mango-flavored orange juice (this is one of my kinda secret ingredients
The super secret ingredient (shared later!)

Start by rinsing the raspberries and the basil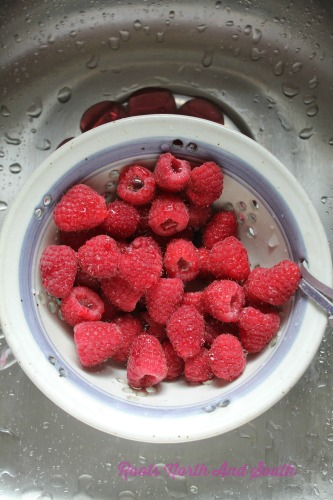 Aren't raspberries that cutest little things? If you take a peek inside any of my watercolor journals, you will see how much I love to paint them!

Once you rinse the basil, you will need to "rough cut it" as the chefs say.
All you need to do is tear it up or cut it up in moderately sized pieces.
Just enough to release the flavor.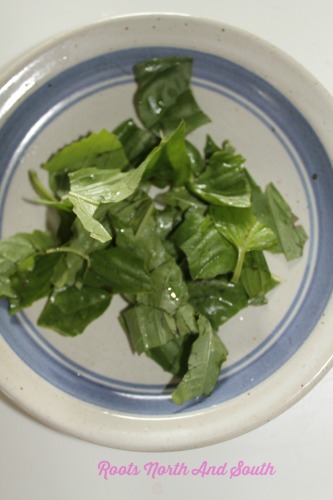 Begin by dropping the basil in to the bottom of a plastic container.
Then make the pink lemonade according to the directions on the package.
When you stir it all up, the basil gets a little roughed up and you will notice the smell of the basil pop!
Doesn't basil smell wonderful? Just screams summer!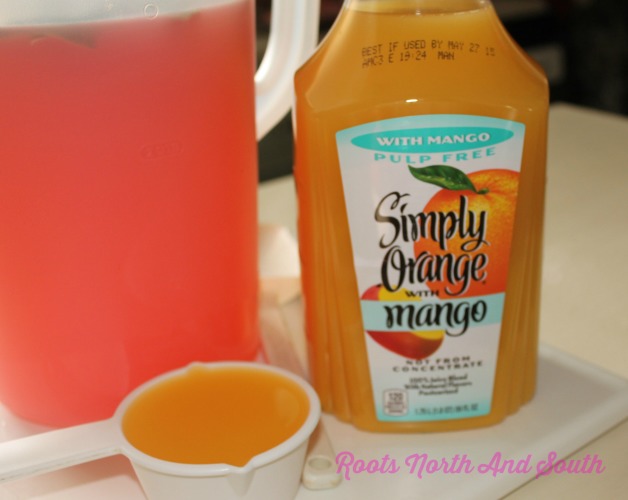 Next up add the Mango-flavored orange juice.
I use between 1/2 cup and 1 cup per gallon of lemonade.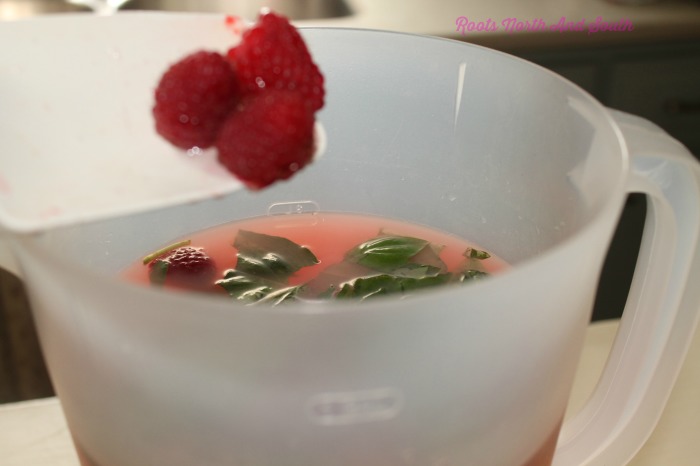 Gently add in the raspberries…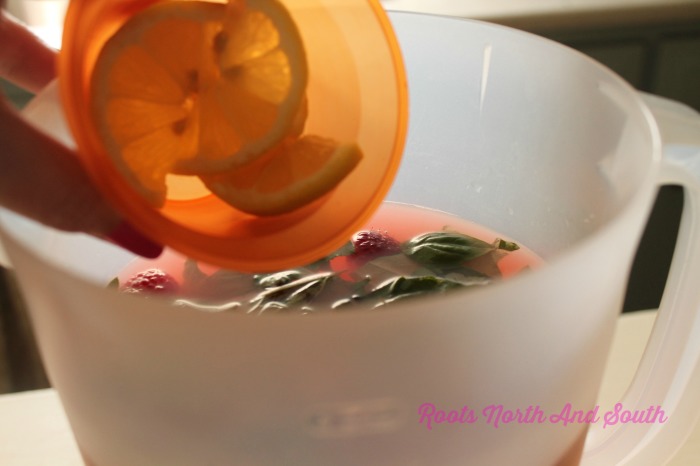 And a few lemon slices …
The Super Secret Ingredient in My Raspberry Basil Lemonade
And then a shot of the super secret ingredient…Grenadine!
It gives the lemonade an extra little zip and makes the color look so pretty…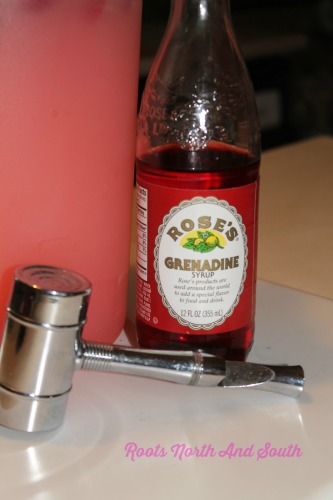 Stir it all up and chill it in the refrigerator for a few hours before serving.
Raspberry Basil Lemonade on the Porch
As any gal with southern roots knows, lemonade is best served on the porch!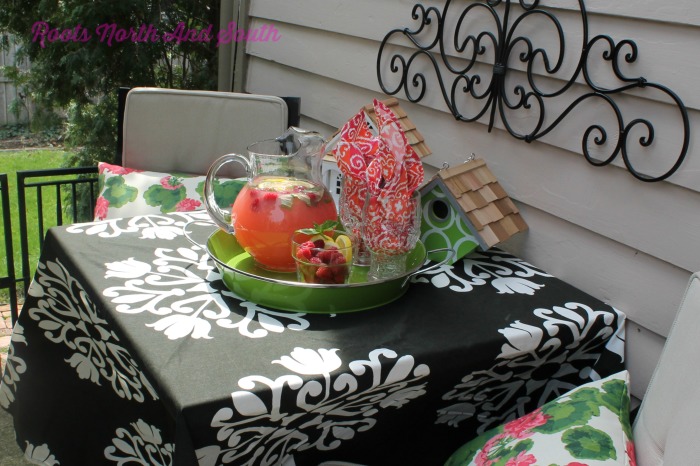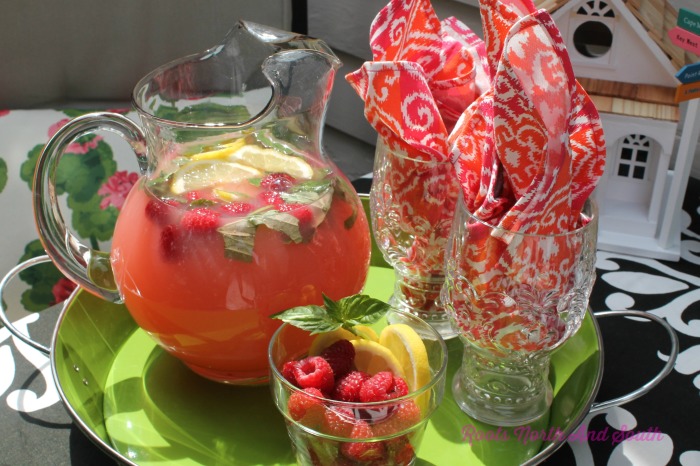 This is where you will find me any chance I get now that it looks like maybe...just maybe… spring has finally arrived!
What is your favorite lemonade recipe?
XO
Shelley