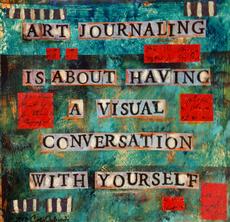 Just looked at the date of my last post and its been a week since I've blogged. Have been feeling better but now playing catching up from my latest flare. Such a rollercoaster. As I mentioned in my last post, I'm working on creating an art journal that chronicles the highs and lows of coping with a serious illness. Loved this pic I found online when researching the topic. Turns out there is a whole lot more to this! So I'm gathering photos and graphics of things I find online first. Hoping to have something to share soon.
Here are a few resources in case you are interested in visual journaling, too.
Top Ten Art Therapy Visual Journaling Prompts
Meanwhile, I am still working on the wretched stairway risers and all of the upstairs trim. Even with primer, I'm on tedious coat #3 now. But almost done.
In Process                                                                  Almost Done!
Just in time to start the master suite painting! I'm trying to get it all done before the garden calls…