We are past the halfway mark in the $100 Room Challenge and—fingers crossed—I'm in surprisingly good shape.
Much of this past week was spend organizing and figuring out how to store my treasures. Not the most exciting or dramatic stuff, but it had to be done!

Because this room really is a laundry room, I wanted to find a cute way to store our laundry soap. Still keeping it in the potting room theme.
I scored this beverage dispenser to use for my laundry soap for only $7 on one of the sale shelves at HomeGoods. I thought I was a genius…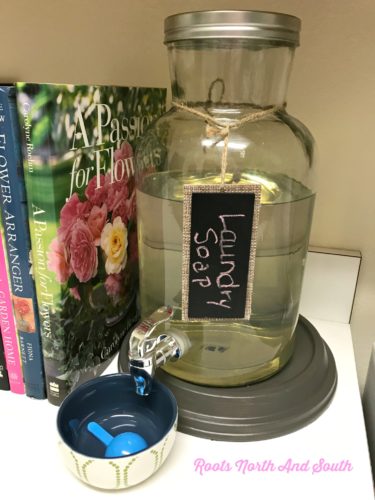 until I got it home and realized there was no room to actually get my laundry cup under the spigot to pour in the soap…
Fortunately, I found a clay saucer in the garage I'd never used. It was the prefect height. So I painted it the same color as the doors and cabinet trim (Urbane Bronze).
I just added the chalkboard tag from a package of them I bought last Christmas.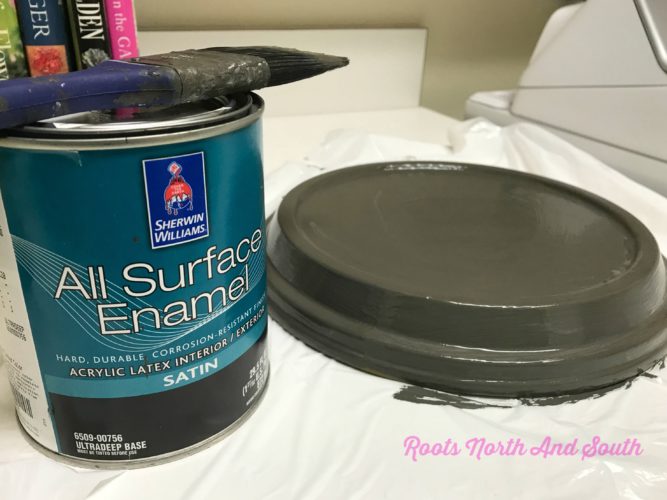 Then it was on to the real challenge of organizing all of my floral and potting "stuff."
And oh boy do I have a lot of stuff y'all!
(Total aside but that last sentence really reflects my conflicted northern/southern roots doesn't it? "Oh boy" is such a gee-golly Michigan phrase and "y'all"… well y'all know that one!)
Creating a Potting Room at Home
I'm forever pulling pictures out of magazines of things I'd like to do in my garden and ideas for arranging fresh flowers.
Most of the garden photos find their way in to one of my garden planners. But the fresh flower arrangement ideas were just a hot mess.
I could never find any when I was looking for ideas on what to do with my $4 bundle of Giant Eagle flowers.
First step was to search my stacks of magazines and get the photos in some kind of order…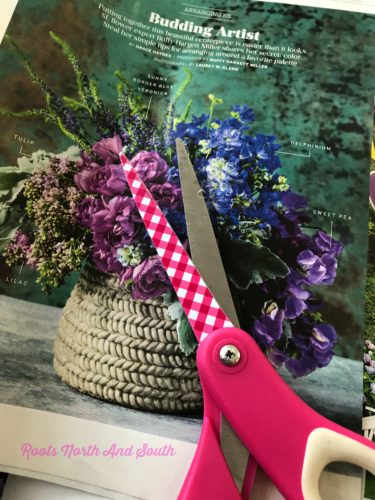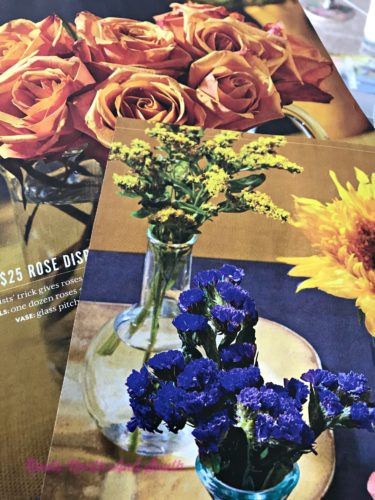 Luckily, I found an iron Southern Living at Home wall rack I just HAD to have at a party ten-ish years ago and… never used. You know how that goes right?
I put all my magazine and catalog clippings in to a plastic folder and hung the whole thing on the wall right next to the sink. (And above the ferns I rescued from my sister aka "the plant killer" and am trying to encourage not to give up on life!)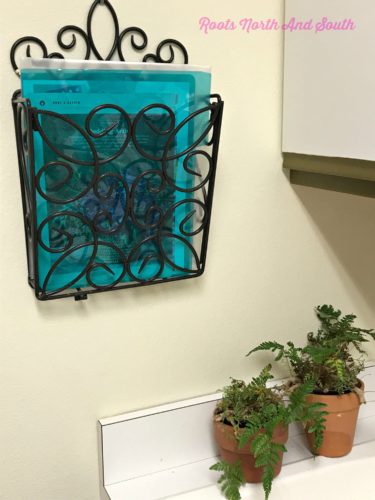 Then it was a matter of sorting through and organizing all of these piles…
And all of the vases, foam, rusted tools and more that were lurking behind these newly painted cabinet doors.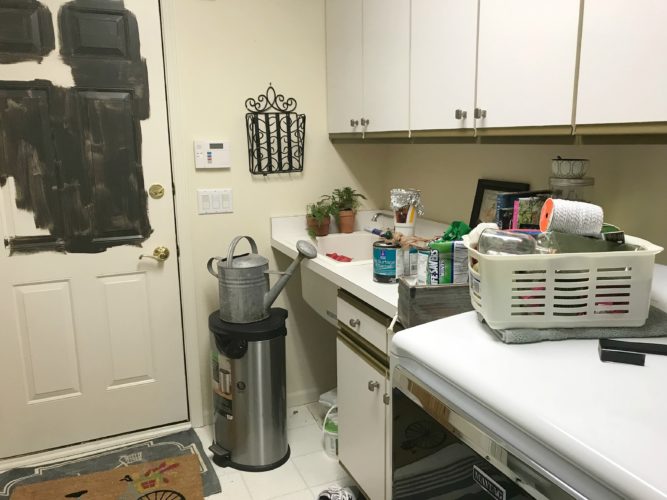 A couple of hours, a few trash bags, and one trip to Goodwill later…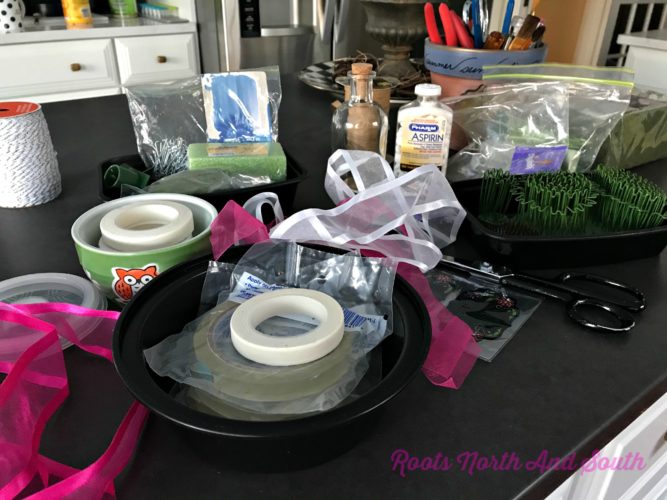 Things started to take shape…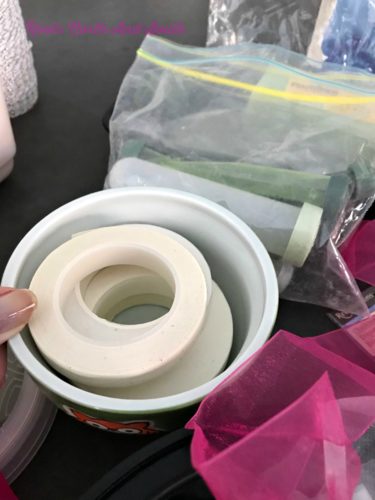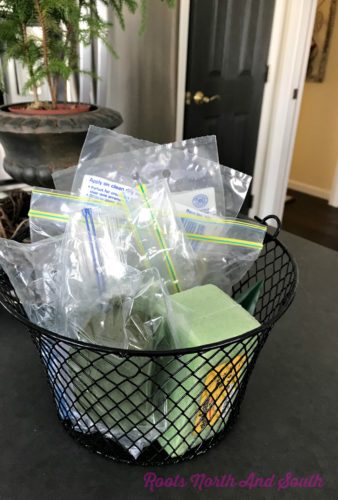 I got rid of all of these baggies full of plant food that was such a mess every time I wanted to use them…
The kitchen counter always had traces of white powder that made it look like we were drug dealers.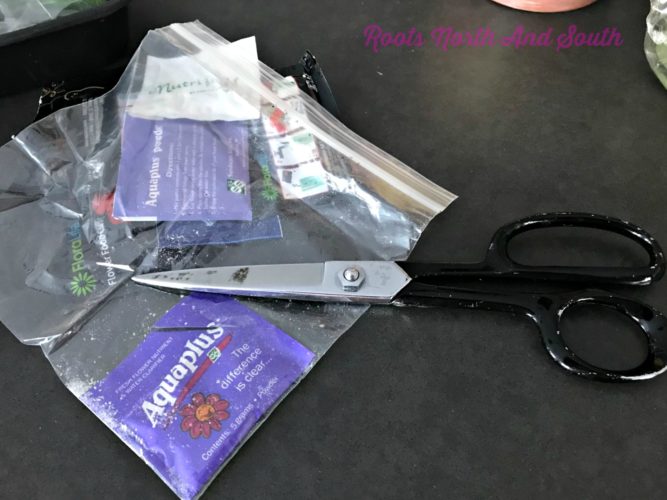 I found this cute little bottle and chalk labels at Michael's… less than $4 for all of it!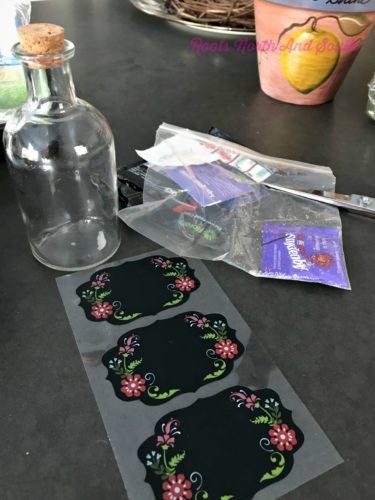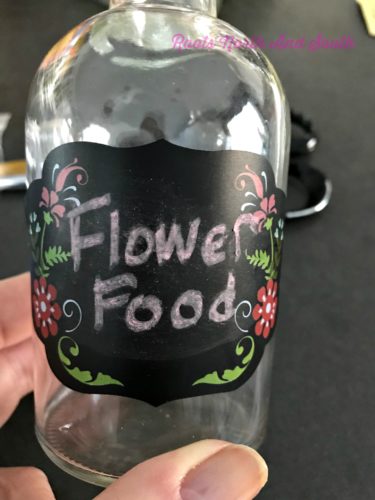 I decided to use a painted pot as a container for all the tools I use most often. I've had it forever but never used it for actual plants because it was "too nice."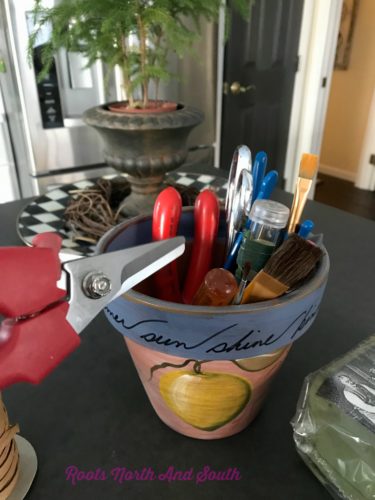 It's so great to have them all together in a spot that is easy peasy to get to…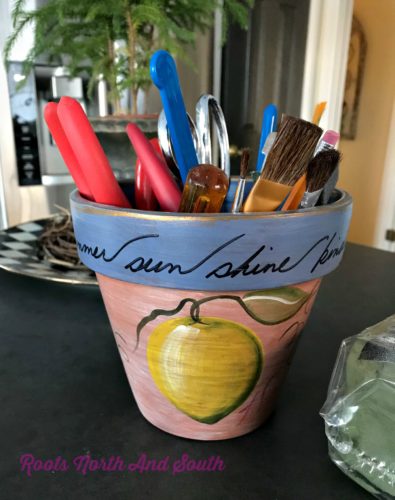 And the cupboards aren't even an embarrassing mess when I open a door now…YAY!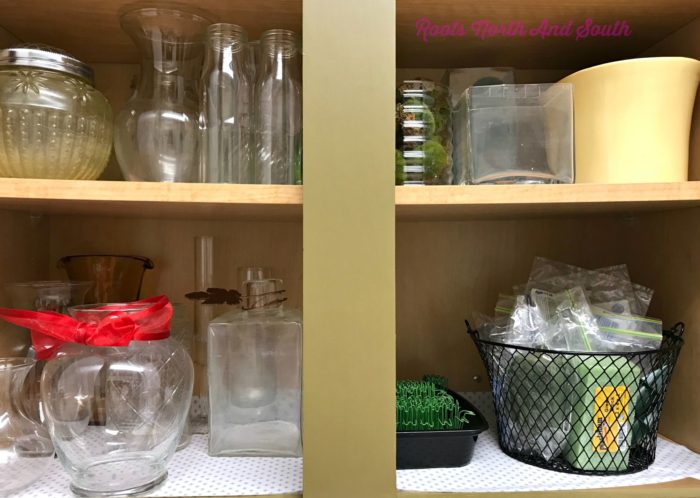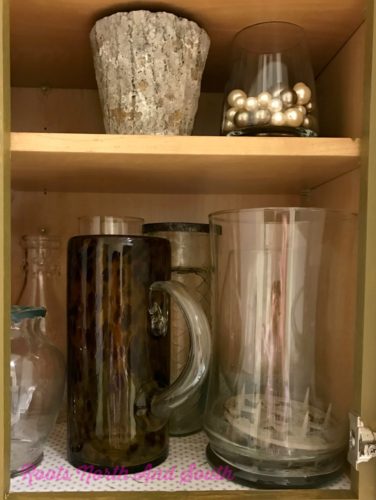 So now we head in to the last week of the challenge. Yikes!
I'll be finishing up the sink skirt (mostly with my little momma's help), hanging a few things I found for the walls, and generally putting everything all together.
Hope you will stop back for the big reveal next Wednesday!
Don't forget to follow me on Instagram and Facebook if you don't already…
Until next time,
Shelley
Be sure to check out the projects my fellow bloggers are working on as part of the $100 Room Challenge. So many inspiring ideas here!