If you've spent any time at all in the south, you've no doubt seen them. Blue porch ceilings.
And you have probably wondered why ceilings on porches in the south are often painted blue?
Especially in older historic homes.
Besides being just plain pretty, and as is true of many southern influences, there is a story behind it. And it's tied to evil spirits.

Oooh! Fun right?
Here's the backstory I know y'all are dying to hear…
In the south, blue ceiling paint is often called Haint Blue. Southerners will tell you its used to keep evil spirits, also know as "haints," from being able to enter your home.
Just how exactly does that work, you might be wondering?
In the Lowcountry, Gullah culture says that haints can't cross water. So while folks who don't know the back story think their goal is to find a blue paint color that matches the sky, what you really want to do is find a color of light blue that represents water.
The Galluah people believe that when you paint your porch ceiling a blue that reflects water, those evil haints won't be able to cross in to your home. Some folks even go as far as to paint their window frames in this shade of blue.
Our old house was in a historic neighborhood along a muddy river.
I couldn't get too excited about painting the ceiling on the porch that connected our house to the detached garage sludge blue.
I chose this Sherwin Williams color instead.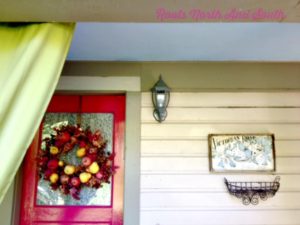 (Side note: this photo was one of my first ones as a blogger… so it's not super great!)
My current favorite shade of Haint Blue is this one by Benjamin Moore. It's called Bird's Egg.
Who doesn't love Robin's Egg blue-ish paint right?

Blue Porch Ceiling Paint: It's Not Just a Southern Thing
Here in our new home in the north, I'm getting ready to paint the ceiling of our tiny front porch blue.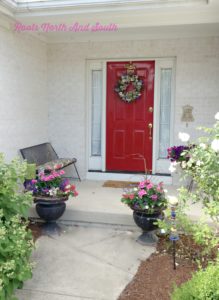 And I'm debating if I want to go with a traditional southern Haint Blue or one of the blues popular in northern Michigan.
While its not as colorful of a story, northerners like blue porch ceilings because they feel like it opens a space up and…
Keeps spiders and wasps from nesting along your porch ceiling. It's practical but not nearly as fun of a story to recount.
A few years ago when I was painting the porch ceiling, the fine folks at The Grand Hotel on Mackinac Island hooked me up with the paint experts at Pittsburgh Paints who create their blue.
Yep…world's long porch right here at The Grand!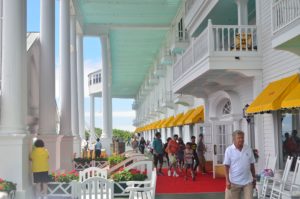 Their blue is unique to them and PP calls it Dew Kiss. But you can replicate it by using Silent Ripple.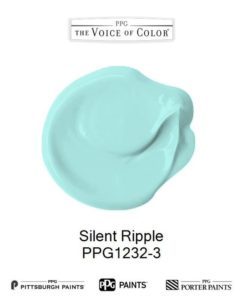 Isn't it beautiful? It's such a classic northern Michigan cottage color.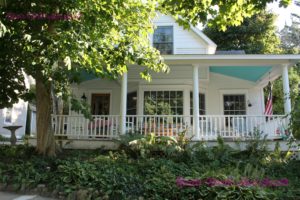 So my dilemma is… Bird's Egg or Silent Ripple?
What do you think?? Leave me a comment to let me know!
Until next time,
Shelley