So I finished the spring centerpiece I've been working on for a bit. Had fun with this over the past week or so when I haven't been feeling great. Don't you just love these fun bugs?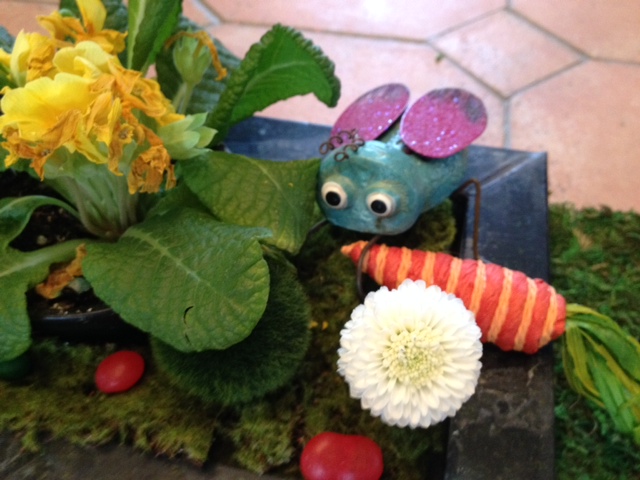 My poor primrose though… I'm never very successful at getting it to stay alive for more than a few weeks indoors. This year I can't even plant it outside since on March 23rd – we still have snow on the ground and its only 32 degrees for a high today!
My Mom bought the new Dan Harris book (10% Happier) for me. She's been pushing meditation to help me with the stress of my illness. So I'm just starting to read it. I will let you know how it goes in case you are reluctantly considering meditation as a means of beating down the voice that makes you feel as if you are never going to feel well again…
I've decided to try to create my own gratitude journal for sick folks. I think I might need a better name though don't you? Dr. B would no doubt tell me if I saw her this week how well I'm managing this flare. 11 days of pretty tough pain and I've still managed to swim twice a week, paint, play in clay one day at the pottery studio and… work! So grateful I am a writer and can write from home during the times of day I feel best.
I've organized my monthly writing projects in to daily goals and I'm allowing myself to not feel guilty if I don't start work until 10 am because I just am not up to it. Whats the point in paying those crazy high self-employment taxes if you can't work when you want right?? I think Dan Harris would be proud. I'm going all ninja on the voice in my head that has always been telling me to WORK WORK WORK. One day at a time is my new chant…ohm…ohm…