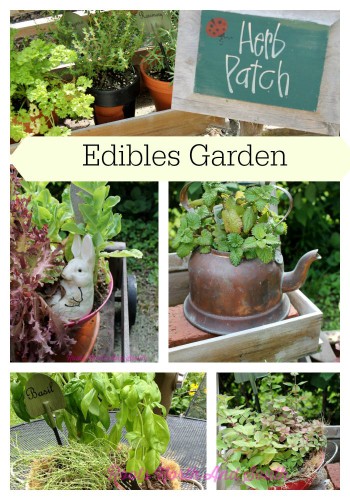 Since I shared my Barely Contained: Tips for Container Gardens post last week, I've had quite a few email requests for close up photos of my Edibles Garden. And questions as to what herbs I used and how I use them.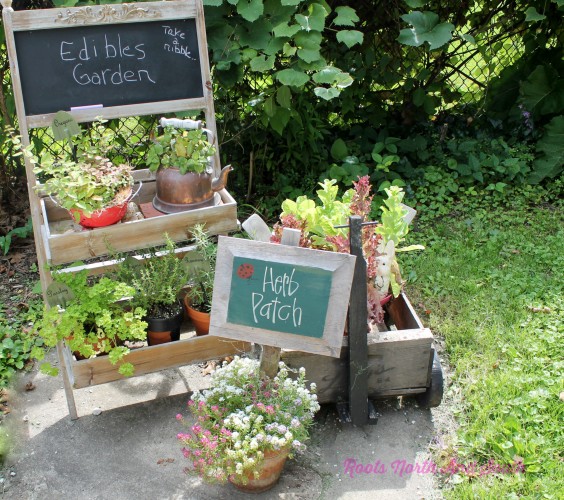 Most years, my veggies and herb containers are some of my favorite friends in the garden!
But this year?
Its a struggle to keep them going.
We have had rain something crazy like 92% of the days since May 15th.
No… I don't live in Seattle or the Pacific Northwest.
My poor veggies and little lettuces have had it the worst.
I normally grow them in old salad bowls, beat up pots and pans and colanders.
Along with a little bunny or two and some seriously old, worn-out salad tongs stuck in there just for giggles.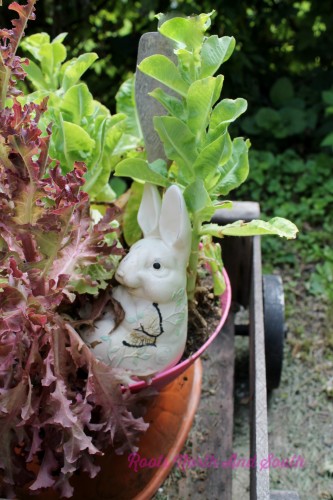 I threw up the white flag on these poor, drowned little lettuce leaves last week.
Fortunately, this is low enough to the ground that the bunnies haven't given up on them! Munch…Munch…

My carrots and green peppers were a total wash out though. No sun and too much water do not make veggies grow! I gave up on them a few weeks ago and packed the containers away for the year.
My Container Herb Garden
On a more positive note, my herbs are still hanging in there.
Another reason to love these little fellas!
So here's a close up of the top shelf.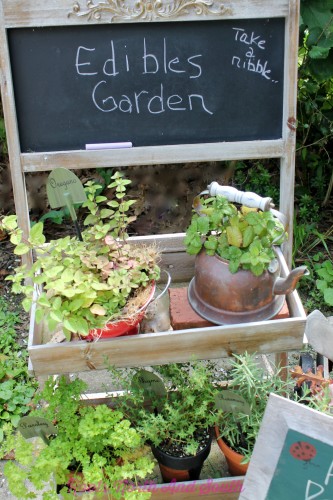 By the way, the shelf is just an inexpensive one from Kirkland's.
I sprayed the heck out of it with sealer… My family teases me about my sealer addiction y'all. But I find it helps me keep my treasures looking good outside for a lot longer.
Here's how it looked on their website. (I wasn't smart enough to take a quick pic of mine before I attacked it with the sealer!)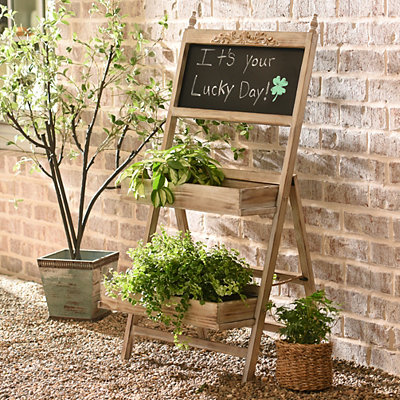 And here are a few more close-ups…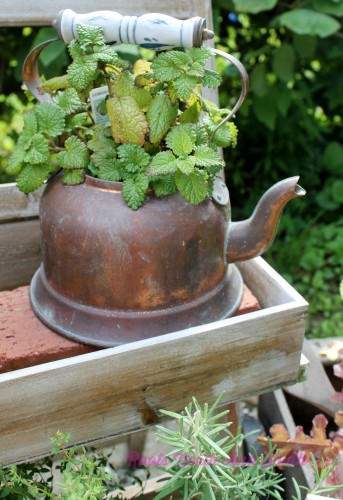 The photo above is Lemon Balm.
Isn't the tea pot adorable?
My friend got married outside in southern California many years ago. We hunted about 40 of these little copper tea pots down one by one at thrift shops, garage sales and antique stores from Huntington Beach to Malibu so her florist could use them for centerpieces.
This is the first year I've planted this fragrant little herb. But I found it at the greenhouse and it smelled so yummy I had to give it a go.
So far I've used it in tea and in chicken. I'll be honest with you… because I have some fun auto-immune diseases, chicken and fish are about the only things I cook. So all my herbs tend to end up in the tea pot or whatever pot I'm cooking chicken in that day!
A friend who is a horticulturist told me you can also use Lemon Sage to make mustard for pork, chicken and fish dishes.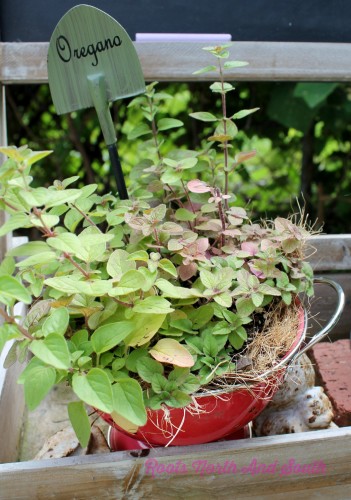 And this little mini-colander is home to Oregano.
So many things we can do with Oregano right?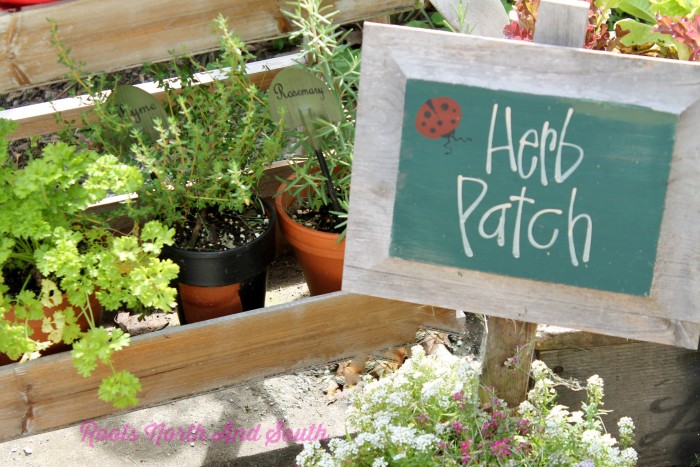 The bottom shelf is home to Parsley, Sage, Rosemary and Thyme.
No… I didn't plan it that way. Just kind of happened!
I try not to think about it too much when I'm watering or cutting because that song gets stuck in my head for DAYS if I do…
And My Basil Container
Basil and Rosemary are probably my favorite herbs.
Rosemary because it must smells so darned good…
And Basil because I love to put it in everything!
In fact, I'm cutting some in just a few minutes to make a few batches of my Triple Top Secret Raspberry Basil Lemonade.
A bunch of my peeps are coming over to hit the Farmer's Market down the street and this lemonade is always a hit with everyone!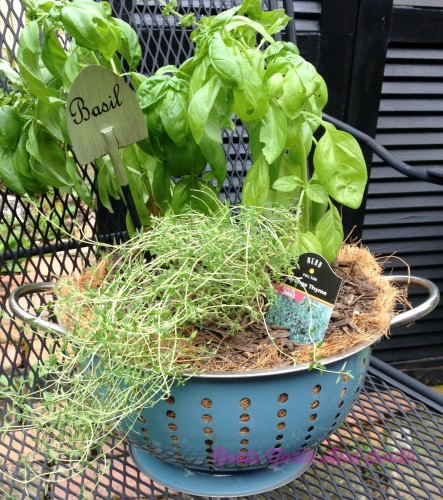 This old colander is planted with Orange Thyme and Basil.
I keep the container near my kitchen door so its nice and handy!
I haven't planted Orange Thyme before so I'm not quite sure what to do with it?
Any ideas? Send me a note or leave me a Comment if you have one! I need to figure out what to do with this little guy. He's taking over the whole container…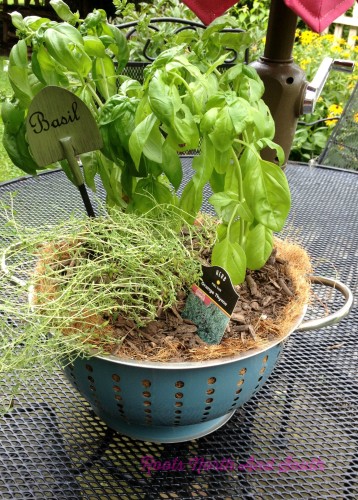 That's it my friends! A close up look at my little Edibles Garden.
Crossing my fingers that next year will be a better year for it…
Do you grow herbs in your garden? Leave me a link to your photos. I'd love to take a peek…
XO
Shelley