Are you a Derby lover?
I can't remember a time that I haven't been.
The horses are so proud. They can barely contain their excitement as they make their grand entrance on the walk over. Truth be told y'all, that walk is my favorite part of the Kentucky Derby every year.

The festivities during the two weeks leading up to the Oaks and the Derby are lively and colorful. Just like my family and friends from the South.
And Kentucky in May is spectacular!
I know I have shared posts about the Derby before on my blog from the correct pronunciation of "Louisville" (Looavull, according to my grandpa Amos) to finding the right bourbon to tips for making the perfect Mint Julep and menu planning.
 One of my favorite spring and summer party appetizers is English Cucumber Sandwiches. They are easy, tasty and you can eat them without makin' a mess of your dress!
English Cucumber Sandwiches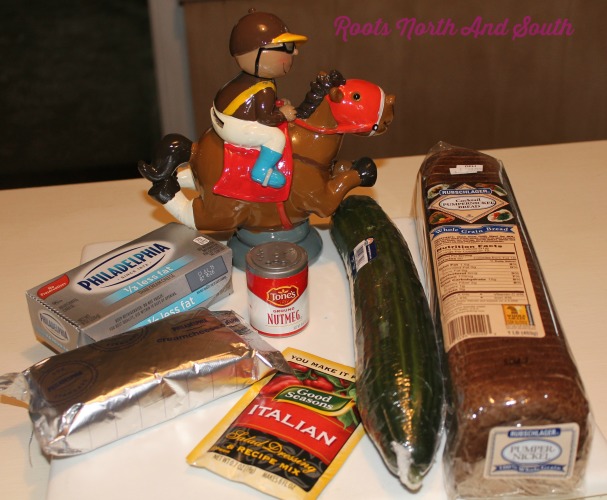 Here's what you need:
A loaf of party bread (Rye or Pumpernickel are best)
8 oz. cream cheese (I use the low-fat version)
1 package of Good Seasons Italian Salad Dressing Mix
1 English Cucumber
Nutmeg
Dash of milk (optional)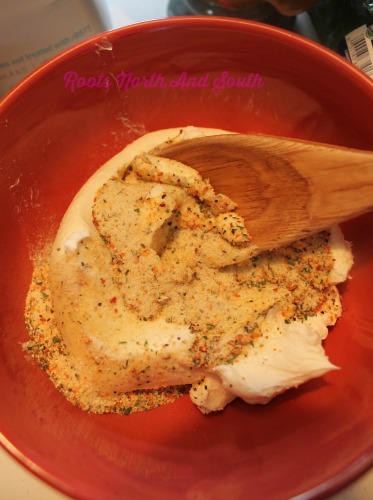 This is the absolute easiest recipe ever but these little sandwiches always earn rave reviews!
Soften the cream cheese and add the dry salad dressing mix to it
Sometimes it helps to add just a dash of milk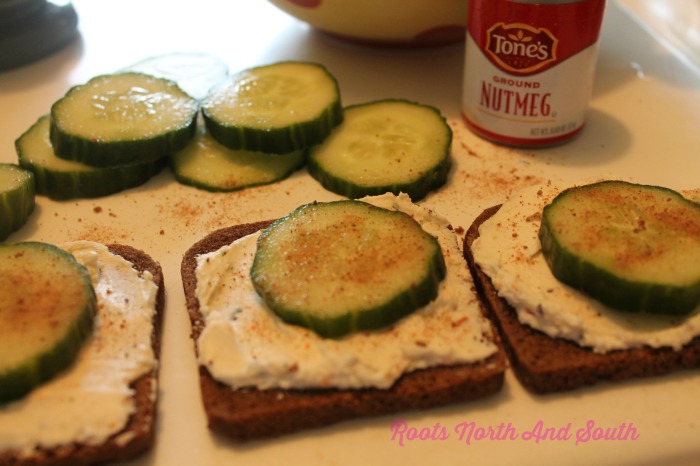 Slice the cucumber a little on the thin side. You can opt for one slice on each piece of bread or cut them all in half and use three little halves on each.
Spread the cream cheese mix on to the bread and add the cucumber
Top it off with a little bit of nutmeg sprinkled around. Don't skip the nutmeg you all! It really makes a difference.

That is it! Seriously. It couldn't be an easier right?
My only other tip is to make a lot of these. They go fast!
And to serve them with a frosty cup of Mint Julep!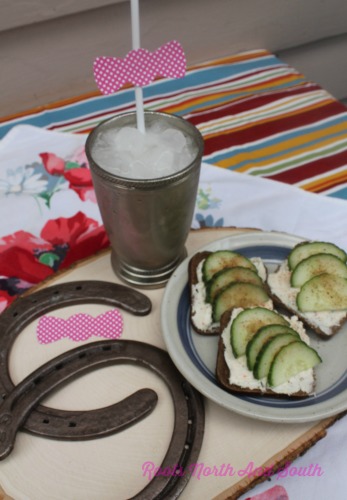 In case you are wondering about the little jockey?
He is actually a coin bank!
My grandpa sent it to me one year when I was away in Virginia at college and finals were the week after the Derby. Squashed my plans to hang out with him during Derby week.
And if you are wondering who the "experts" are saying will win the Derby on Saturday? Check this out:

Post time is at 4:00 Eastern time…. get there early so you don't miss the "walkover!"
XO
Shelley