Welcome to Day #2 of Casa Watkins Living "My Home Style: Before & After Edition."
And a big " thanks girl!" to Stephanie for inviting me to join her blog hop again! If you haven't already done so, be sure to head over to her blog and check out all of the bloggers who are participating. 
If you've followed my blog for a while, you may remember back to when I joined Stephanie a few times before on these hops. We did one highlighting our Christmas trees last year and another one sharing how we describe our design style.
This time around we are each taking a look back at how our design style has evolved and sharing one room that reflects that.

Mastering Your Design Style
I just moved from a historic home that had a very spacious dining room with high ceilings (that I could never manage to take a great picture of!) to a new house with a small, dark dining room  that had been neglected.
Old House…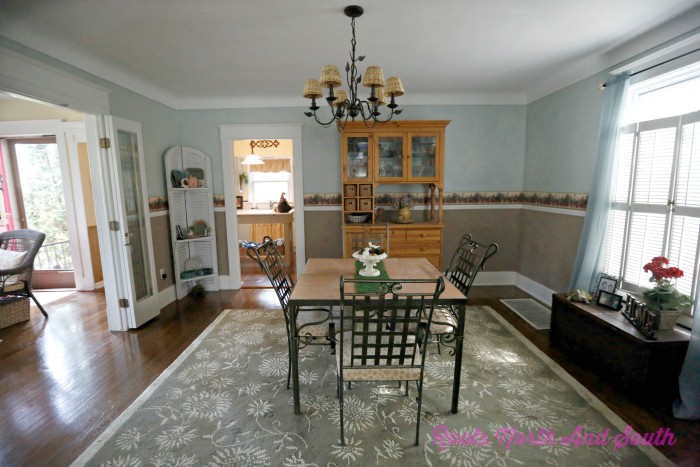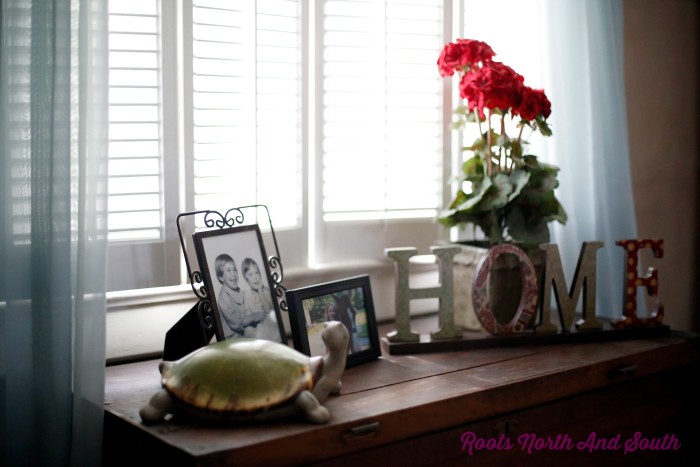 In the old house, the dining room was kind of the place where we stuck furniture from my first little "cottage" style house. I planned to buy new furniture and give it a makeover "some day."
You know how that goes right?
Yep. In over 12 years, someday never arrived.
So I was determined to create my dream dining room in the new house. Even though the room was fairly small.
New House "BEFORE"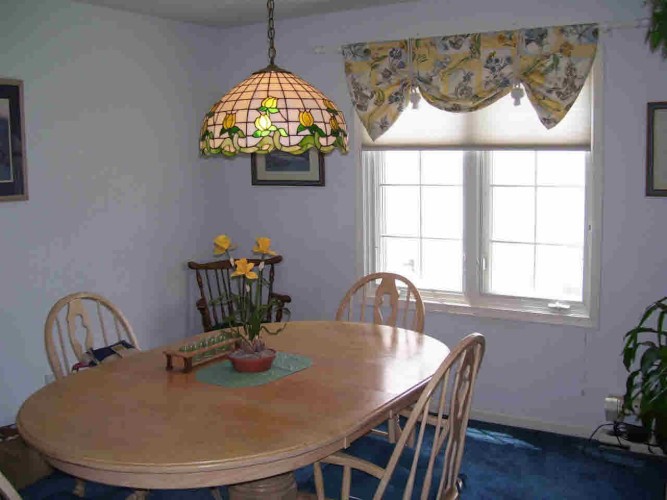 While there were many elements of the old dining room I wanted to recreate in the new house, I realized my style has changed a bit since I did the old dining room.
One thing was for certain… the dining room at the new house was painful on the eyes… it was crying out for a makeover!
Bringing My Style to the New House Dining Room: Eclectic, Texture, Colorful
My style could be described as combining old and new for a somewhat acquired or eclectic look.
I also love, love, love color and texture!
When we got the keys to the new house, I knew the dining room was one I wanted to tackle first.
While I know some designers and decorators poo-poo the idea of chair rail, I love it!!!
So after I settled on a hardwood for the floor, I started plotting the colors, border and yes… the chair rail. (You can read about the chair rail project here.)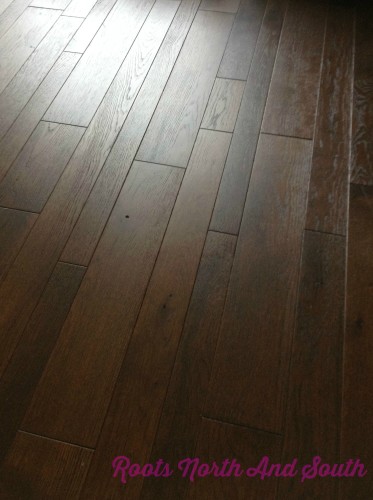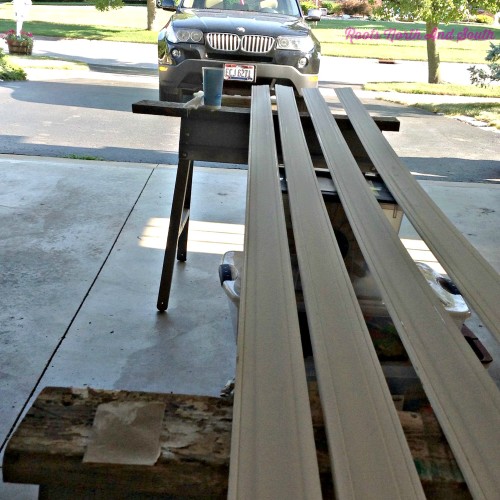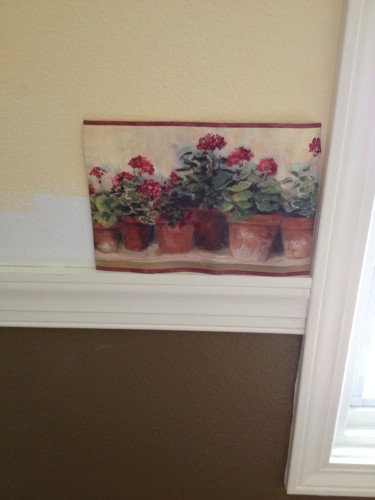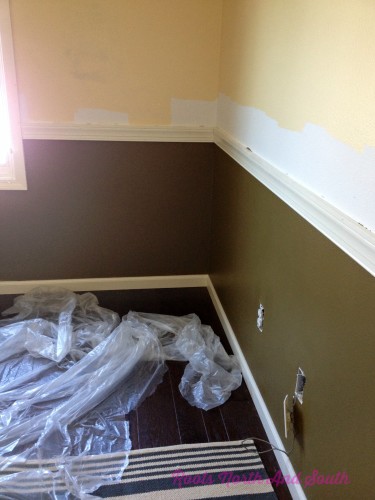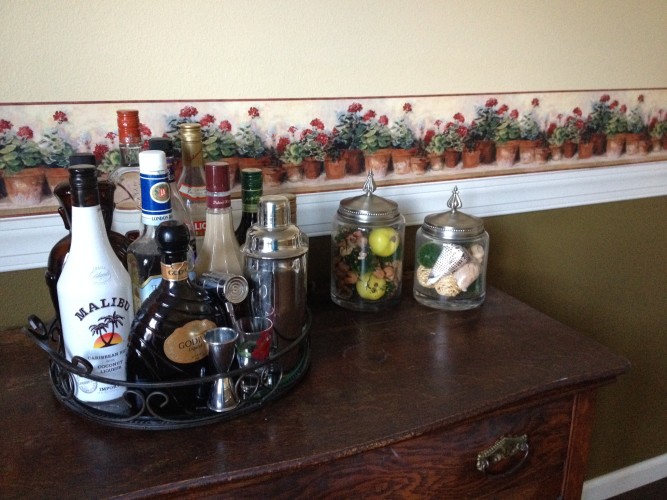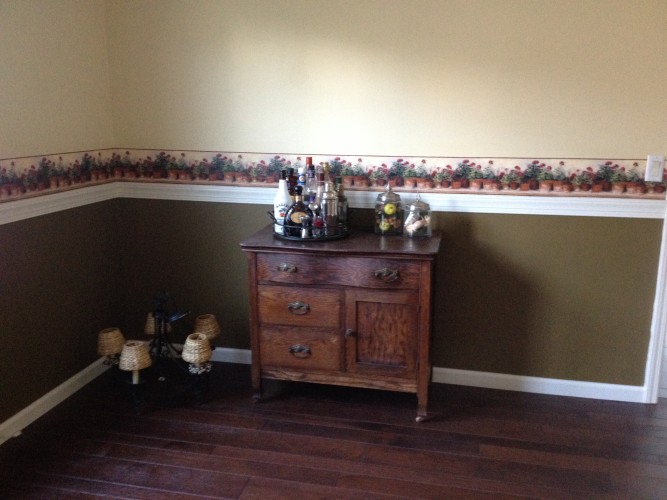 And like most of the world, I have been crushing on farm tables. So when an antiques store near me held their monthly sale, I buzzed over on opening morning.
Jackpot! I found this beauty. I especially loved that it is hand-crafted using reclaimed wood from my beloved northern Michigan.

But I did want a top that was a darker stain….
The sweet designer invited me to come back to her studio and bring a sample of my hardwork so we could mix a few stains to create the perfect match!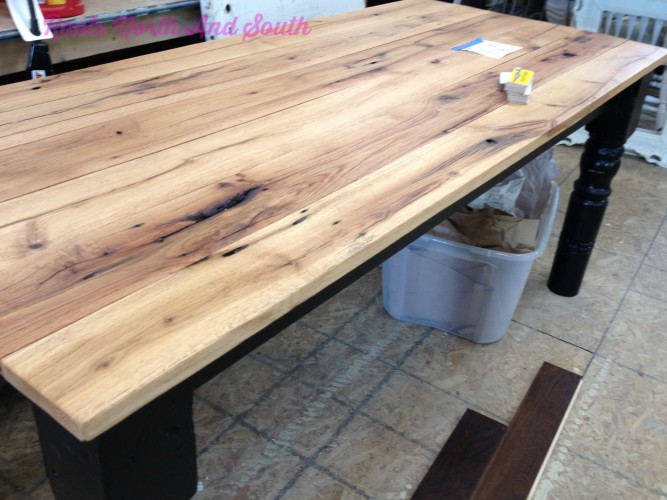 How fun is that?? Pretty darn cool right?
After we came up with the match, I started my hunt for the perfect chairs.
I really wanted something with texture that honored the natural look in the room.
That's when I came across these beauties..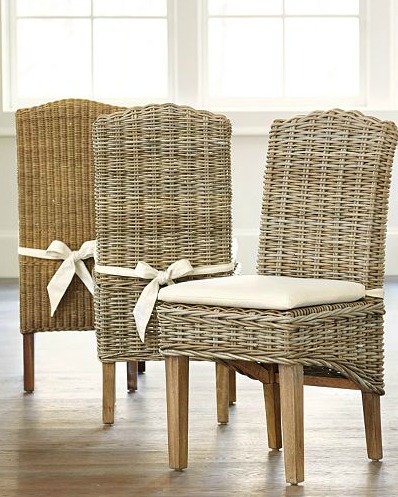 Mixing Patterns and Textures
And because my dining room wouldn't be complete without a little leopard, some burlap and some fun fringe…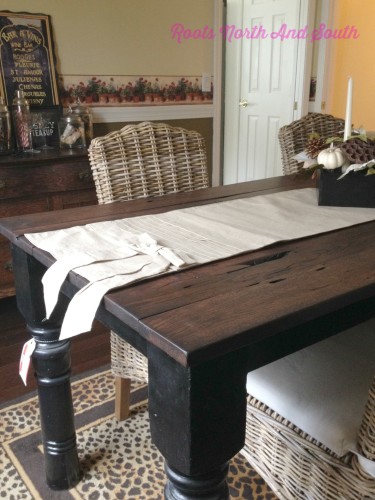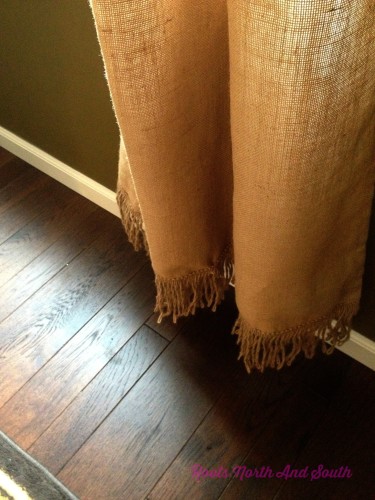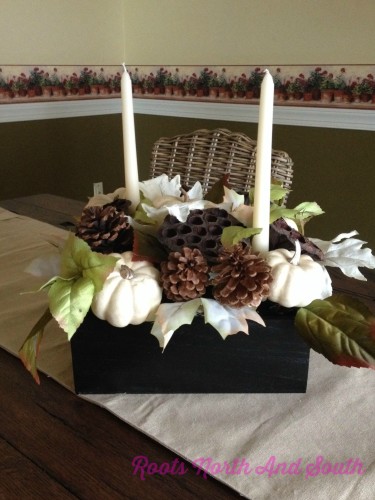 The "New" Dining Room
Here's the almost finished room! We just love it..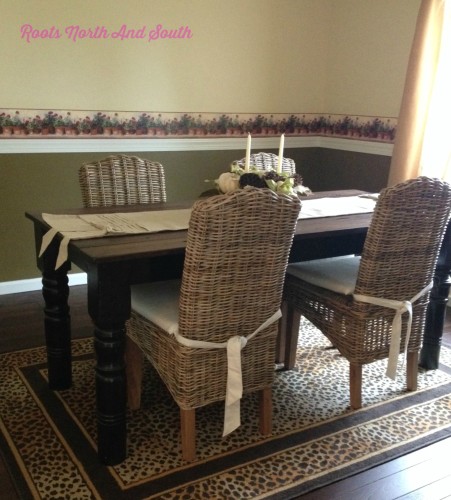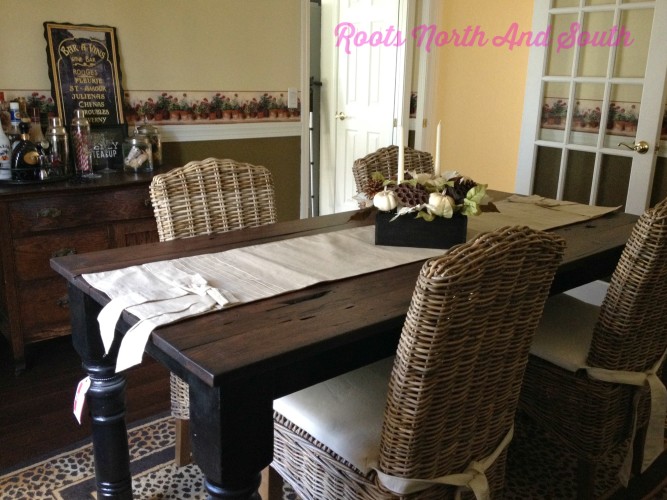 This vintage beauty that is being re-wired for the ceiling and I'm still on the hunt for one more piece for the corner of the room!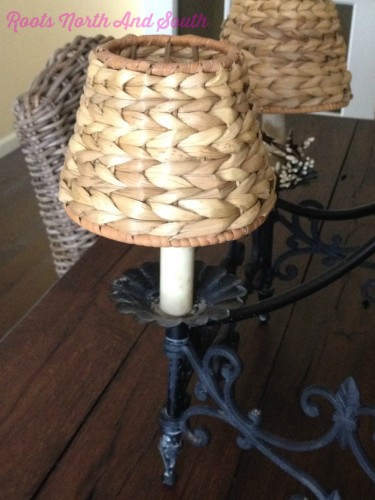 Let's Stay in Touch
Thanks for stopping in to visit! I'd love for us to stay in touch.
You can use the big box in the upper right corner to Subscribe to my blog updates. Scouts honor — I never share or sell email addresses!
You might also want to follow me on Instagram, Pinterest and Facebook. I'll be sure to follow you back if you do!
Finally…don't forget to use the links below to hop on over and check out what my fellow bloggers have been up to…
XO
Shelley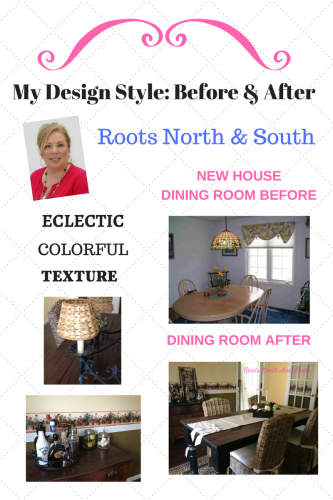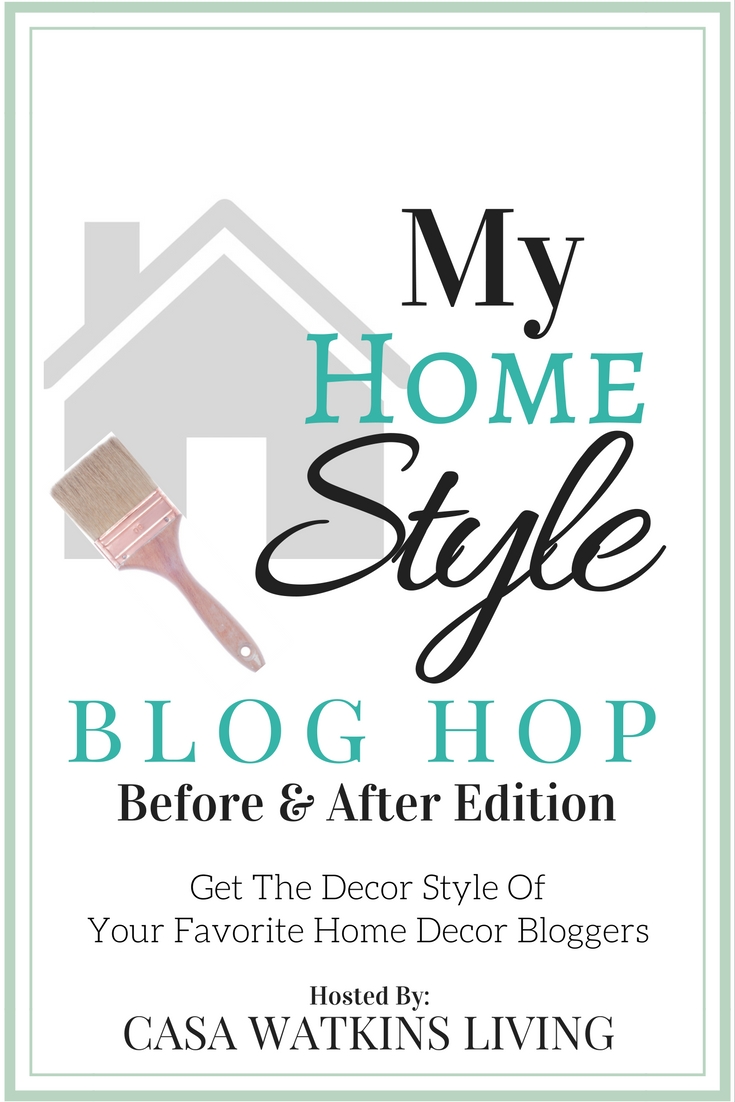 MONDAY
TUESDAY
WEDNESDAY
THURSDAY
FRIDAY