We woke up to snow again. Four days in a row.
Yes, at the tail end of March the fluffy stuff is still falling.
I decided rather than sit and whining… I would head to the garden center and grab some spring bulbs.
If spring won't willingly come to my house… I will force it!
Or at least force a few bulbs in to thinking its spring!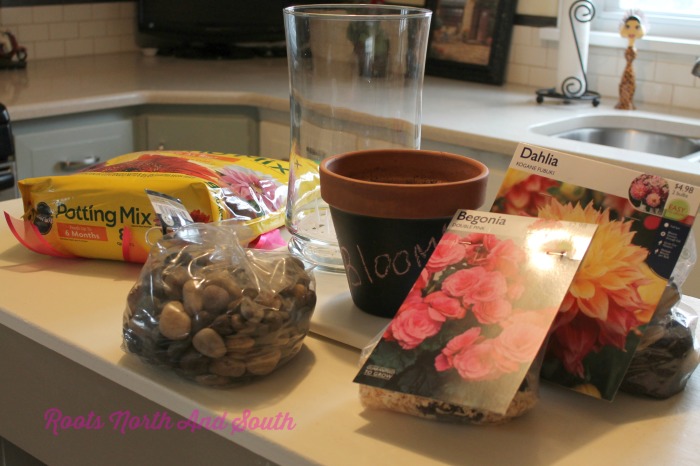 Containers for Forcing Bulbs
I've had this cylinder vase for a few years now. It is a proven winner for forcing spring bulbs indoors. I usually grab a terra pot or two and throw a few bulbs in those as well.
This year I decided to get crazy. I pulled out my can of chalk paint, added a little to an old, beat-up pot, and wrote "Spring" on one side and "Bloom" on the other. Hoping the garden gods will hear my plea and send sunny skies our way!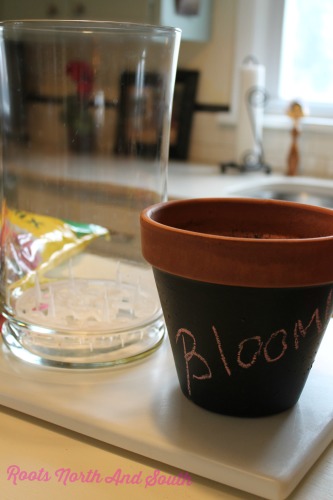 I usually stick with the tried and true indoor bloomers…tulips and daffodils.
But this year I decided to branch out.
The folks at the garden center assured me that any old bulb can grow indoors.
So I went with Dahlias and Begonias. Neither of which need to chill first.
FYI…if you aren't sure whether or not the bulbs you would like to plant need a good chill first…I've found this PreChilling Chart to be helpful.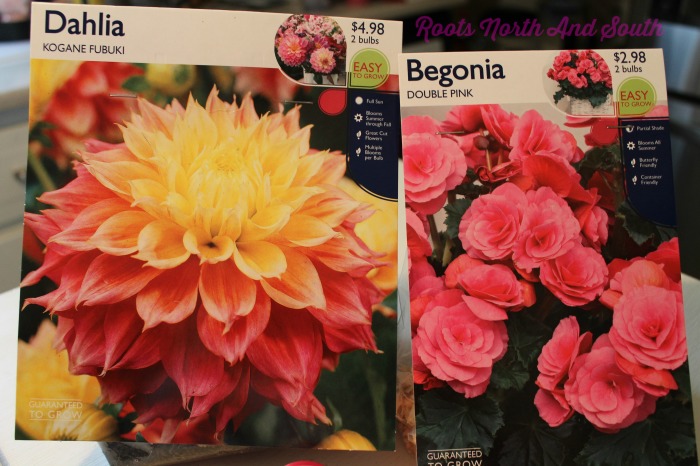 Forcing Bulbs in a Vase
Let's start with the vase because quite honestly, its such a snap!
This little gizmo is the secret. A florist shared it with me a few years ago.
It sits on top of the pebbles you use for drainage.
That makes it easier to fill the bottom with water…just enough to keep the roots wet without rotting the bottom of the bulb.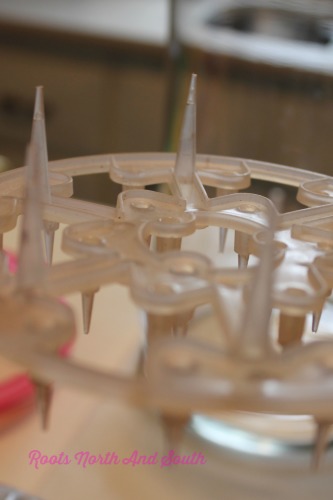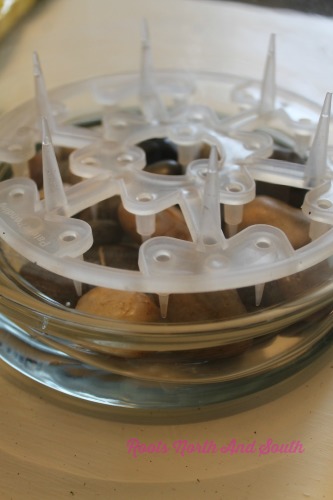 What is really tricky with these dahlias is getting them in the vase with the root down and point up!
I'm already questioning the wisdom of attempting to grow a dahlia indoors ya'll.
But I am following my usual routine and keeping the water level high enough so that it just reaches the bottom of the bulbs.
I have a perfect spot in my back stair case where it stays cool and they will receive the indirect light they need.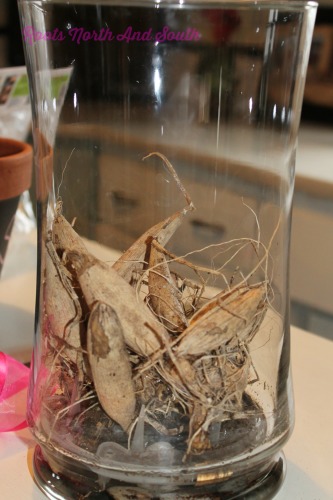 Next up is my new Bloom-Spring terra pot.
(I'd like to add a few curse words after the Bloom-Spring but my momma reads this blog…)
I've thrown a few pebbles in the bottom for drainage.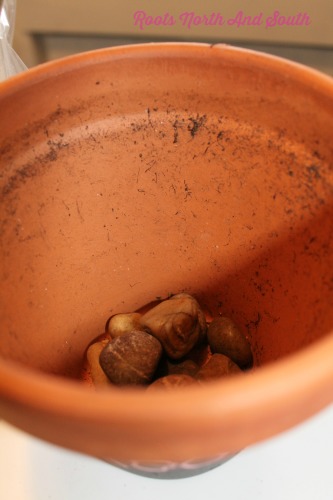 Then fill the pot about 3/4 of the way up with a lite soil. I typically buy Miracle-Gro products. Mostly because my grandparents swore by them and they could make anything grow!
Just remember garden dirt won't work for this!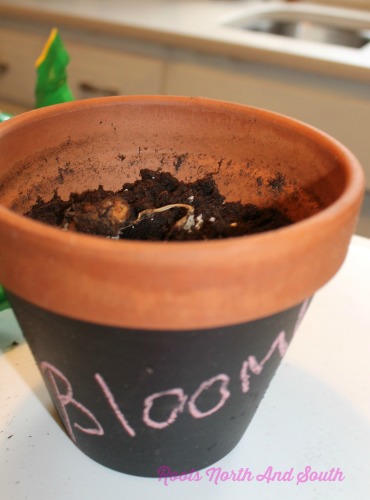 Plant the bulbs with the point up and just deep enough that the point peeps through the top of the soil.
I'm a little less skeptical about the begonias. I think this might be a winner!
Moistened the soil and make sure it stays that way.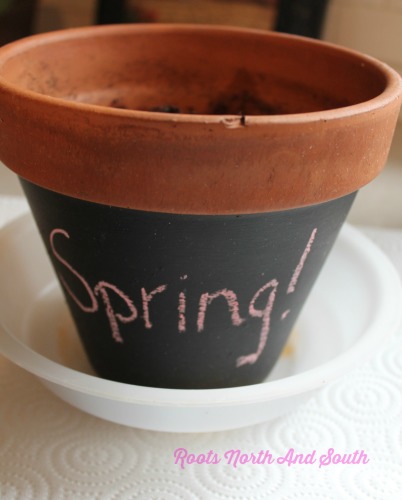 And now we wait for them to bloom and spring to arrive!
While the bulbs usually take a few weeks, I'm sure hoping spring doesn't…
Have you ever forced dahlias or begonias indoors? Interested to hear from anyone who has tried it!
XO
Shelley