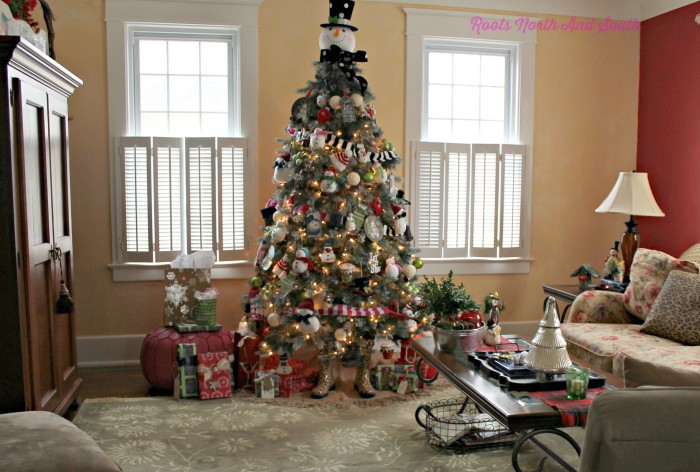 Welcome back to another edition of My Home Style!
A big shout out to Stephanie from Casa Watkins for organizing another fun tour. If you missed the start of the tour, you can head back over to Stephanie's amazing blog to catch up!
A few months back, Stephanie asked a few bloggers to describe their home style in three words. You can read about it here…
This time around we are sharing how our three words guide us in designing our Christmas tree!
I never realized until I accepted this challenge how much it really does.
Light bulb moment for me!
Our Fun-Loving Frosty Tree
This old house is home to four Christmas trees! Yikes. I know. We definitely enjoy the season.
The tree that represents us best is in the family room.

While it is inspired by nature and outdoor activities, it is still a little on the eccentric side.
Which you probably guessed from the leopard boots and the garland made of scarves in the picture above…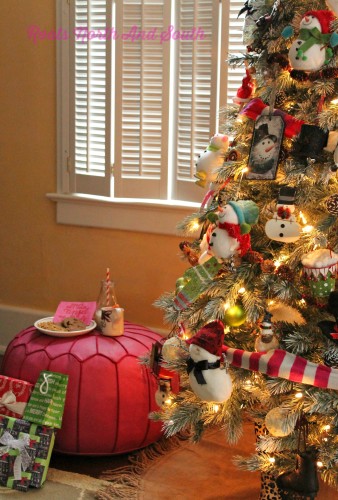 Because our tree has so many "can't live without it" ornaments (we've been collecting for a long time), it has become a very busy tree. But many of the ornaments have been bought during our travels.
From a sweet little gift shop in Old Town Alexandria to a fun and funky Christmas shop in Franklin, Tennessee to a picture perfect Christmas store in Breckenridge, our tree holds many fun family memories.
So I've tried to incorporate black top hats, dark ice skates and some black chalkboard ornaments in to our tree every few branches. It gives the eye a rest from all the colorful collectibles that adorn our tree!
It's a trick I use all throughout my house since I am a gal who likes color…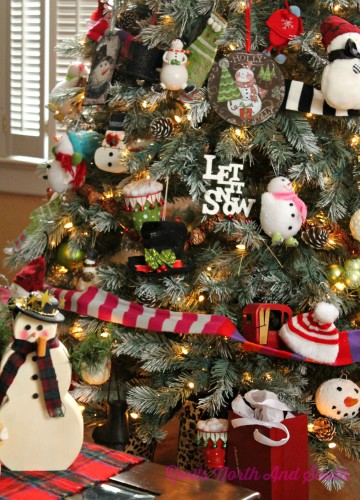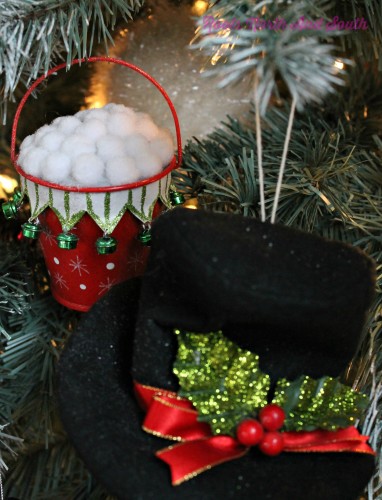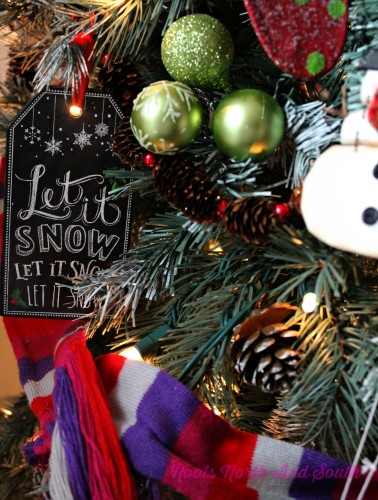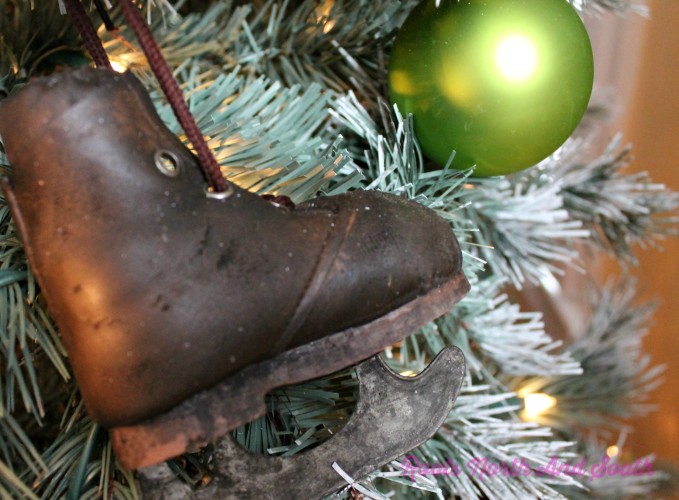 My Three Design Words and My Christmas Tree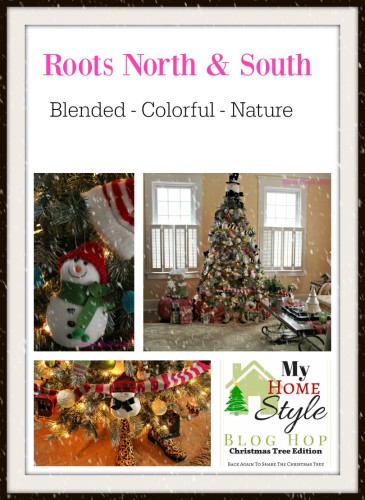 Here is how I incorporate my three design style words in to our tree…

Colorful: And I mean that  in every sense of the word from character to to actual color. Our tree is snowman brought to life from the top hat on his head to garland around his body down to the rubber boots on his feet.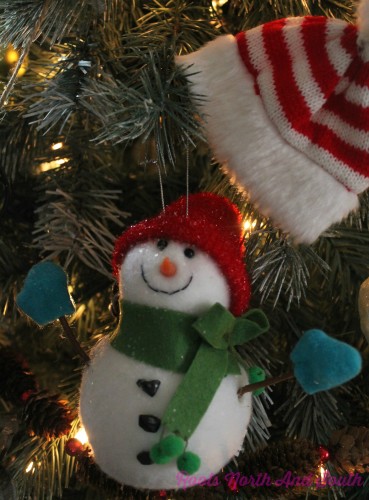 Blended: Combining textures like burlap and glitter, unexpected colors and using things like leopard snow boots in places you just don't expect them is definitely part of my signature style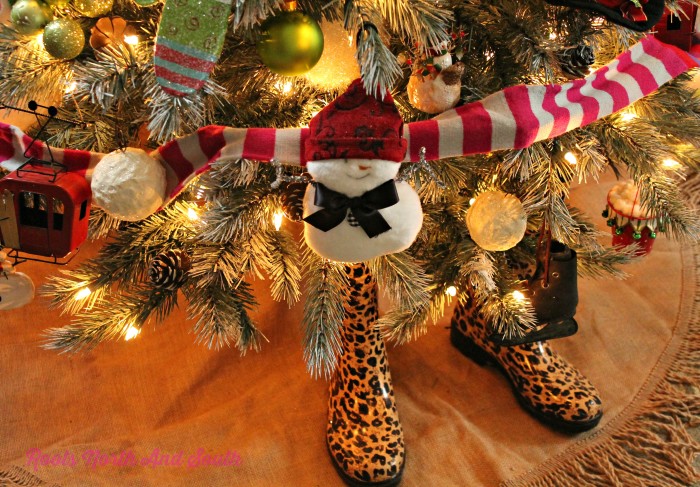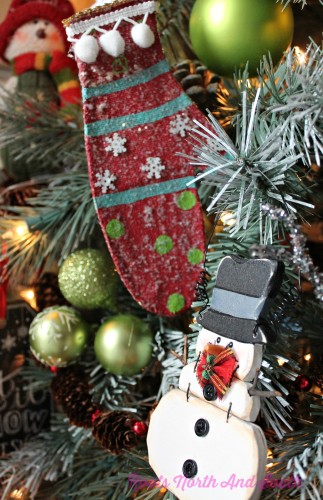 Nature-Inspired: Our house blurs the line between indoors and out because —  from feathers and flowers to pinecone garland –we are a nature-loving crew. So our tree is a combination of everything we enjoy outside.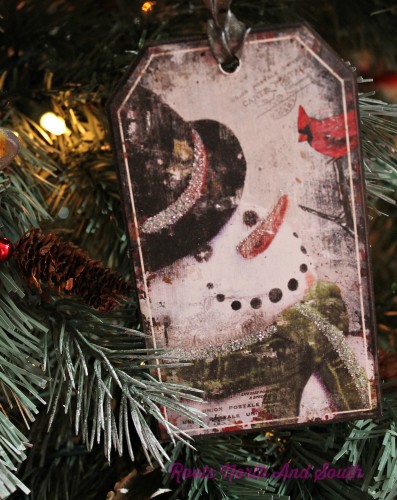 A Closer Look at our Christmas Tree Ornaments
Our tree has just about everything snowman related you can imagine, in addition to all kinds of fun winter outdoor activities.
I'll stop yapping now and just let you take a peek at a few more ornaments…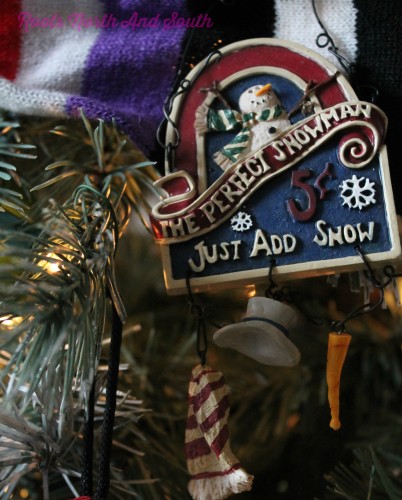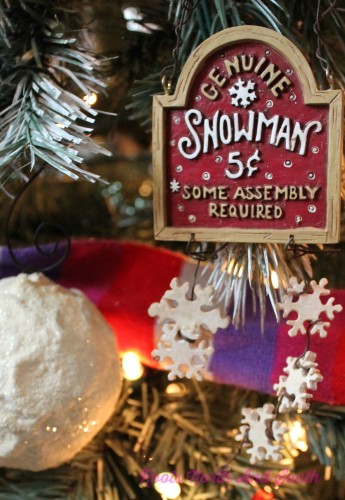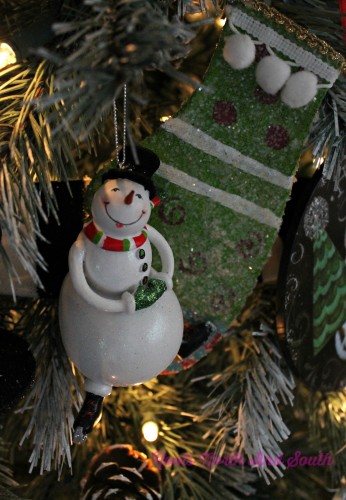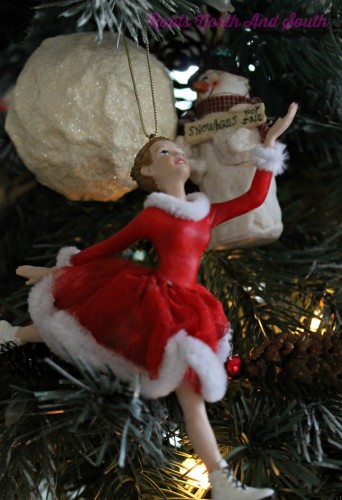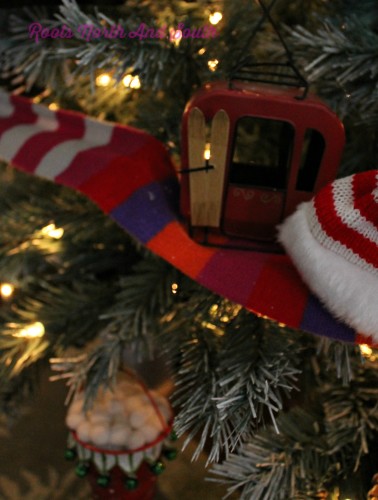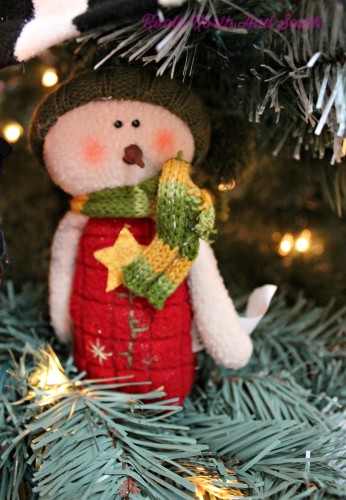 And that's it my friends! Thank you for stopping in.
Next up on the tour is Sara from Shabby Grace.  I'm sure you will love her blog (she has lots of great year around ideas!) and the rest of the Blog Hop!
Be sure to stop back soon. I have a lot more holiday fun to share over the next few weeks including a Cookie Exchange with a few blogger friends and a Room by Room Holiday Home Tour with a talent group of designers and bloggers.
You can Subscribe to my blog or follow me on Pinterest or Instagram to make it easier for us to stay in touch… I would love to follow you too and see what you have cooking around your house!
Have a Merry Christmas…
Shelley