When Summer Collapses in to Fall
I just love this great quote from Oscar Wilde…
"And all at once, summer collapsed in to fall."
It sums up just how I feel every year around this time.
One day it's all geraniums and roses, and then you blink and it's pansies and pumpkins everywhere.

And decorating for fall –indoors and out —is one of my favorite things to do!
Hey Y'all! Welcome to my Fall Home Tour…
A big thanks to Caroline from Organize Nashville for inviting me to join this great group of bloggers!
Fall is my favorite season of the year. I think it's because I'm a gardener and love being able to dig in the dirt on cooler days. Or maybe it's the amber light and those beautiful blue skies around the Great Lakes?
Whatever the reason, I always feel more hopeful and happy in the fall.
Because we moved this summer and are doing extensive work inside, I've had to scale back on my fall decorating.
We have tarps and paint cans and ladders EVERYWHERE! Maybe I should deck the ladders for fall? Little pumpkins on the treads? A few pansies in a pot on the top?

At the rate we are getting things done, the ladders seem like a permanent part of the decor of our new house!
We moved to Michigan this summer and the economy and housing market are booming…
Finding reliable contractors has been virtually impossible.
Good thing I'm a DIY kind of gal right?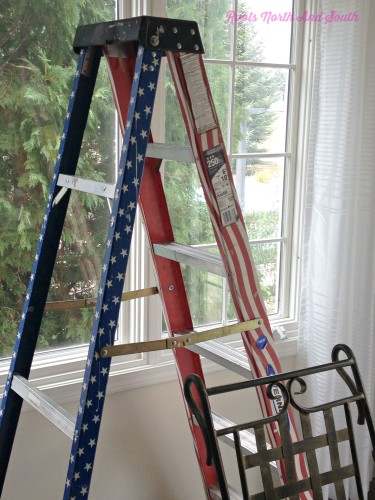 5 Elements of Fall Decorating
One thing Caroline asked everyone on the tour to do is share their favorite elements of fall decorating…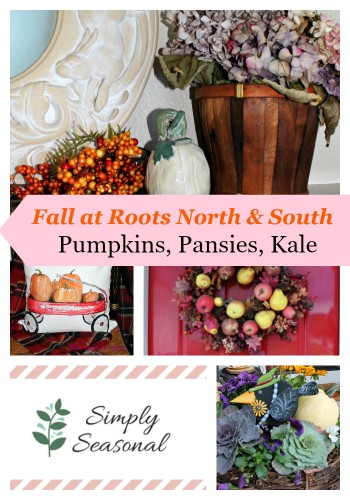 So what are my "must-have" elements?
Texture: Whether it is bumps on my pumpkins, burlap or cable throws, I love using texture for fall decorating.
Nature: Fall is a great time to bring the outdoors in. Pumpkins, wheat stalks, bittersweet and sunflowers are a few of my favorites.
Stuff to Snuggle In: In my part of the world, fall evenings can be a little on the chilly side. It's why I like to stash throws all around the house. Ditto for fun fall pillows.
Dried Hydrangeas: Maybe it's just me, but I think dried hydrangeas are a must-have part of fall decorating. They are so pretty and easy to dry. (Here are a few tips for drying hydrangeas from a past post. Super simple!)
Gardener's Welcome: And decking my garden for fall is my all-time favorite way to welcome the season. From the mailbox to the porch, pansies, mums, kale and more abound.
Here's a peek around my home and garden this year…
Decorating the Front Porch for Fall
For the first time, I have a front porch to decorate! The historic house that was home for the past 13 years had great side and back porches, but only a tiny porch on the front.
I'm just battling my way back from a bad case of bronchitis, and am loving being able to sit on the porch with my tea and enjoy the fall weather.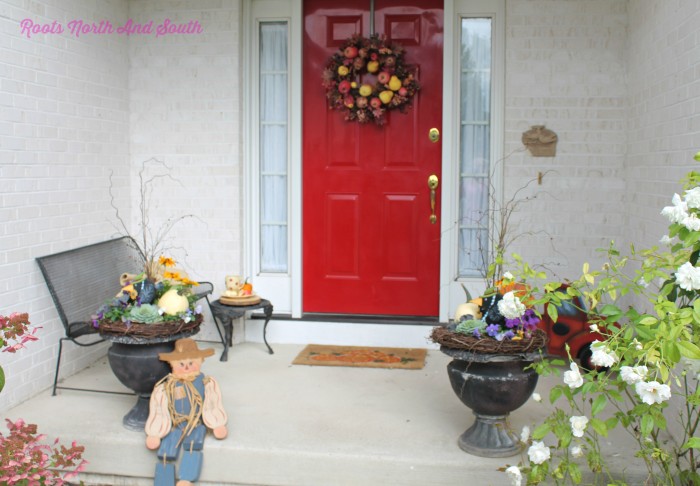 I'm on the hunt for a great outdoor rug for this space.

It's a covered space and I really want something fun!
So let me know if you see one OK?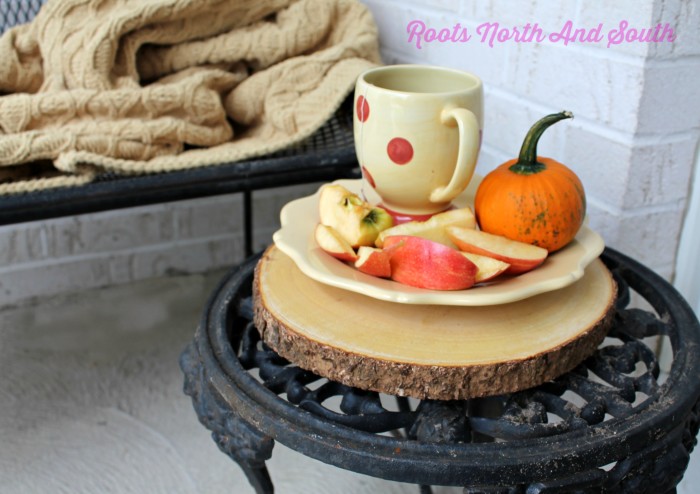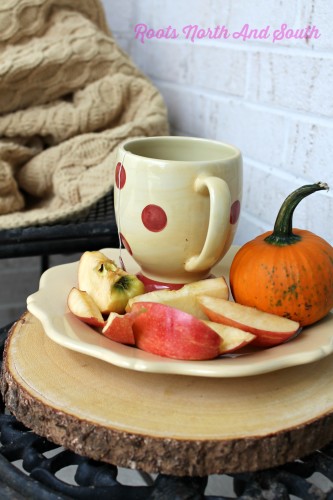 While fall might seem like the end of the garden season, it really isn't.
I love adding Jack Frost pansies (they can survive even cold Michigan nights), kale, pumpkins, Black Eyed Susan, bittersweet and mums to my containers and urns.
One tip I use for adding pumpkins to your containers… I stick welding rods painted black in to the bottom of the pumpkins. This allows me to stick them down in the dirt and keep the pumpkins just where I want them in my containers.
I also add a few fun elements to my containers, like the black ravens, twigs and wreaths.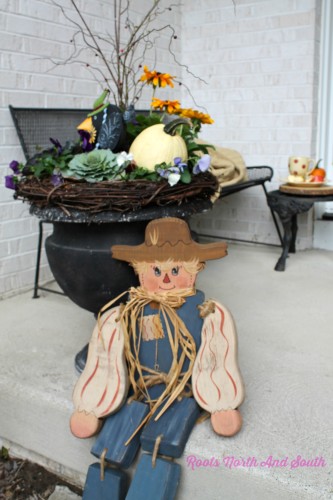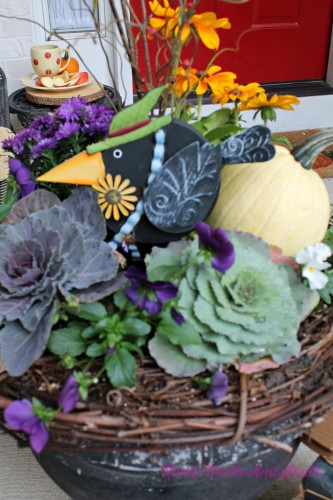 You can also see a new addition to my fall decorating peeking through the flowers here…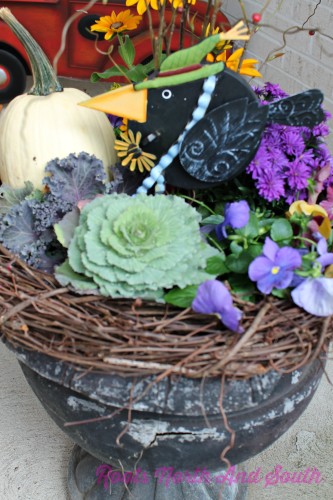 It's this guy! I found this old truck last year, and love that you can change out his "load" for each season…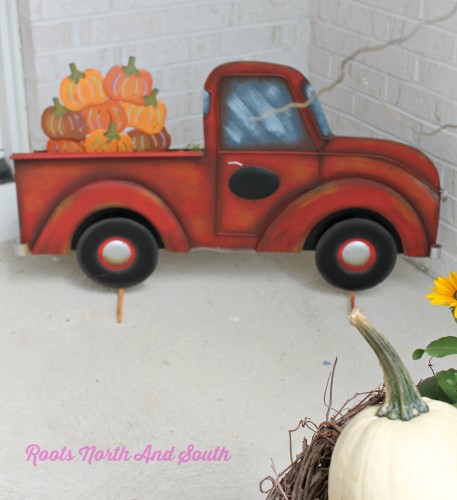 Fun Garden Ideas for Fall
If you've visited before, you may have heard me share that my Pops helped me create a "mailbox garden" using a whiskey barrel.
So of course… I had to give it a fall facelift!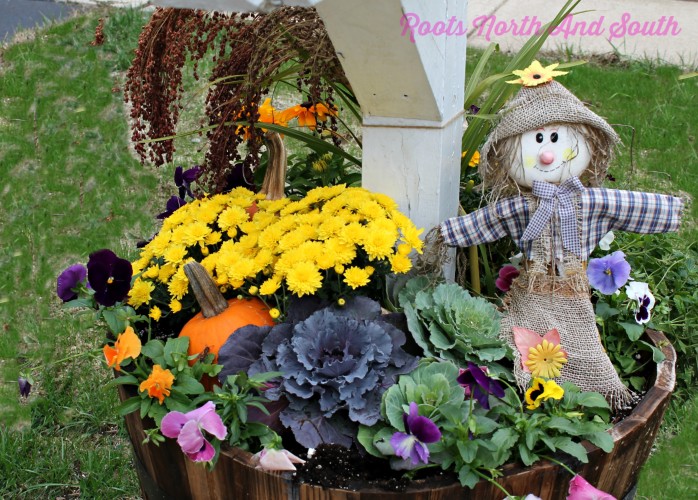 I love adding broom corn to give fall arrangements texture and height. Bonus – they are super cheap! Our local greenhouse sells a bundle for just $1.99.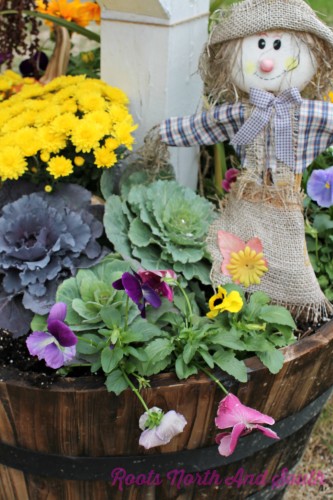 And I finally got the ugly white light post sprayed black a week or so ago.
It has a great little "arm" on it that I used to add these baskets that I planted. I found these iron baskets years ago at a discount store and they've held up well!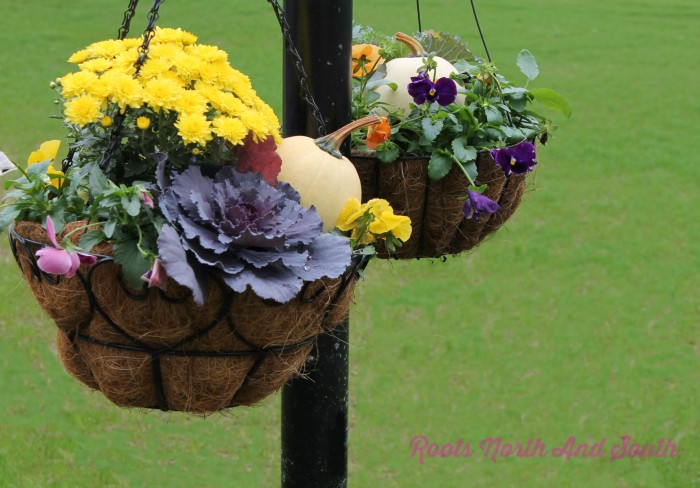 On a side note, we had to have the ENTIRE front yard landscaping excavated and the sprinkler system repaired. It was an absolute disaster!
But you see what's growing again? Yep!! Grass… Hallelujah!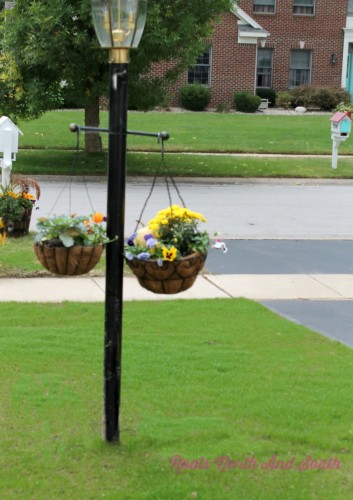 And finally my old blue bike…
While it made the move with us, the movers obviously didn't realize they were dealing with a landmark.
They roughed her up to a heartbreaking degree. She lost her front wheel and her seat.
So it is with great regret that I announce… I'm on the hunt for a new, old blue bike.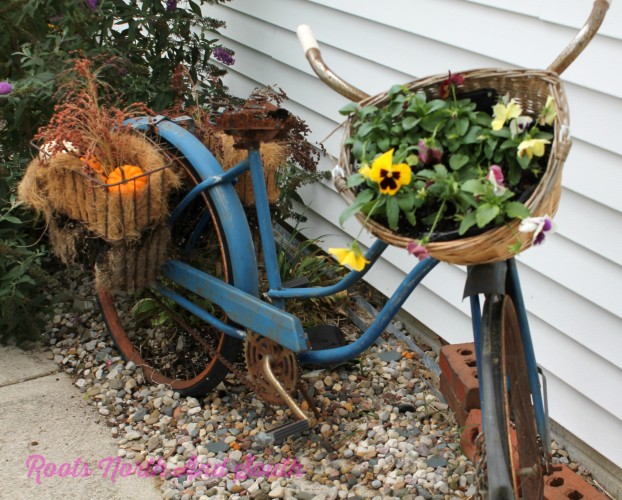 And that's it for outdoors! Ready to take a peek inside?
Fall Home Tour: Decorating the House for Fall
Come on in!
I didn't do as much as I normally do for fall, but I still added a little color and texture.
Hopefully our main living area renovations will be done in time for me to go all out decorating for Christmas.
Fingers crossed…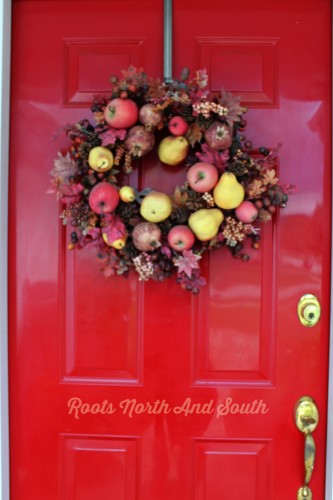 Sunflowers, pumpkins and other bits of nature welcome visitors in the entry…
While the entry is still "under construction," I wanted to add a little touch of fall to it.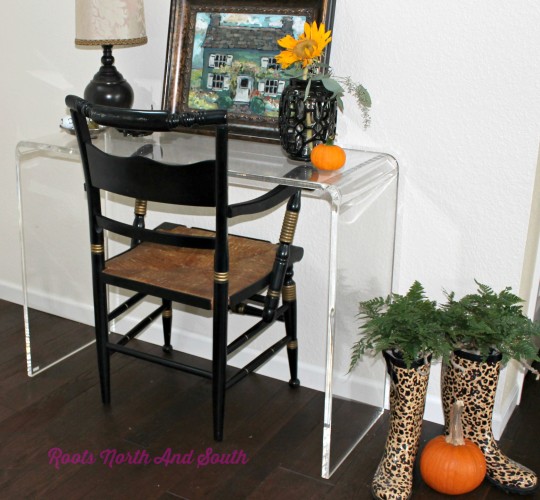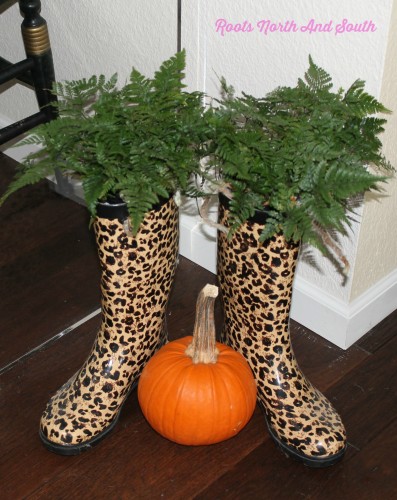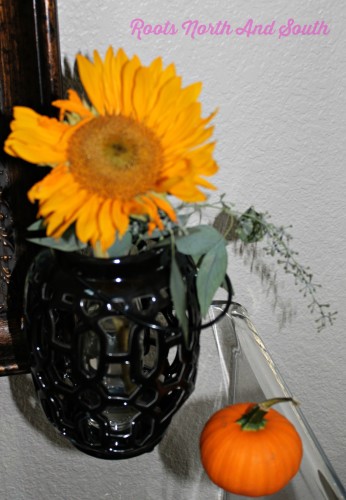 I made this fall door arrangement many years ago. In fact, it was my first attempt at one!
I've had to replace bits and pieces of it over the years, but it's still hanging in there…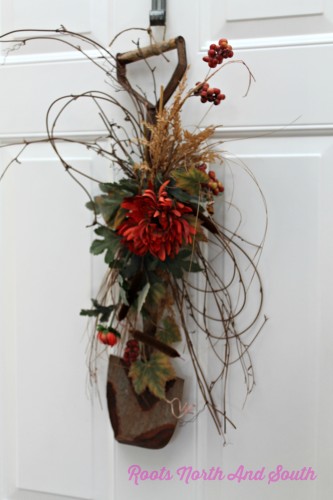 I love the "warts" on this pumpkin! They give it so much personality…

I'm kind of a snob when it comes to the stems on pumpkins… They gotta have a hook!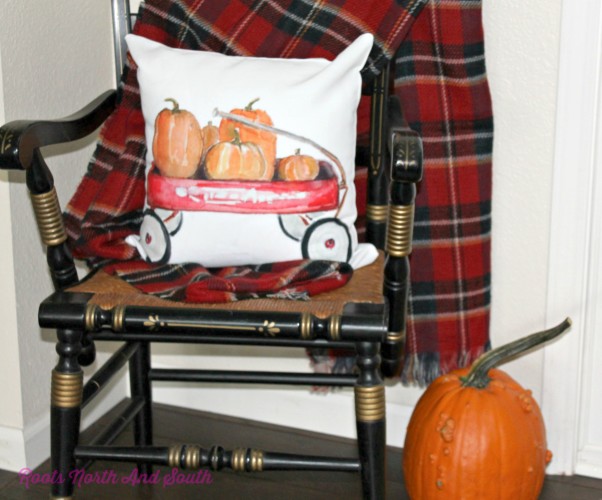 Isn't the red wagon pillow fun, too?
I have a beat up old wagon I normally keep planted in the yard, but it will have to wait until our landscaping project is finished…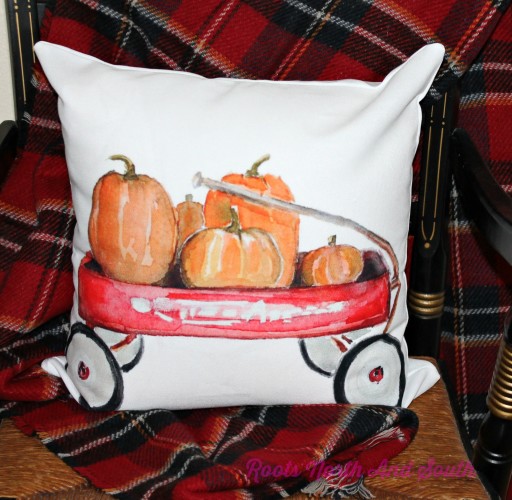 Fireplace Decked Out for Fall
The 3-sided fireplace that was in the house isn't quite my style… But I've given the paint a facelift since moving day and it's looking a lot better. (It was baby blue before… YIKES!)

Hoping to find a good tile artist to help replace the tile next spring.
I'm thinking stone? What do you think?
This is the living room side of the fireplace….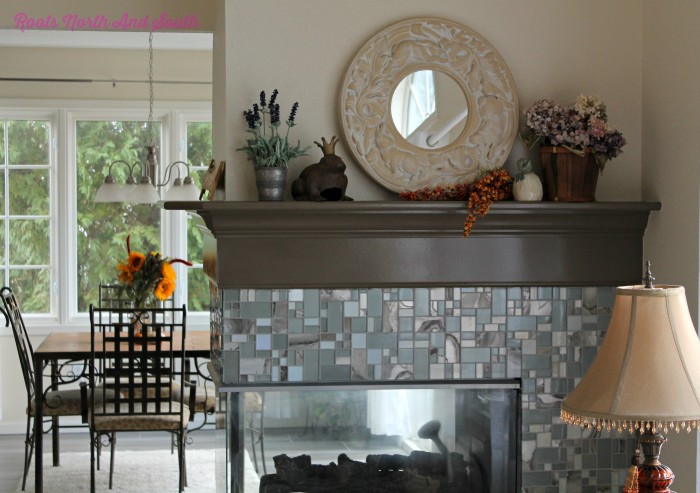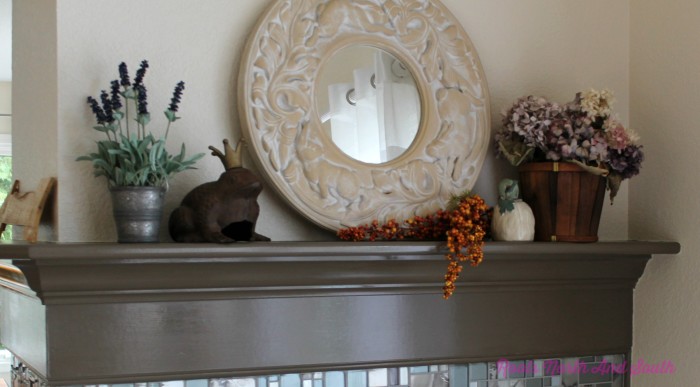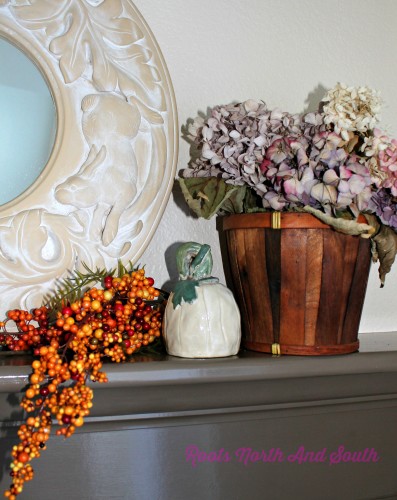 The short end of the fireplace…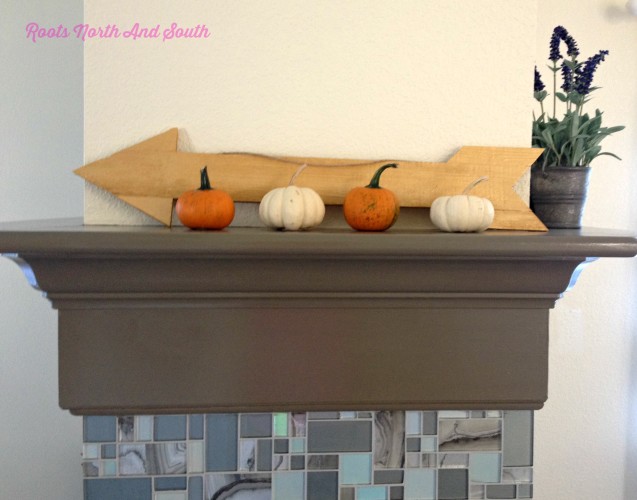 And this is the kitchen side of the fireplace…
The glare off the fireplace glass and tile is a real challenge for my amateur photography skills… hoping to improve those this winter!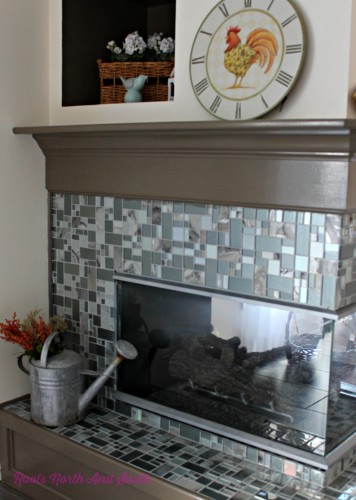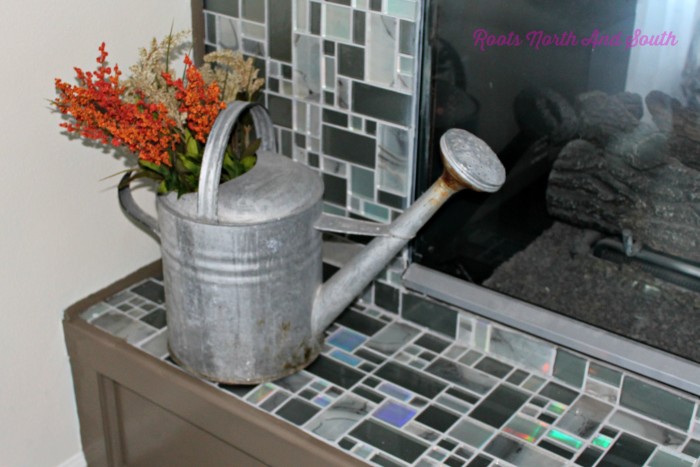 A few sunny sunflowers on the kitchen table….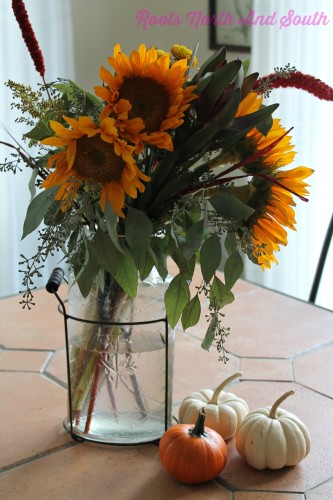 Our New Sectional
We bought an IKEA Ektorp sectional after the move. (I'll be sharing the challenges of that whole process soon on my blog!)
One thing I love is the neutral color allows for colorful pillows!!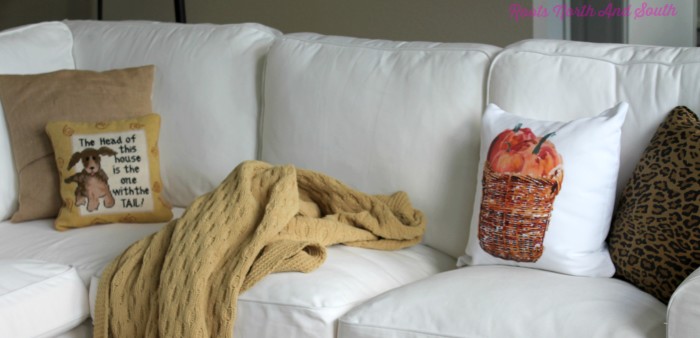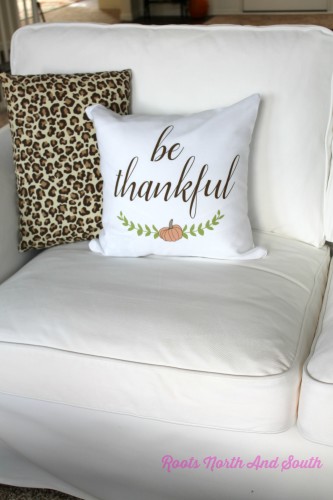 The New Dining Room
The dining room is 80% finished! That puts it in the lead for the most progress in any room in the new house!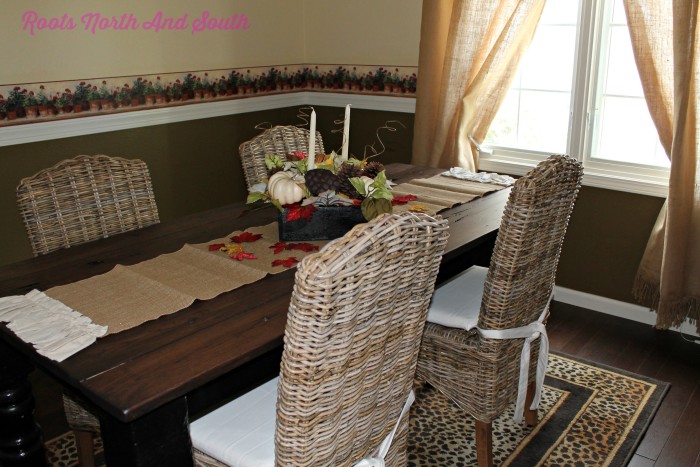 From the burlap runner and curtains to the chunky wicker chairs, this room is so warm and cozy.
I found a great black vintage chandelier for this room. Now if we could only find an electrician to hang it!
I spotted a kind of a plain looking centerpiece at a local discount store and added some extras to it to enhance the look…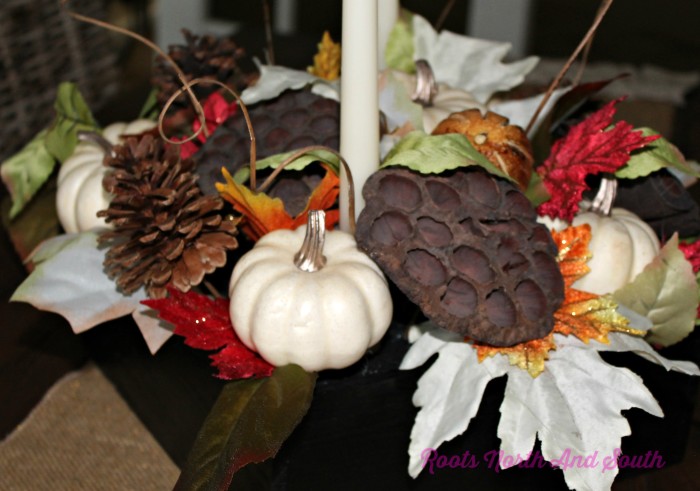 And that's it for my fall tour! Thank you for stopping by to visit.

I hope you will follow me on Instagram, Facebook and Pinterest. I'll be sharing our home renovation journey in the months to come!
XO
Shelley
Visit Everyone on the Tour
Don't forget to visit my fellow bloggers and check out how they've put their homes together for fall!

Monday
Tuesday
Wednesday