It's been a busy week around here! We've been trapped inside since the weather is barely above zero…or actually below zero when you factor in the wind chill.
Sidebar question to myself— why did we move back to Michigan instead of packing my parents up and moving them south with us?? Hmmm….

Moving on…
I've been the princess of paint trying to get this laundry room painted.
So what all have I gotten done?
Glad you asked! Here's the rundown after the first week of the challenge.
From Dated Laundry Room to Potting Room
Just a reminder on the BEFORE pic from when we bought the house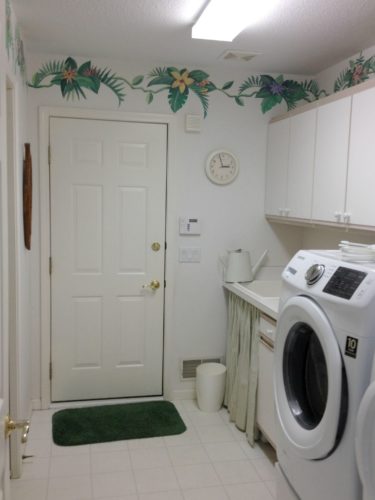 I had some paint left over from the kitchen and great room and decided it was  perfect for this project.
Ditto for the trim on the ugly, old builder grade cabinets. I decided to go with Urbane Bronze that I have been painting all of our interior doors in.
Here's what the combination looks like in the side hall…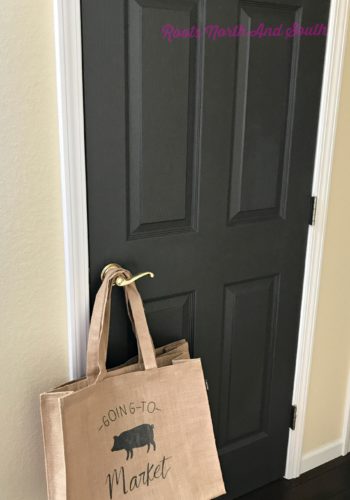 Because I had to… I braved the cold to run some errands yesterday.
And I scored big at Lowe's. An area rug for only… $19!! Grey and cream stripes that work so well with the paint.

Then my junior project assistants (who are ten and twelve years old now!) helped me find and order the fabric for the skirting for around the sink online.
While I had something a little different in mind, they were all about a fabric that had bird houses, flowers, seed packets, and other garden art on it. So we ordered it!
It was another find at only… $9.50!
Here's what it all looks like put together: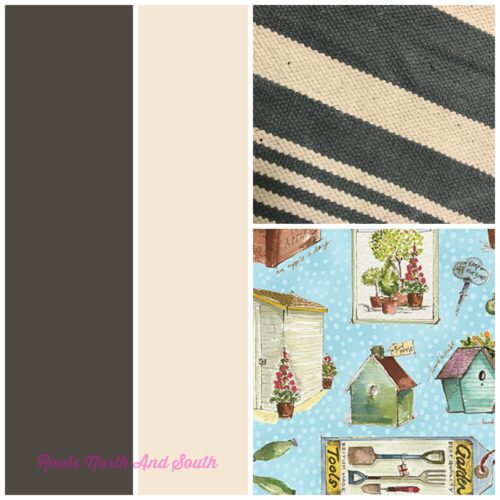 The paint colors —both at Sherwin Williams— are Urbane Bronze and White Hyacinth. The white hyacinth paint chip is a little drab in the photo, but it's really inviting in person.
I'm so happy to be seeing the last of the Jungle Book vines that were done by the previous owners. Even with primer, it's taking quite a few coats to make them go away.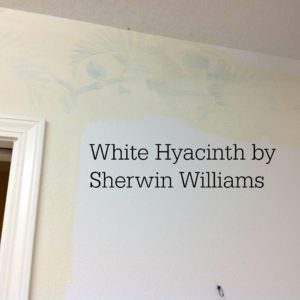 Next up is to paint both the door going in to the laundry/potting room and from this room in to the garage.
By then the fabric should have arrived and I'm going to try making the curtain for the sink.
I say try because… I don't know how to sew. Not so much as to sew a button on!
My plan is to hang the finished curtain from a tension rod under the front of the sink between the wall and the side of the cabinet. Fingers crossed on that one…
This week I'm also going to shop our house and garage for items I can use, and then head out on a "treasure hunt" to find everything else I need.
Total spent so far? $28.5
Leaving me $71.50 to find cabinet hardware, organizing supplies, and any decor items I can't find in my own basement or garage…
Could be tricky!!
Don't forget to stop by and visit other DIY Room Challenges using the links below…
Until next time,
Shelley